The next weekend with the help of friend Kevin, we wasted no time pulling the engine and assessing the problem. MT's oil leak repair consisted of new aluminum plugs and what looks like a mixture of epoxy and JB weld, and after a few sessions on track, this approach to fixing the problem failed, allowing engine oil to pump out at an alarming rate. For what it's worth, I understand why this was done. They were trying to save me money, and it should have held. That said, with the engine out for the third time in six months, it was time for a more permanent solution. For that, I reached out to NV Auto.
Vinh at NV Auto, being the welding ninja he is, cleaned up the JB weld that was caked on and welded the passages shut. We then had to carve a small area out of the aluminum bell housing adapter to accommodate the new welds. From there, we installed the engine, started it, and shocker – no leaks.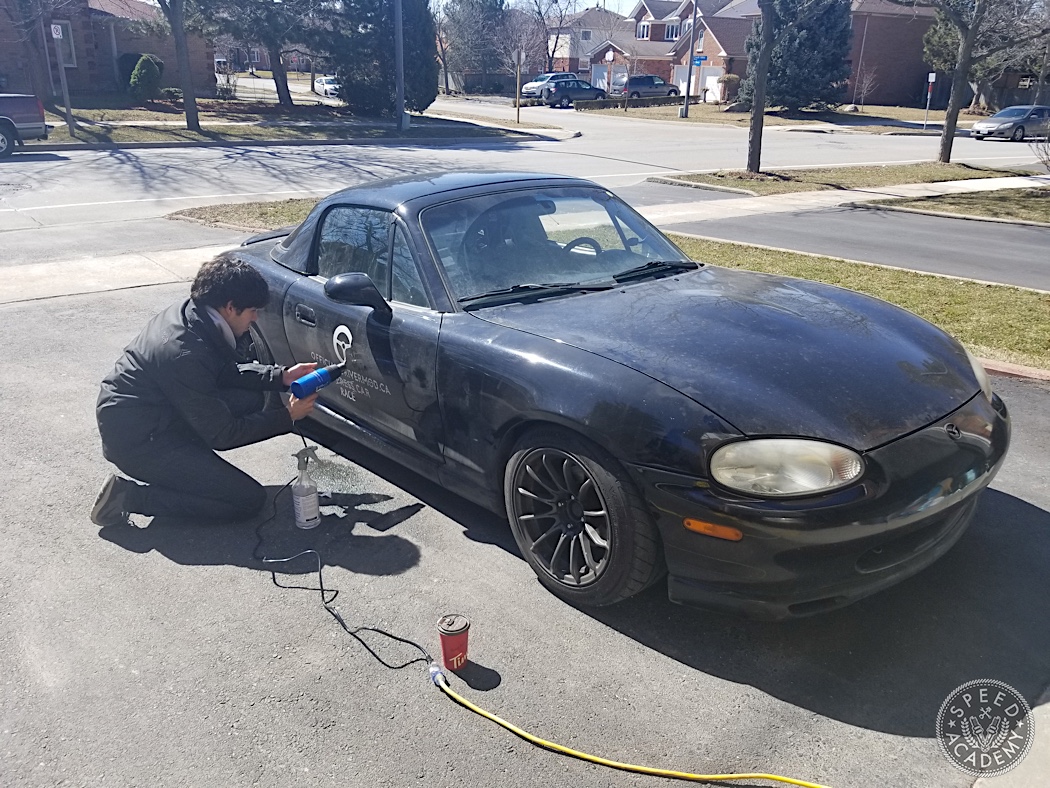 And I'm afraid that's the end of this story. The weekend after we spent four hours pulling stickers and adhesive off the car, followed by several more hours washing and waxing. Now, it's for sale.
Would I do it again? Maybe. There are other potentially easier ways to make 160-whp (note: we never dyno'd the car, that's the mighty Dave Pratte's calibrated butt dyno estimate). But hey, it was an adventure. I wanted to do an engine swap, and I did one. Now it's time for something that doesn't rattle all my fillings loose on a road trip. More importantly, doing an engine swap on a budget is difficult, time-consuming and downright soul-crushing at times. You'll find a more detailed review on DriverMod.ca in the next few weeks, along with whatever comes next.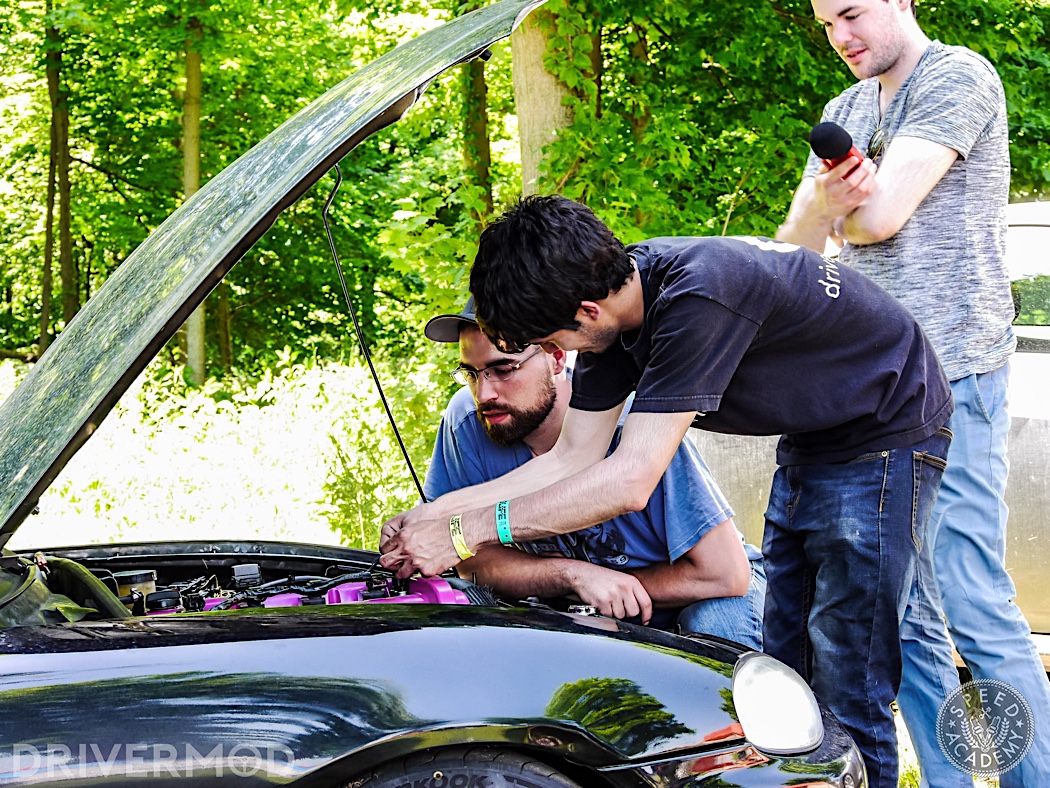 Now's probably a good time to thank the gazillion people who've helped me out with this build – ultimately this car wasn't built by me, but by nearly a dozen different people. Matt and Ryan at MT Motorsports, NV Auto for their speedy weld job, Kevin Birchall for letting me use his shop for the car's fourth and final engine removal. Then there's Rajan at R Theory Motorsport for staying up with me until 2-am installing my second engine and throwing me a set of R Theory Motorsports front sway bar end links (buy them – they're great), Samee Motiwala for being there through a bunch of different issues, Milan Svitek, Mike McGugan and Tyler LeBlanc for putting up with this car on our trip to Gridlife, Chris Kennealy at Burning Rubber Tire and Speed for mounting my tires and rolling my fenders, John Paul Ellis at Stripping Tech for doing my valve cover's wicked powdering coat job, and of course Dave and Pete at Speed Academy for letting me tell you guys all about this journey.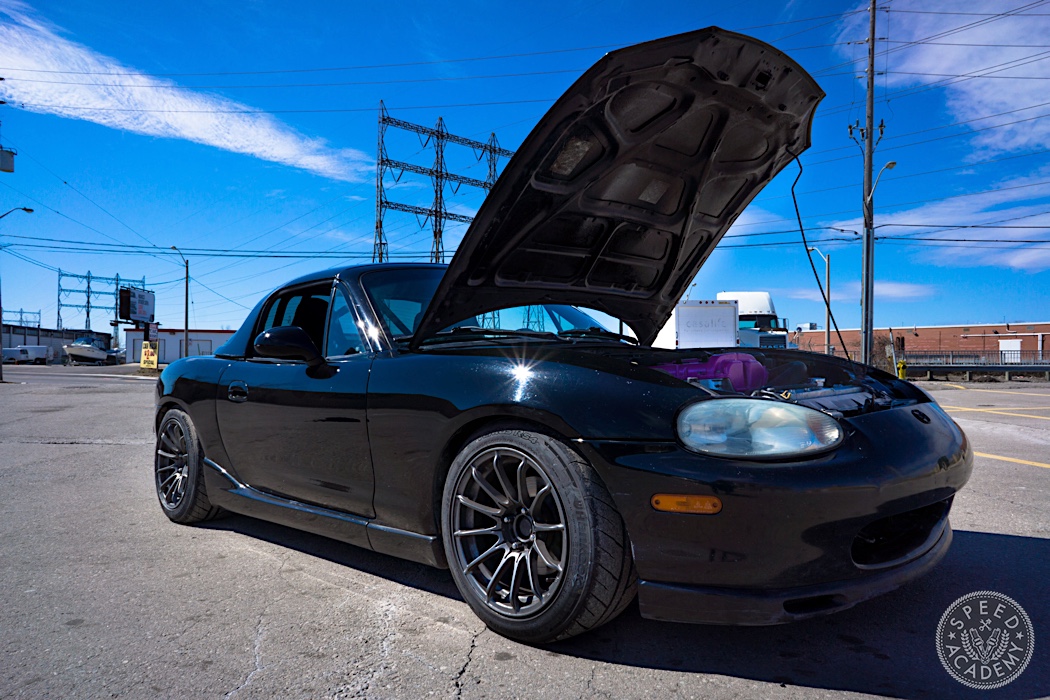 Phillip Oliveira is a local track day junkie who spends his days running the Canadian car culture journal DriverMod and his nights awake wondering if anyone will buy his Ecotec Miata. If you'd like to buy his Ecotec Miata, you can reach him at phill@drivermod.ca and you can check out the For Sale ad here.