After having the S14 tuned (read about it here: Garrett GT2863R Turbo Dyno Test) there was one last critical item left to make it 100% street legal, the dreaded emissions test.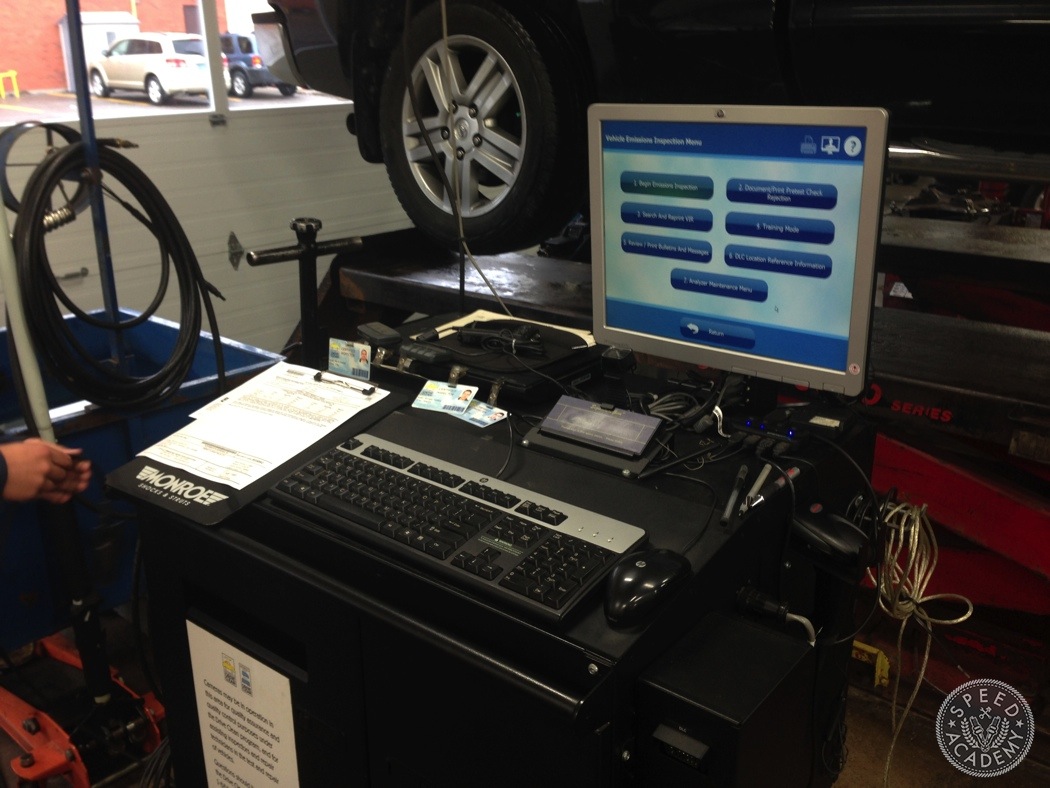 Here in Ontario, we have the Drive Clean program that tests emissions output of most late model vehicles (1987 and up) every two years. Its recently been overhauled and OBD-II complaint vehicles are no longer tested using exhaust emissions. Instead, everything is done through the OBDII port. This has its advantages and disadvantages but the system is no much simpler which is always a good thing.
On older vehicles such as the 1995 Nissan 240SX that don't have OBDII the Ministry uses a two step probe type testing procedure. They idle the car and then rev it between 2200-2700rpm and take exhaust gas readings from the tail pipe.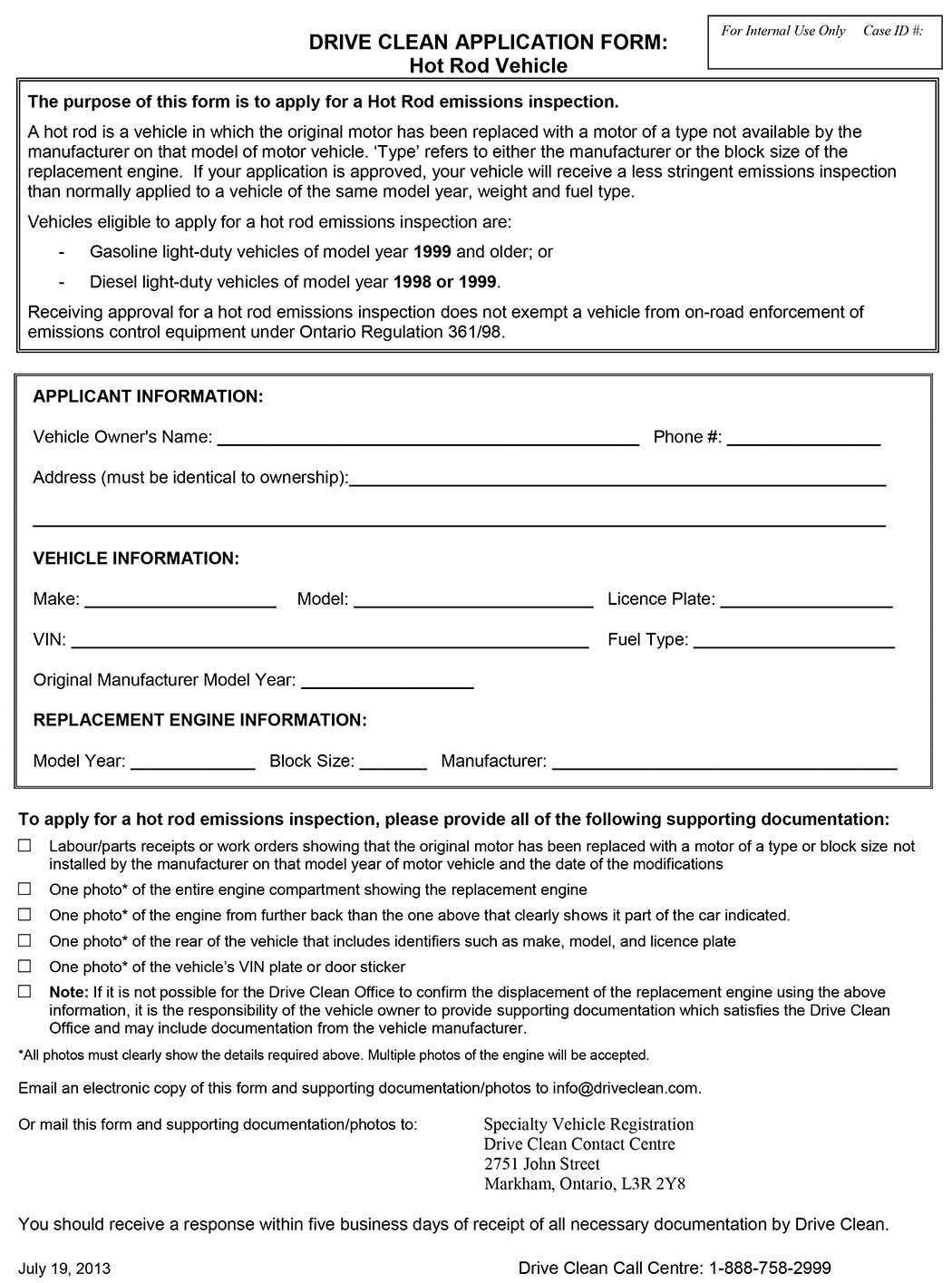 Since my 240SX has an SR20DET swapped into it, I applied for Hot Rod status which raises the allowed limits for the etest. Hot Rod status may seem like a difficult thing to get but after going through the procedure I can safely say it's very pain free and the government actually gets back to you ridiculously quick. Now if only every other department was as prompt!
To apply, you need to call the Drive Clean Call Center, then they'll send you the form above (download it here) to fill out and after providing proof of the swap and some photos you'll get an email confirming or denying (let's hope not) your Hot Rod status several days later. It's not hard at all!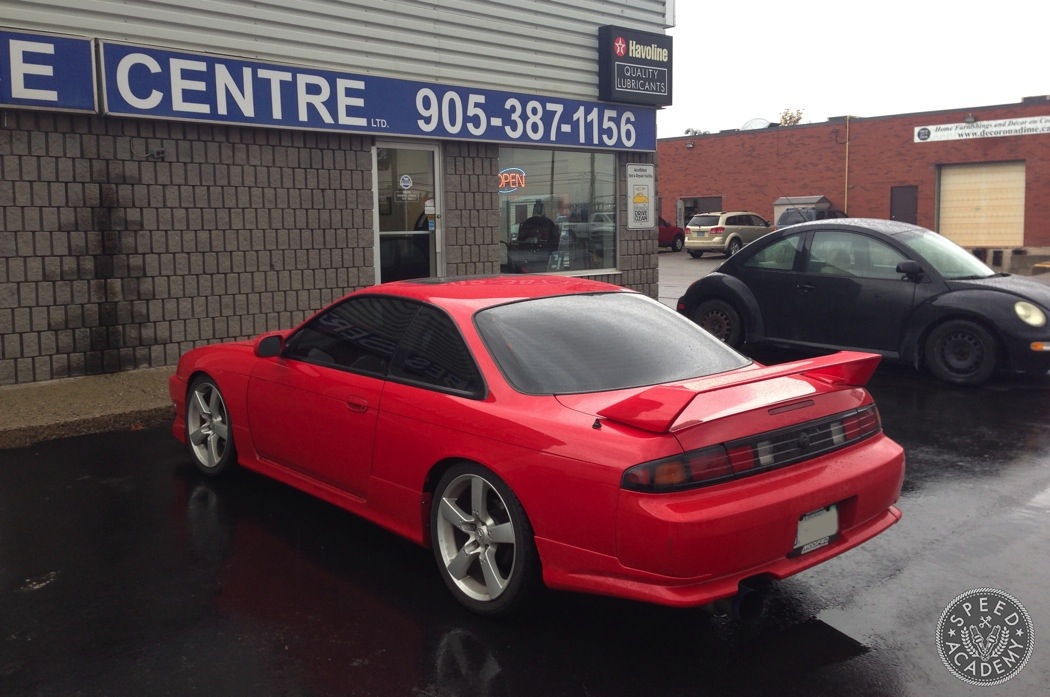 I took my 240 to Forbes Service Centre in Hamilton, ON for the actual emissions testing. The guys there are great, knowledgeable and had my car in the bay as soon as I got there and completed the etest within 20 minutes. I mention this because you want your catalytic converter to be up to temperature and hot. So the longer the car sits outside not running the worse off it is.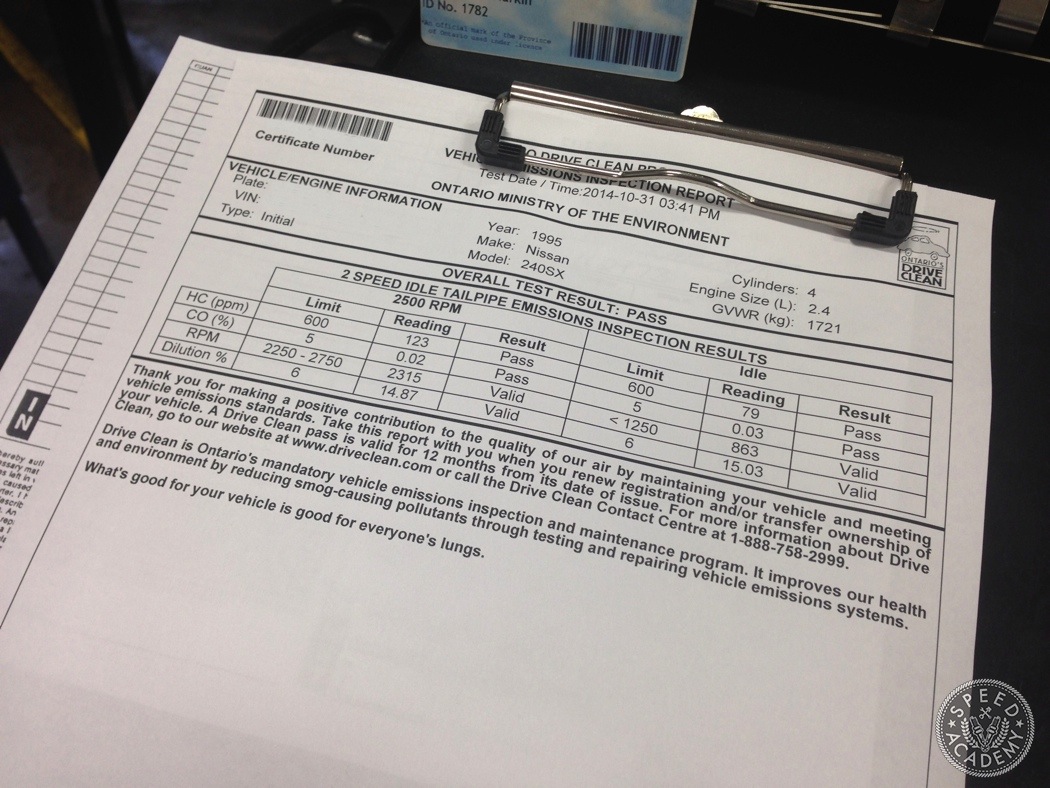 And so how about the results? I passed with flying colors! The SR actually ran exceptionally clean considering the upgraded Kelford cams. The key, in my opinion, was the Vibrant GESI OBDII catalytic converter. It's designed to be emissions legal while providing superior flow for high hp cars. I credit it for the clean emissions and of course, the OnPoint Dyno EMS tune.
If you check below and compare the numbers, you'll notice that the limits are much higher then the regular test for the 240SX. 600 vs 300 PPM and CO% 5 vs 2.42 & 1.35 so Hot Rod status allows for a considerable amount more tolerance.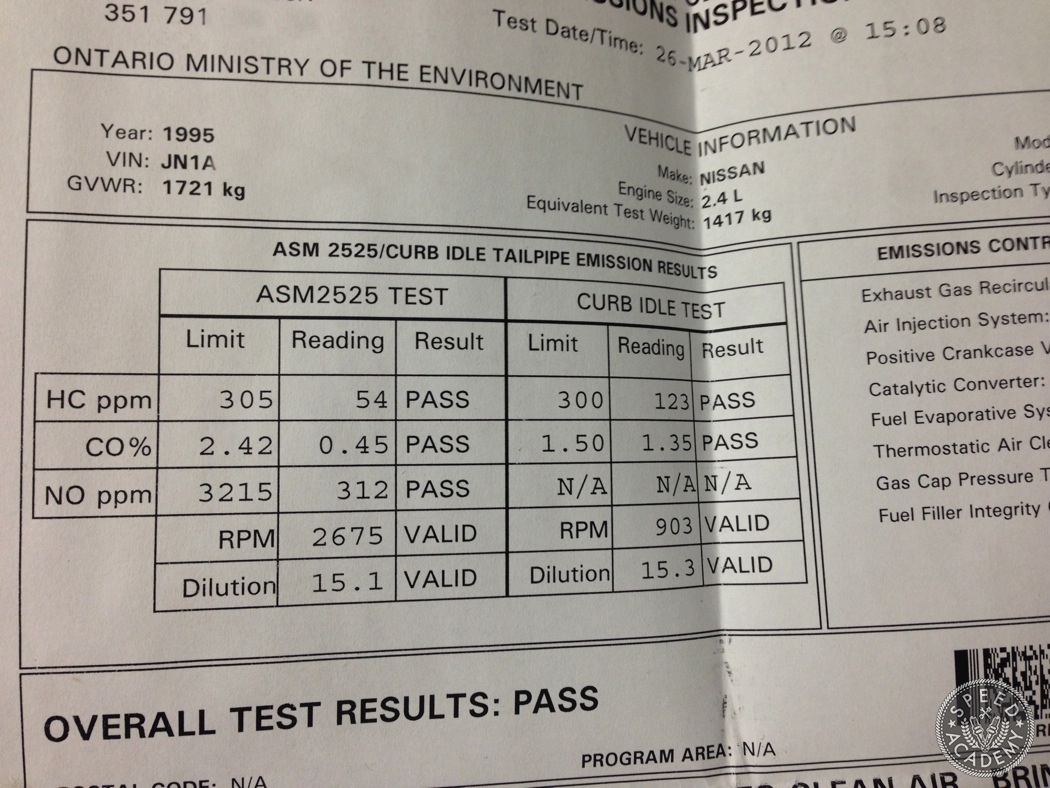 Interestingly enough, this is my etest from 2012 and the engine ran much cleaner this time around in the CO % then it did 2 years ago when the SR was pretty much stock.  I could've just tested the S14 without Hot Rod status and it would have passed but hind sight is always 20/20.
Many thanks to Vibrant Performance for such a great product. The GESI cat should be on everyones list with a modified street car. I was all stressed that the car would not pass but after seeing the results there's no reason any modified car with this cat shouldn't pass the test here in Ontario or anywhere for that matter.