Autobahn is one of my favorite tracks. Not because it has crazy elevation change like Road Atlanta or because it's a historical place like Road America. It's because it's one of the few tracks where I feel comfortable going 10/10ths. I always feel like I gave it my all when I leave Autobahn, likely because it is an hour from my house. If the car breaks or catches fire again, fuck it, I'll leave it there and go home to cry in my bed. With the Cavalier being new to me, it's the perfect track to get acquainted with this P-car.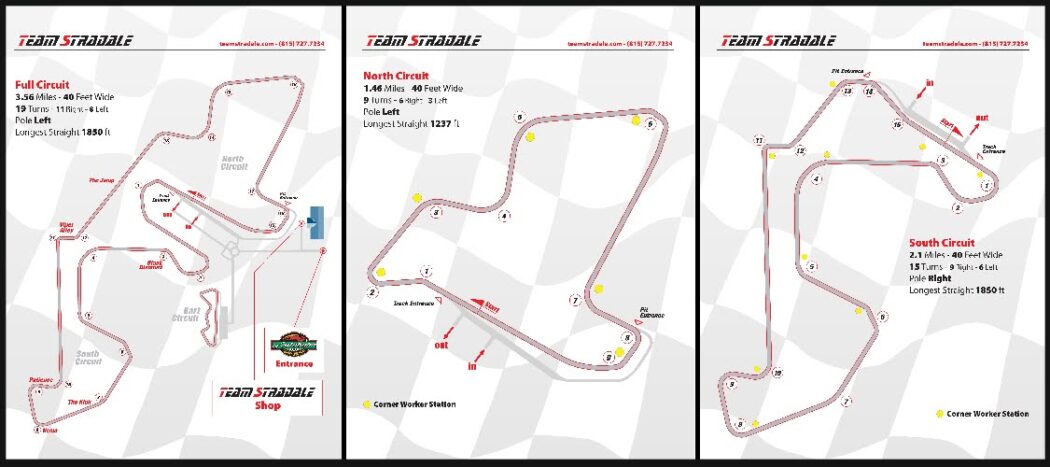 Autobahn Country Club is located in Joliet, IL. Its membership fee costs as much as the Cavalier, but luckily, organizations such as Gridlife rent out one of the track formats for a weekend. Autobahn is essentially three tracks in one. The layouts are called North, South, and Full. The north layout is 1.4 miles, the South is 2.1 miles, and they link them together for Full, which is 3.5 miles. Most Grassroots organizations primarily rent the South course layout. You rarely get on a full course on weekends since they use the unrented layout for their members' races. Those races range from SR3 Radical Cup, Porsche Cup cars, and Spec Miata. For Gridlife Chicago, the South layout was the track we were competing on. I enjoy the fast sweeper that takes a bit of commitment to get right. The last time I competed here was with Gridlife five years ago. You can check that video out here: Autobahn South – Sheri. After feeling like Lewis Hamilton from that video, I felt prepared to hit the track.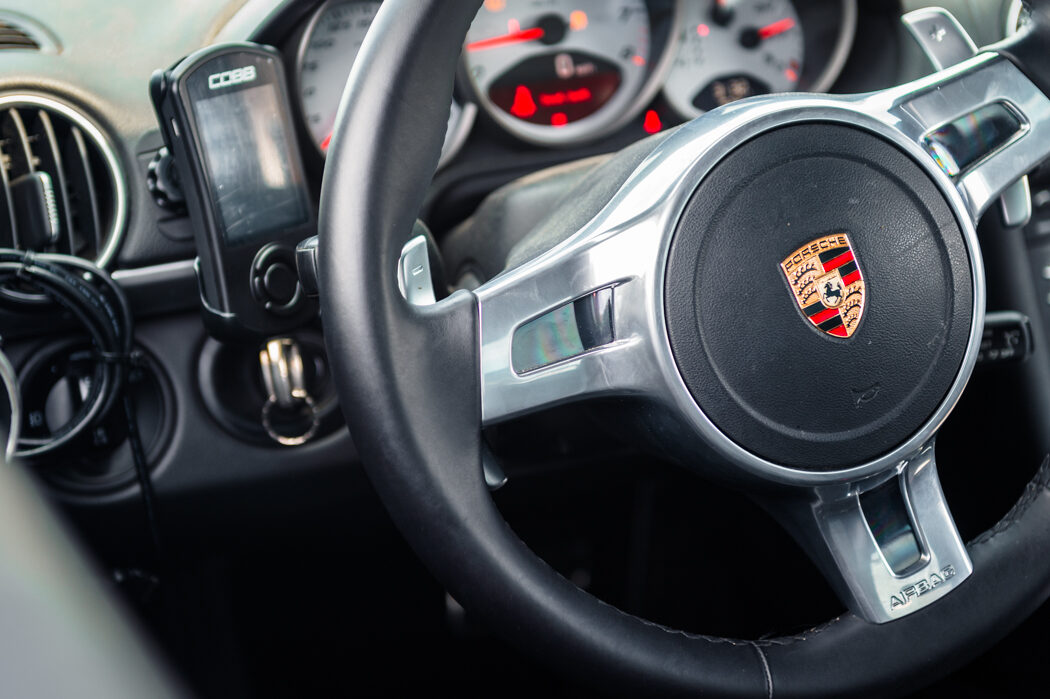 However, the Cavalier needed a few things before I hit the track. As stated in the previous article, Hello Cavalier, I purchased a Cobb Tuner when I bought the car. The engine tune section is essential to me, but the transmission tuning was vital! The OEM transmission map has a bit of a delay when making a shift. Like when you use a slow computer, a half-second delay from when you push a button is noticeable. I don't know if that's the exact measurement, but it feels like forever. For example, I've hit the rev limiter while trying to shift 500rpm before redlining. The Cobb has a preloaded "aggressive" map, which was perfect. It woke up the PDK transmission to change gears like the inner Porsche Cup car the fanboys said it would.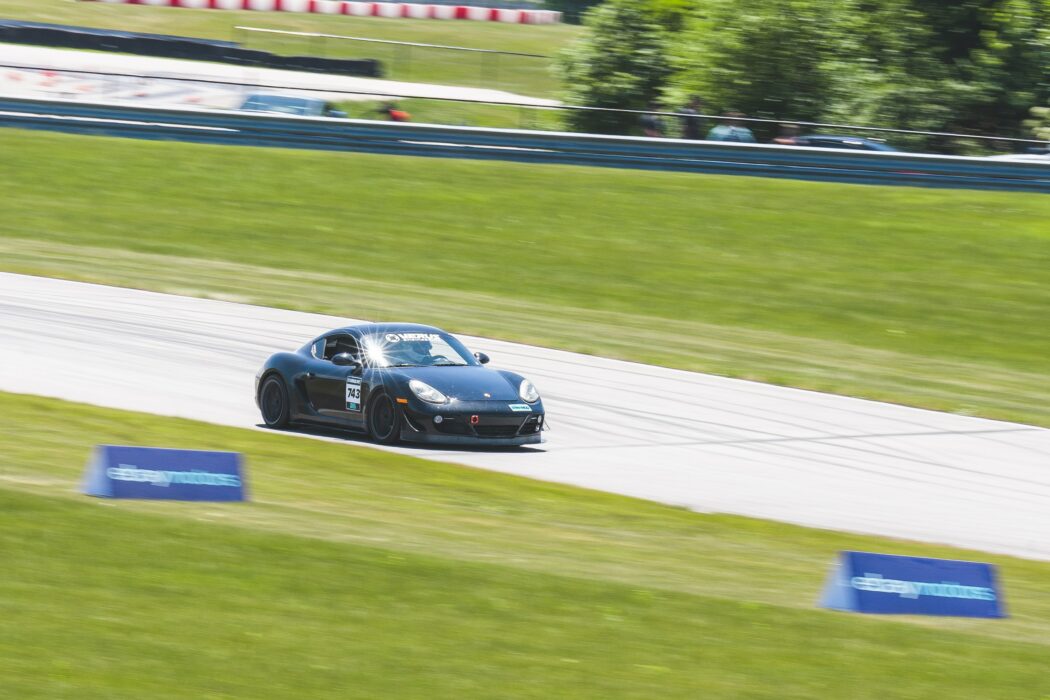 With the trans map loaded, there was a sneaky suspicion that I couldn't turn the Porsche Stability Management (PSM) off. Porsche doesn't want your dad to run into a ditch when he wants to peel out of Cars and Coffee. It gives you just enough excitement till it thinks you are about to die. I held down the PSM button, which said deactivated, but I knew it was a lie. I'll talk more about that later.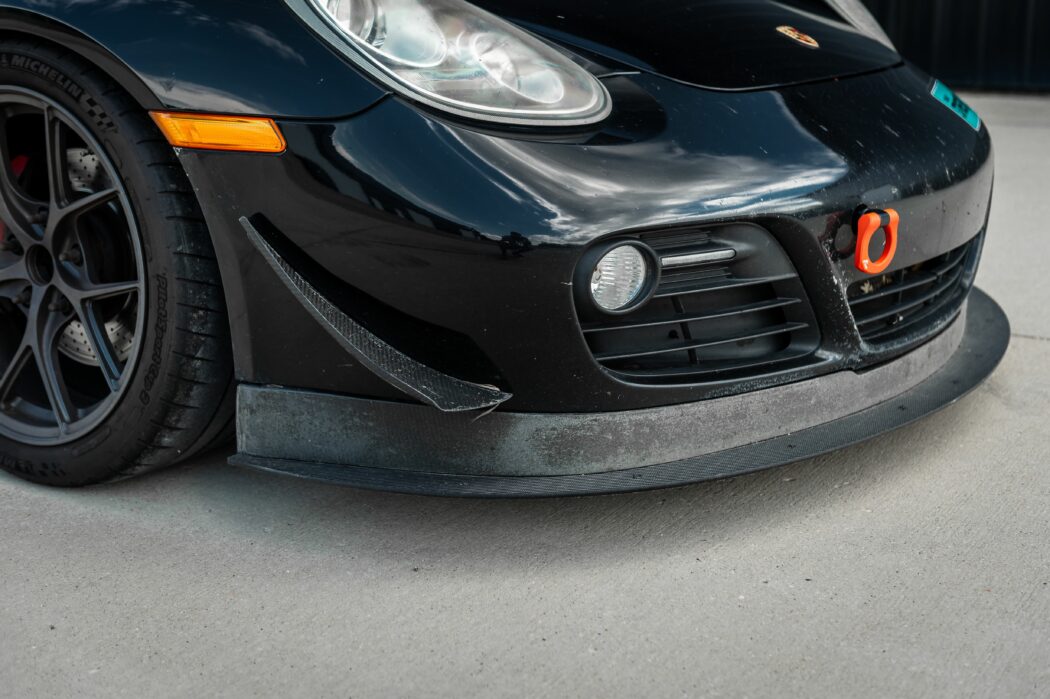 I kept the Verus front aero on the car. I knew that would throw the balance off, but I wanted to drive the vehicle. Not to mention a Cayman looks hideous with its smiley face front end. The Verus splitter and dive plane package is designed to be part of their complete aero kit. This car had its Ventus wing on it before I bought it, but they sold it before I got my hands on the vehicle. They spent a lot of time with a computational fluid dynamics simulator to get it right. I'm going to go out on a limb and say the factory baby dick spoiler wasn't going to cut it. That spoiler is another item that tries to help your dad from dying. At 80 mph, it automatically rises from the trunk lid to aid stability. Tell your dad to calm down, please. We are at two potential problems, but wait, there's more.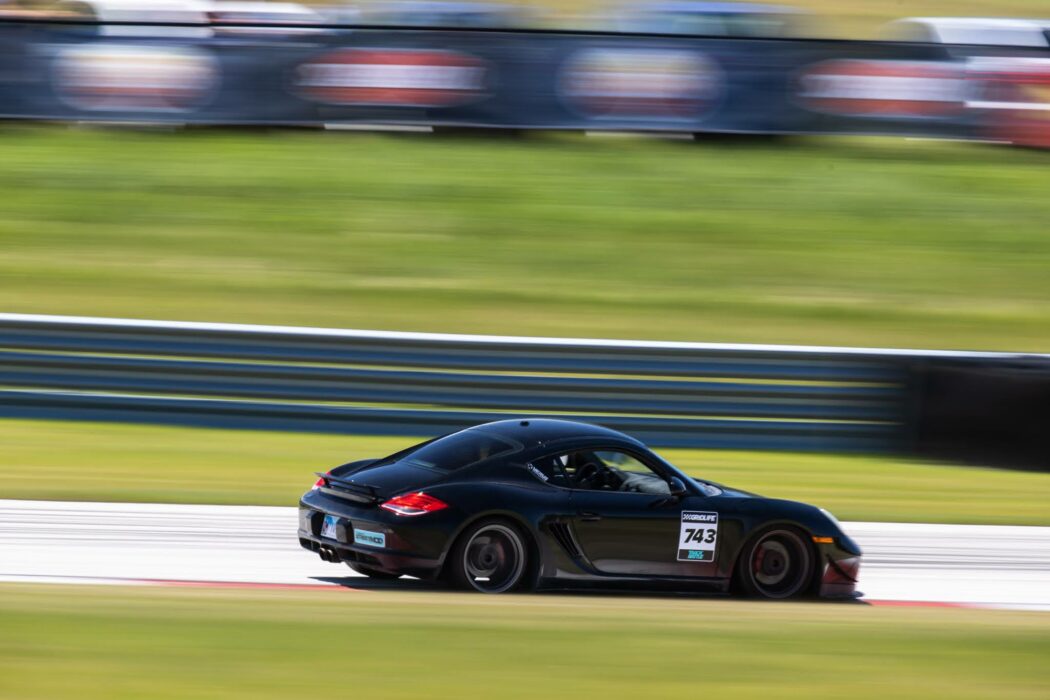 The last thing that could be an issue is the coilovers. The Fortune 510s sprung and valved for the giant wing. The rear coilovers have 800lb springs. They are that stuff to deal with the extra load/force created by the Verus wing. Without the wing, however, this could prove to be an issue.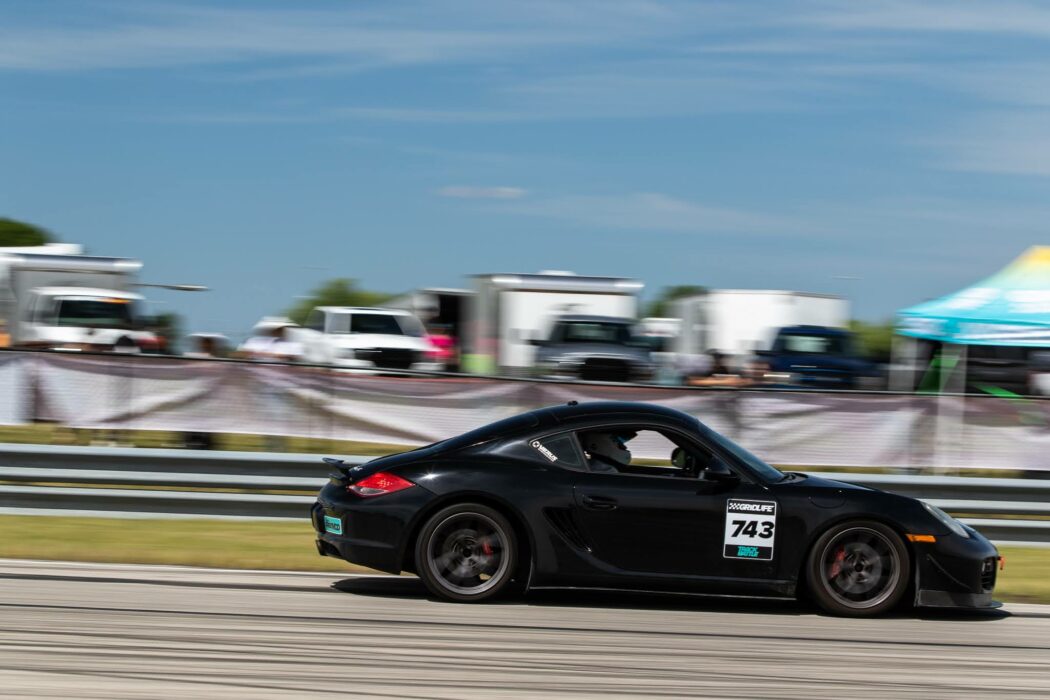 Once I finished acknowledging that this could be the wrong time, I quickly threw caution to the wind. Then the wind came through with dark rain clouds to throw back at me. Rain clouds were rolling in as my session was about to start. Learning a new car in the rain in the first session – what could go wrong? It's not like walls surround this place. Don't think about it. I'll summarize how that session went. I spun on my out lap twice and drove back into the pits. It's been a long time since I've had that "car trying to kill you" vibe.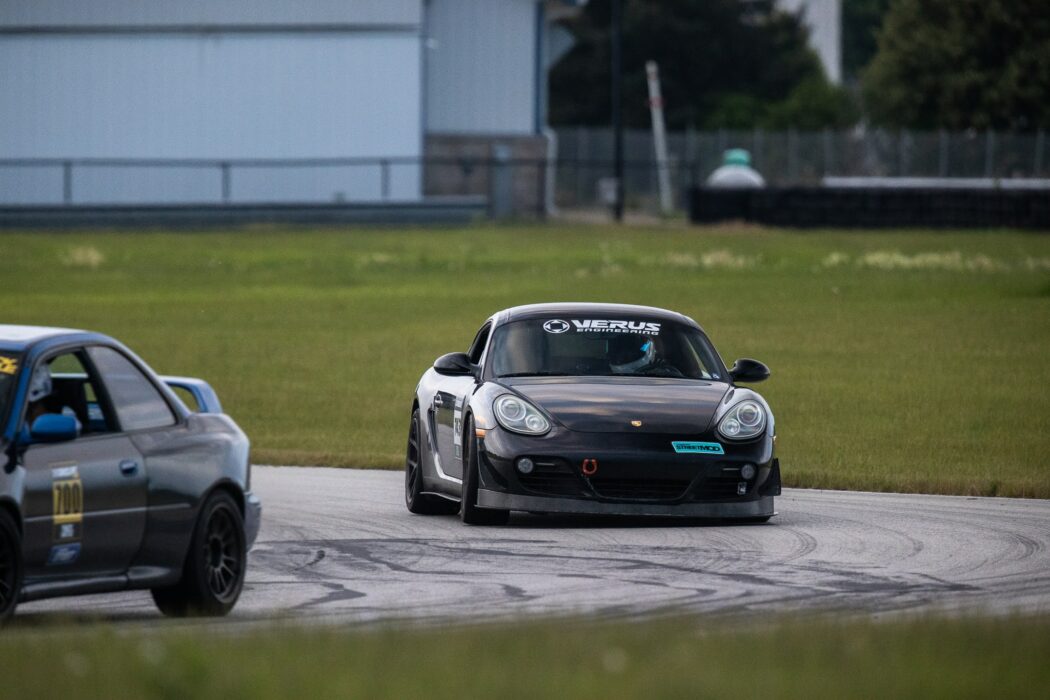 As the rain dried and the vibes of Hamilton filled my body, it was time to set the Autobahn on fire with my greatness. As you would assume, that didn't happen. However, I confirmed that you cannot turn the stability control off. Trying to control a tiny bit of sustained slip angle and the PSM will protect you from having fun. The fun bit will be disabling it while keeping ABS. I read they are both tied together.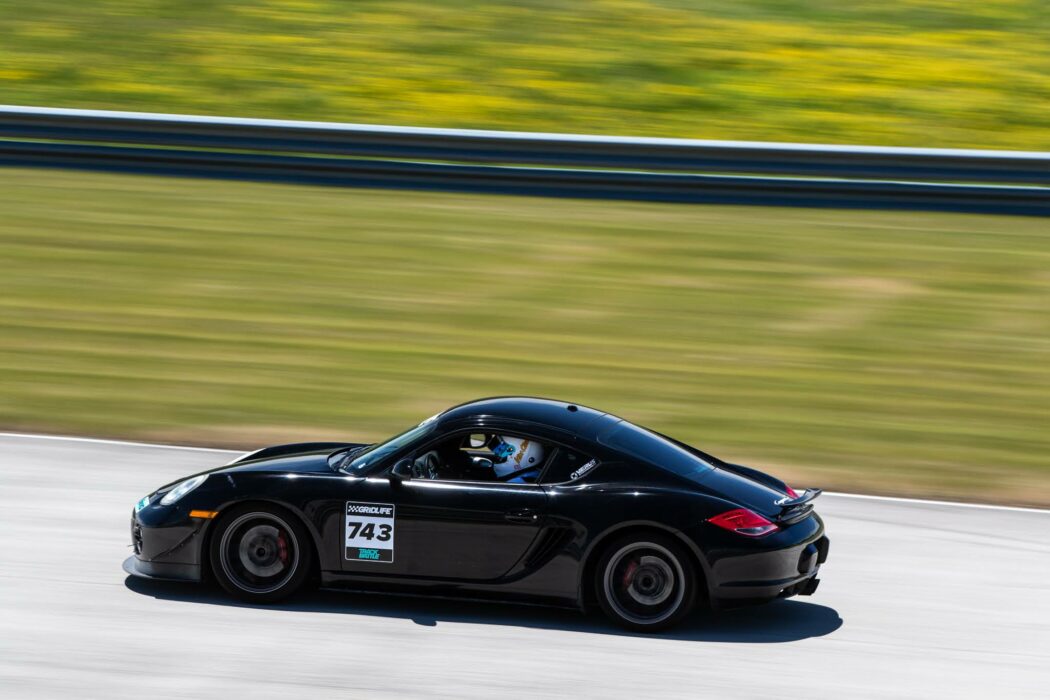 Speaking of ABS, the Cayman has a fantastic brake system. I love getting 98% of threshold braking accomplished by standing on the brake pedal. Tied with the DTC60s from Hawk, it's perfect. Well, almost perfect. I'm already seeing stress cracks forming in the drilled holes in the rotors. Typically, I don't worry about cracking until they reach the edges of the rotors in slotted rotors or when the drilled holes connect. 
There was proof that the Cavalier needed a wing. The car wanted to oversteer in all the sweepers and never remained stable once the suspension compressed. Getting together with the boys at Professional Awesome determined that even with a wing, the rear had too much spring. The coilovers may also be a little tired from being a daily driver for a few years.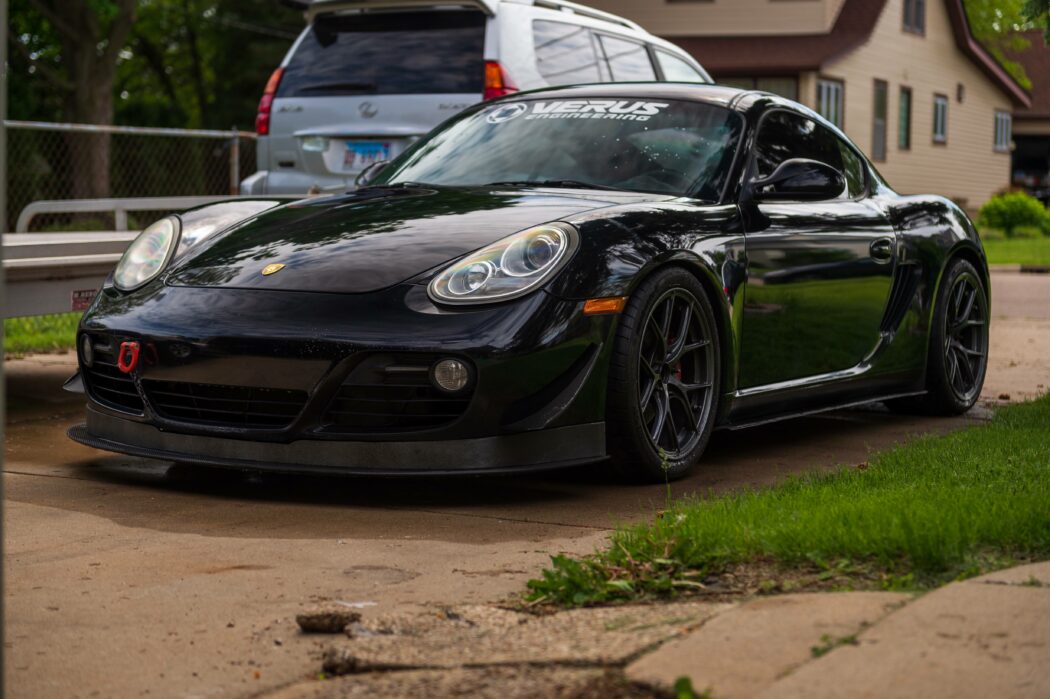 The Cavalier is one of the most fun cars I've ever driven. Doing what you want takes a specific technique and finesse. When it does, you feel rewarded for treating her nicely. I'm going to dial this thing in, awarding my barbarian driving style, which is probably aggressive on initial steering input and slightly too much throttle. 
We have a solid baseline, and it can only get better from here. It should be reasonably easy to document what dialing in suspension, aero, and safety equipment can do. I'll be using Autobahn as my test bed, ‌so let's end this now and get to work.
Past Cayman Articles
Instagram: Proawesomedevin
Facebook: Pro Awe Tech Talk
Podcast: Hypercritical