But before installing the Eibach goodies or rolling the fenders, we tore off the worn out brakes and installed a fresh set of Sport Kit rotors, brake pads and brake lines from StopTech. The Sport Kit is designed as an all-in-one performance value, with a street price of around $650. The kit includes one-piece rotors with a vane design that improves cooling and slots that keep the pads clean and deglazed, brake pads that are low dust but still provide increased bite and temperature range, and braided stainless steel brake lines that provide a firmer pedal feel and added protection against a cut line from debris at the race track or on the street.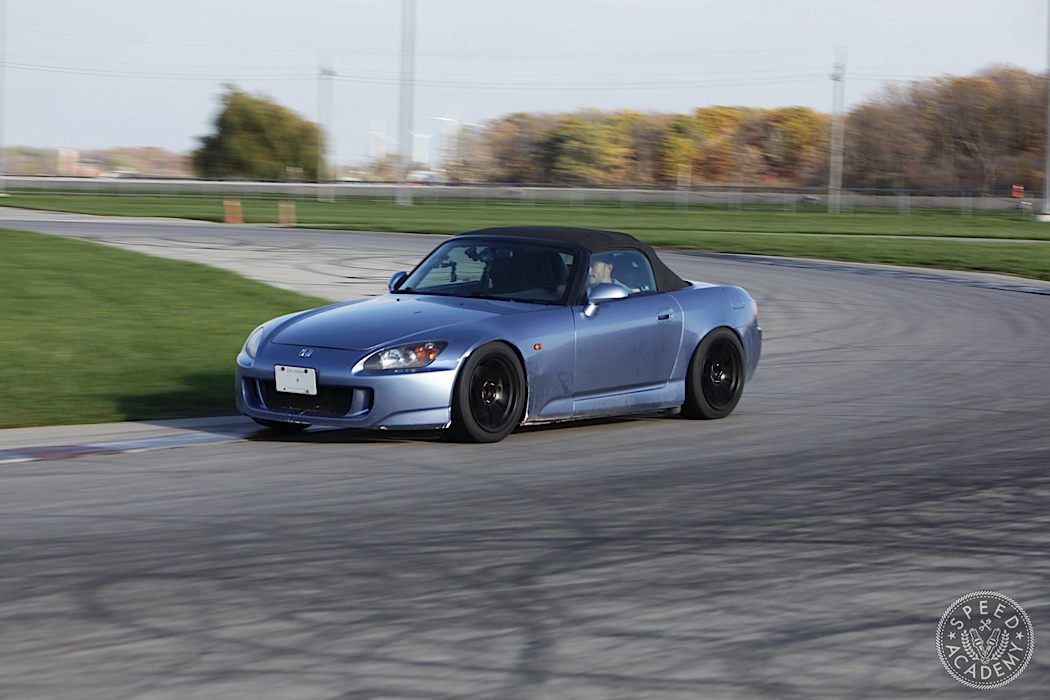 Our initial impression was that the pads didn't have as much bite as we're used to from a performance product, but once we fully bedded them in they did work surprisingly well at the track. Don't get me wrong, they're definitely not a full race pad so don't have that head-snapping high initial torque, but they took the heat of several hot lap sessions and didn't show much sign of fading, so as as dual purpose street/track pad we were quite impressed.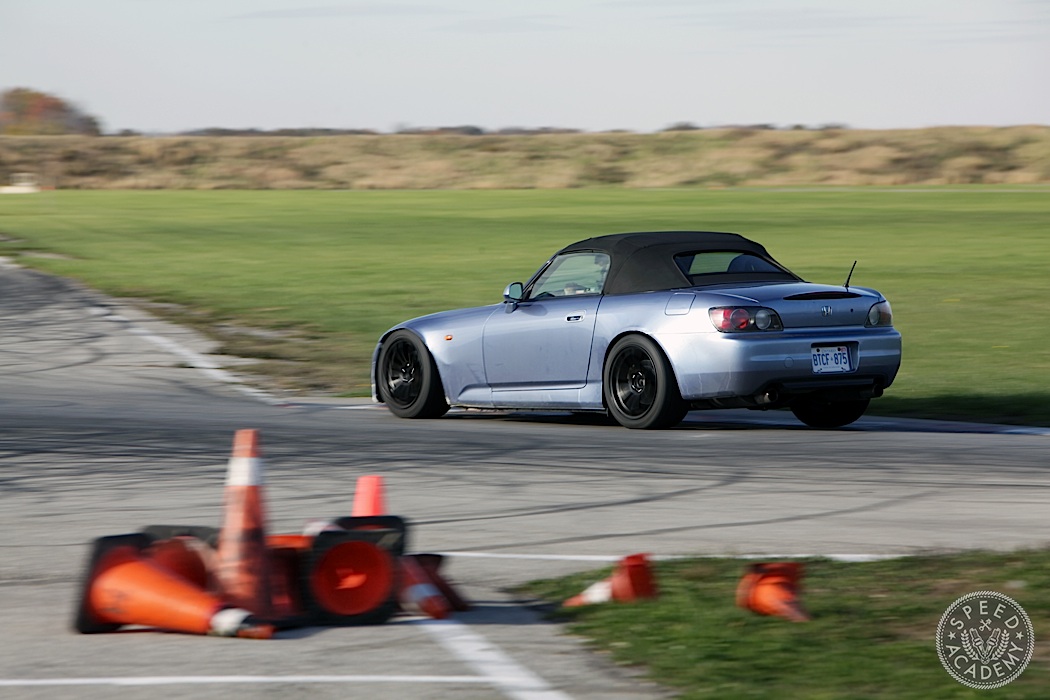 The Hankooks also needed a few laps to "rubber in", but once we got them up to temp our laps times really started to drop. The car was quite loose on turn-in, though, so I softened the rear damper settings (which I started in the middle of the range both front and rear) and the tail end calmed down a fair bit. Gotta say, the Multi-Pro R2 dampers really impressed us both with their OE-like ride quality on the street and responsiveness on the track. The transformation from that stock baseline track day was really pretty mind-blowing, but there's still lots of work to do. For starters, the car is still a bit too loose on turn-in, which we'll fix next time by going to position 2 on the front bar and adjusting damper settings further, but we didn't feel it was worthwhile chasing the setup too much on this day since the camber and toe adjusters on the car are all completely seized, so the alignment was way outta spec.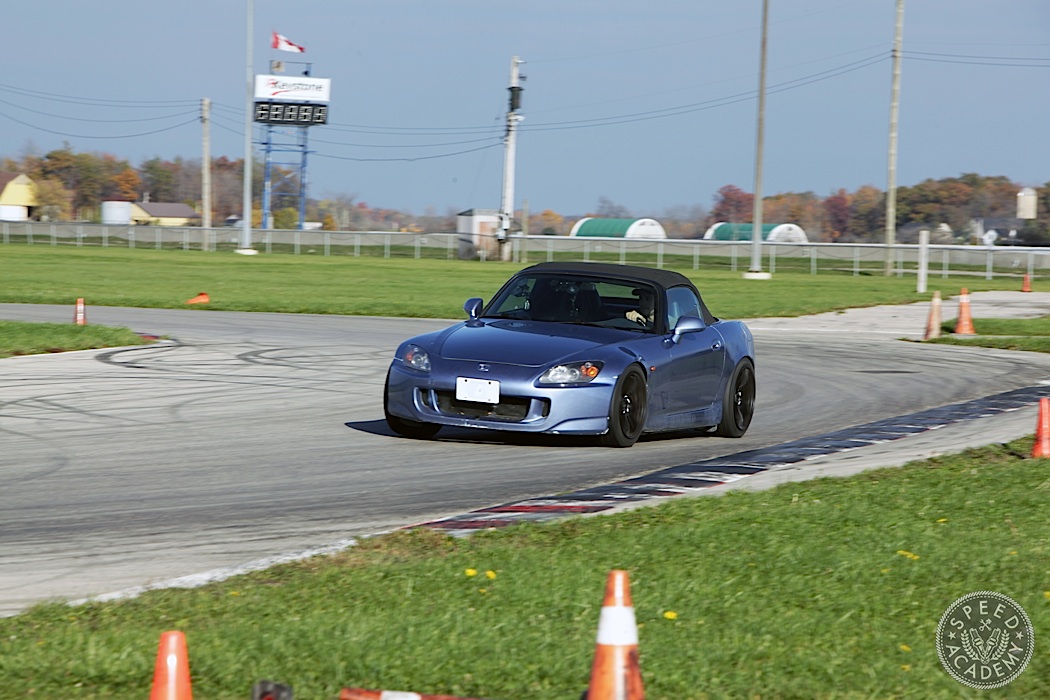 Still, even without a proper alignment or corner balancing, the ASS2000 ripped an easy 1:24.1 lap time, taking a whopping 7-seconds out of the 11-second deficit it needs to make up to put a beatdown on that big-dollar Jag. That may sound like a big chunk of time, and it is, but things are going to get a lot harder from this point on, because by far the biggest gains you'll make with any track car project come from upgrading the tires to a wider and stickier compound, the shocks and springs to a stiffer and fully adjustable setup, and the brakes to something that can handle the heat racing conditions throw at them. To find those remain 4.2-seconds we'll need to break into the 1:19's, we're going to have to make a bunch more power, fine tune the suspension and chassis setup, improve aerodynamics and maybe even take some weight out.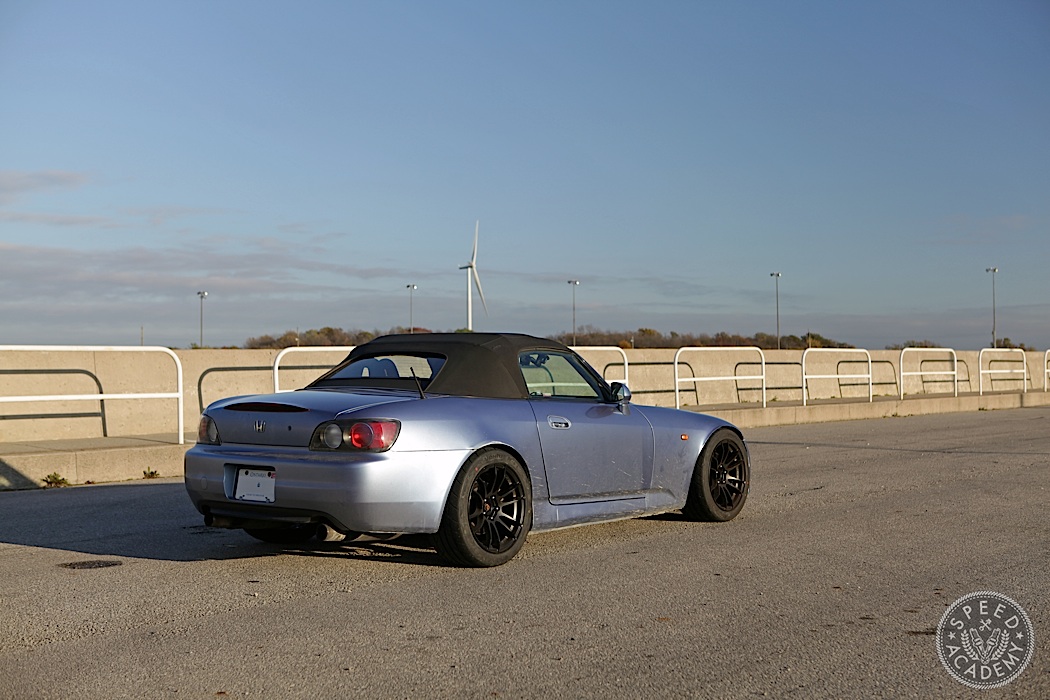 But before we get to that, we really need to give this car a thorough going over to make sure it's up to snuff for future track day duties. There's still a big clunk from the front end, those seized alignment bolts need to be replaced, and both front and rear subframes also need to be replaced in the process. And with the slipping clutch not magically fixing itself, we've got a big job to tackle there too, which may expose other parts that require our attention. Still, we're pretty damn pleased with the results so far and are embracing the car's 'Rough World' appearance. This build is all about going fast, not winning hard parking contests, and this tired old AP1 really showed us just what an amazing platform it is once it's given a little love from the aftermarket.
You'll want to watch our video of how everything played out at the track and to see how we mangled the stock fenders and flared them to fit the aggressive wheel and tire setup. It's a great watch!