If you've seen Episode 5 of our YouTube build series already, then you know we've added an AEM ETI intake and a HKS Hi-Power Single Exit Titanium Tip cat-back exhaust system from HKS North America Master Distributor Motovicity. What you don't know is we've also added a HKS Premium Suction air intake duct from Motovicity and Crawford Performance Billet Power Blocks to our Targa Newfoundland Scion Racing FR-S, both simple yet effective way to improve airflow into the engine and increase mid-range power and area-under-the-curve.
Keep in mind, because of the rules for Targa Newfoundland, we've stuck with a naturally aspirated FA20 engine, rather than adding boost via a supercharger or turbocharger and then having to run in Open Class against the heavy hitters. We think the FR-S has the best chance of winning its class in the Modern division, where the engine must remain naturally aspirated. So that's why we've stuck with the best bolt-on power adders we could find, along with a proper ECU calibration from OnPoint Dyno once all the mods are in place.
We've actually tested the AEM ETI intake on a friend's Scion FR-S and the results were rock solid. That car baselined at 158whp on the OnPoint DynaPack dyno and then made 169whp after we installed the AEM intake. Impressive gains without any tuning, just install it and make jam! The gains were all up top, above 4,500 RPM, but that's exactly where you want it for track day use anyway. After Sasha from OnPoint worked his magic with Ecutek's recalibration software, this FR-S picked up another 11whp peak to peak and made very solid gains from 4,000 RPM to the 7,400 fuel cut. We were certainly hoping to see similar gains on the Targa FR-S, but more on that soon.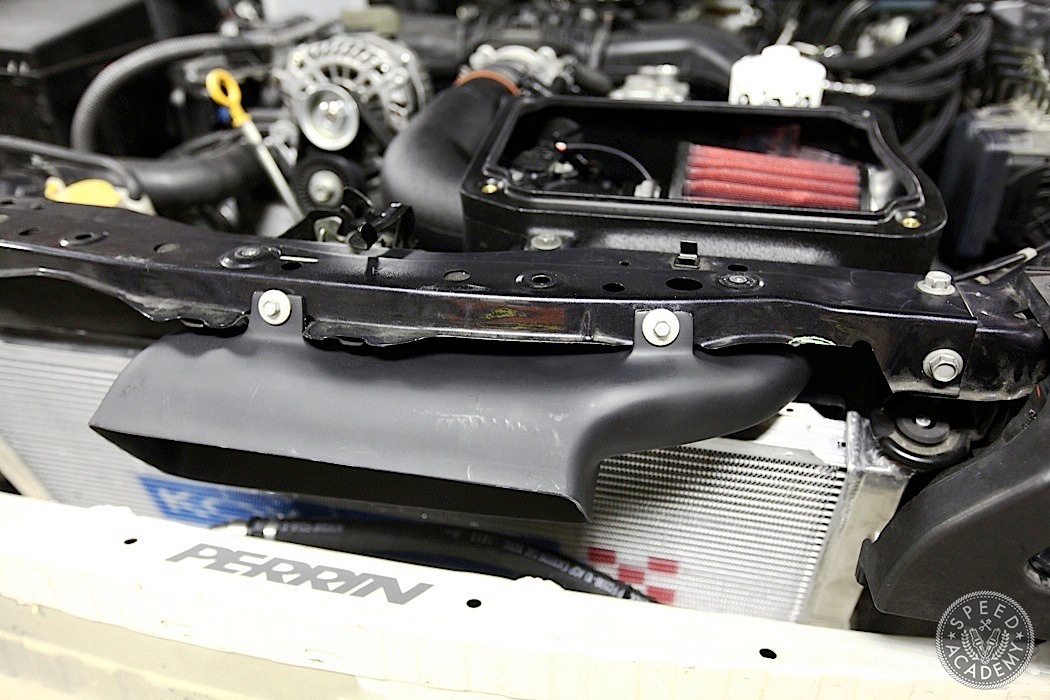 One of the many parts that were missing on our hand-me-down FR-S was the factory intake duct, which attaches to the front of the airbox and draws fresh air from in front of the radiator, rather than sucking hot air in from the engine bay. The AEM airbox is designed to use the factory air duct, and since ours was gone we needed a replacement. At first we were just going to order the original equipment duct, but then we spotted the HKS intake duct and its much larger air inlet and figured more air is more better. The HKS unit is also made of a durable FRP material with a smooth finish that should help encourage airflow into the CFD-designed AEM airbox before being gobbled up by the engine through the AEM Dryflow washable and reusable air filter. We think this is a pretty special combination of parts, where USDM and JDM meet in perfect airflow-enhancing harmony.
Crawford Performance knows as much about Subaru Boxer engines as anyone in this industry, so when they released their Billet Power Blocks for the FR-S and BRZ, we were immediately intrigued. The concept with Crawford's BPBs is a simple yet elegant one, where a pair of billet aluminum spacers are used to lengthen the intake manifold runners and in the process increase their volume. This has the effect of shifting the power curve to the left, which means more power available at lower RPM. For an excellent evaluation of Crawford's BPBs, check out MotoIQ's story and dyno results. As you'll read in that story, their test mule BRZ picked up 4whp peak-to-peak, but pulled a 11.5whp gap at 6,200 rpm and gained 8 lb-ft at around the same RPM. These are very solid gains for a part that takes 30-minutes to install (a process made simpler thanks to the included hardware and instructions), plus the BPBs help get rid of some of the torque dip in the 4,000 to 4,500 RPM range. We didn't see top end gains quite this big in our own test, which we'll have for you soon as part of a dyno test story using our friend Mike's FR-S, a car we featured in our FR-S Track Prep Basics story a few months ago, but the overall gains to area-under-the-curve still make the Crawford BPBs well worth the investment.