With the car up on our QuickJack system, we stripped off the brakes and suspension and dropped the rear subframe, all of which were in need of a serious overhaul. We took all the control arms and subframe to our buddy JP at Stripping Technologies Inc. in Cambridge, Ontario.
JP worked his magic in the media blasting department and cleaned everything up beautifully, plus he powdercoated anything he could safely put in the oven with this beautiful satin black finish that not only looks great but is also extremely durable.
He was also kind enough to lend us his Vibrating Tumbler, which he loaded up with walnut shell blasting media. Throw your rusty old nuts and bolts in this thing, let it do its thing overnight, and in the morning you've got much cleaner nuts and bolts. I wouldn't go so far as to call them as good as new, but the rust was mostly gone and given the low cost of one of these tumblers it's a great option if you don't want to drop the big bucks on brand new hardware.
For those parts that would either not fit in the powdercoating oven or had bushings or other parts attached that we didn't want to expose to that much heat, we instead opted to treat them with POR-15 rust preventative coating. This stuff is pretty amazing, as you can brush it on surprisingly thin and as it hardens up it also thickens and leaves the part with an impressively smooth, consistent finish. Add to that the brand new SuperPro USA rear control arms, swaybar, and freshly rebuilt KW Suspensions Variant3 coilovers and the Abandoned STI was starting to look loved again.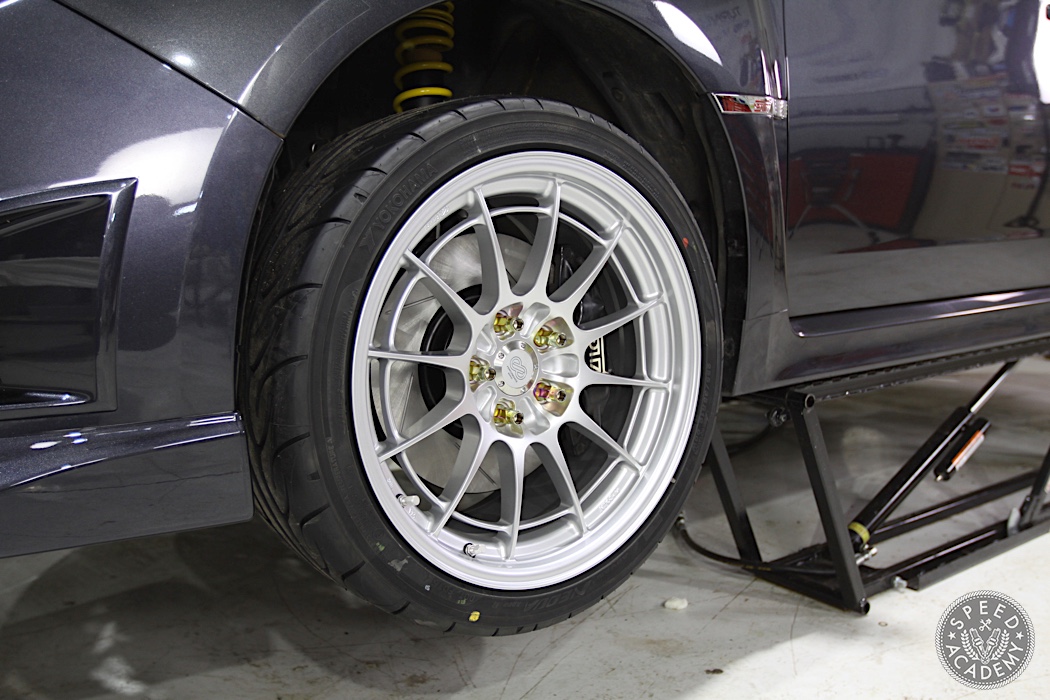 Up front it was more of the same, with freshened KW V3 coilovers, new wheel bearings, SuperPro USA bushings, bumpsteer, roll center and anti-lift kits along with their 22mm adjustable front swaybar, plus we rebuilt the factory STI Brembo calipers and replaced the rest of the braking system with Stoptech Sport rotors, pads, stainless braided brake lines and brake fluid. This meant we could finally bolt up the new wheels and tires, a super sexy set of Enkei NT03+M 18×9.5 +40 in F1 Silver wrapped in Yokohama Advan Neova AD08R extreme performance summer tires, and call this thing a rolling chassis again.
Before it was time to install the new engine, we also did a comprehensive cleaning of the car inside and out using a wide selection of SONAX Canada's professional car care products, including their Profiline Cut & Finish which is a one-step cut and polish process done with a rotary polisher. The end result was very impressive given that it only took a few hours to do. To complete the exterior transformation we also installed a GReddy GRacer front lip spoiler, which we sourced from Turn14 Distribution at a killer price, and an Agency Power rally rear wing with a carbon fiber airfoil.
That's a wrap on this first instalment on The Abandoned STI build, but if you're excited to see more you can jump on our YouTube channel and start working your way through the Playlist for this project, starting with the video below. We have big plans for it once it's tuned, including Pete and I having a little competition at the track to see who gets to use it as their daily driver. Stay tuned for more updates here and be sure to subscribe to our YouTube channel, Instagram page and Facebook page for up-to-the-minute updates on this project and many others.