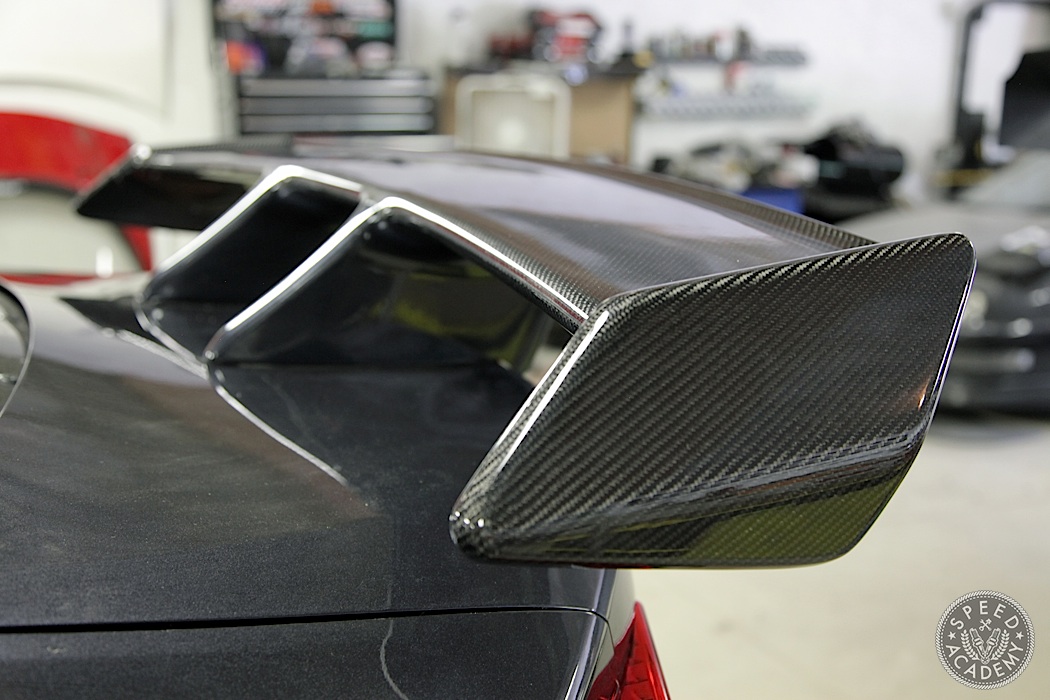 When we took possession of this FR-S, the trunk lid had a couple big tears in it from a race wing making big downforce and the underside of the skin having not been reinforced. This meant either repairing the trunk or sourcing one from a wrecker (buying a new one definitely wasn't in the budget). We also wanted a rear wing, but rather than a giant GT wing we preferred the idea of something a bit more street-oriented since all the cars competing in Targa NL must be plated and legally registered for street use. We really wanted a Voltex Type 1S wing, which is designed with exactly this type of functional street style in mind, but the wait to order one from Evasive Motorsports wasn't going to fit our timeline.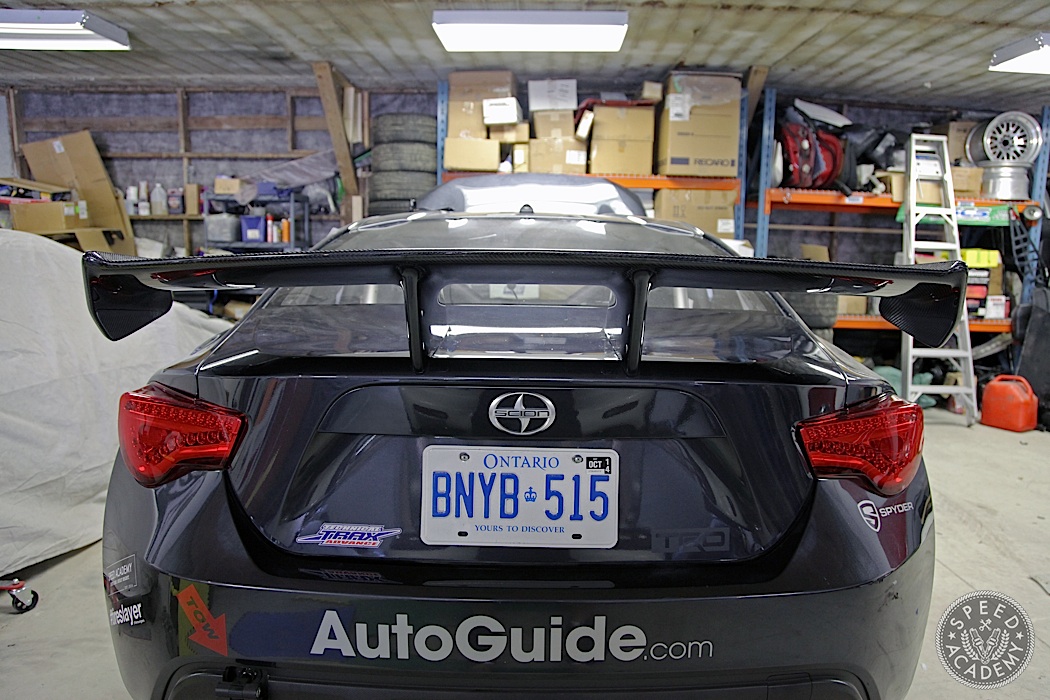 While researching other options, we stumbled upon a seller on one of the FR-S forums who had a trunk and wing combo for sale that would kill two birds with one stone, since the trunk was the same colour as our car and the Zele wing had the lower mounted street style we were after. A Paypal payment later and the wing and trunk were ours. The trunk lid even came with a free TRD sticker. JDM horsepower unlocked!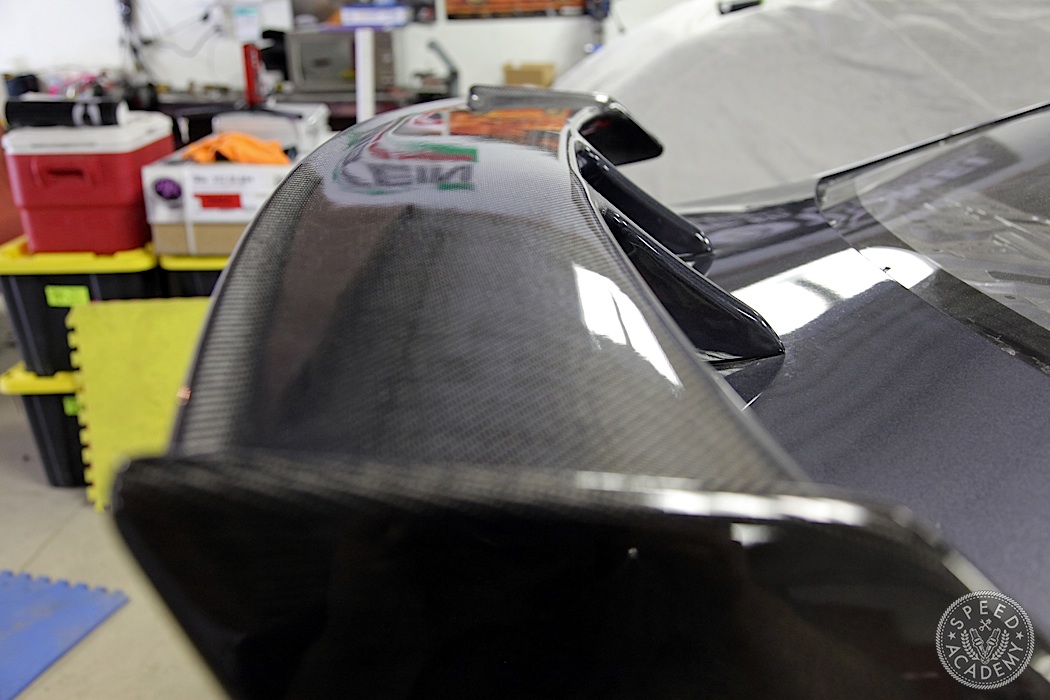 Admittedly, this wing's style isn't for everyone. And that's ok. The idea was to be different. The bulky wing stands seem to be what turn the critics off, but our only beef with it is that it's not nearly stiff enough to be functional. We can see the wing flexing in the side view mirrors when at speed. We suspect this is just a case of the wing being hollow and not very strong, rather than it generating so much downforce that the ends of the wing are flexing from the added load. This is not a case of intentional F1-style active aero, that's for sure, but we like the way it looks on the car and without a big front splitter to balance a GT wing we're fine with this wing being cosmetic rather than truly functional.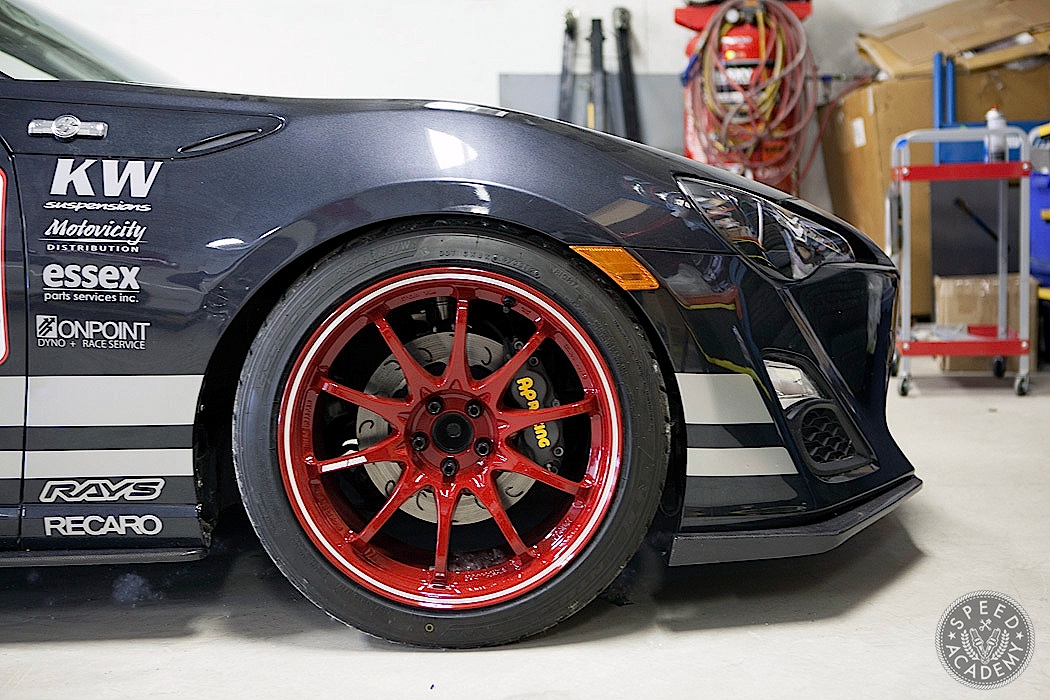 Arguably the biggest cosmetic change we've made to the Targa FR-S is in the wheel department, and unlike the wing these Volk Racing CE28RT forged rims bring serious performance advantages along with their Burning Red 10-spoke sexiness.  We've already covered these wheels in some detail in our "What's In The Box" post, so check that out for some background on Volk Racing and the proprietary forging methods Rays Engineering uses when manufacturing their full lineup of forged monoblock wheels.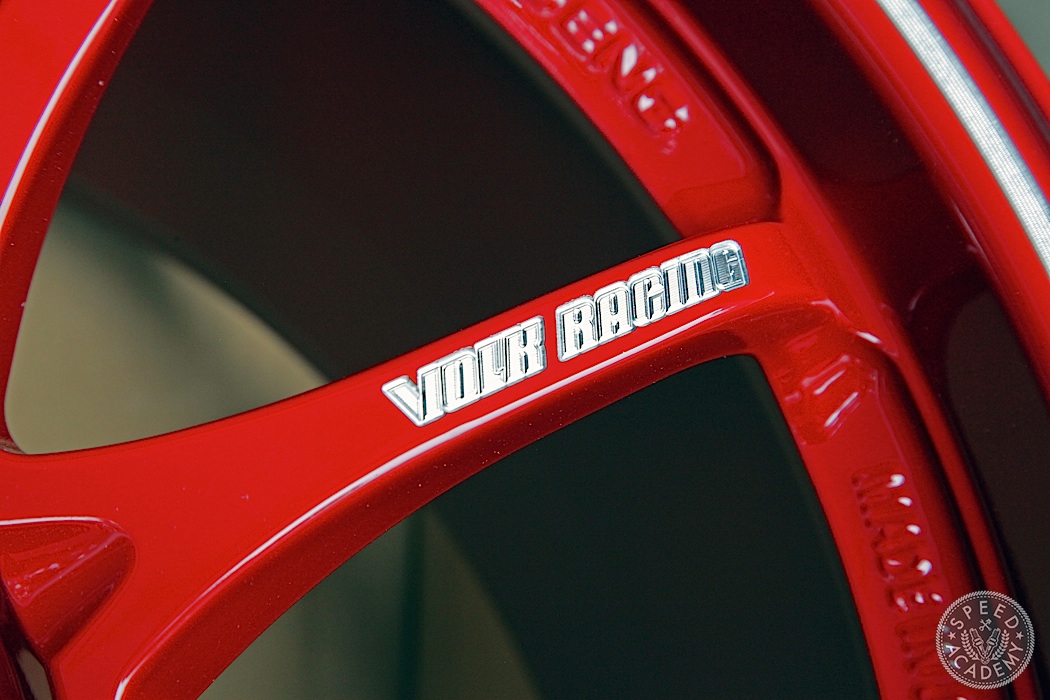 Now, we understand that not everyone can afford a $850 wheel and we sympathize. We really do. But we also believe in spending our money where it matters most, and few upgrades change a car's look and performance more than its wheels. Factor in the extremely rough roads in Newfoundland and equipping our FR-S with the strongest wheels money can buy starts to make a lot of sense, since a bent or broken rim from smashing a pothole at high-speed could end our rally in a hurry. Given that we've poured months of hard work and many, many thousands of dollars into building this car, the added strength of these highly engineered wheels starts to look like a rather affordable way to ensure we make it through the 5-day torture test that is Targa NL.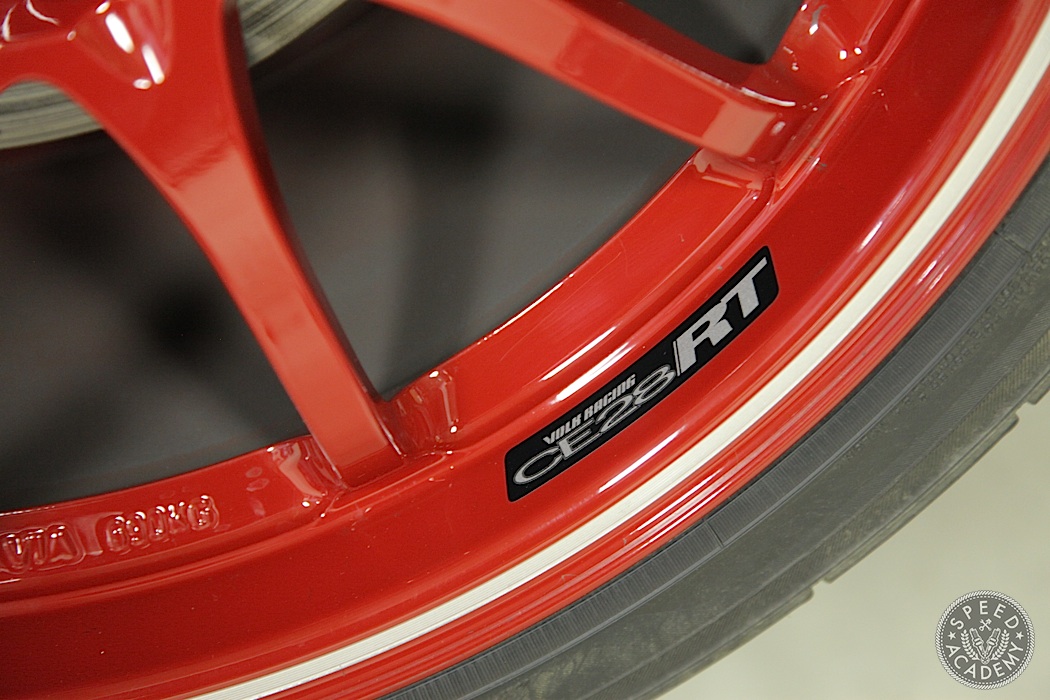 Strength is only one advantage of these RT (Rigid Tuning) edition CE28 wheels, which are 5-6% stiffer than the standard model. They're also incredibly light at just 16.5 lbs in our 18×9.5" +38 size, about 1-lb lighter than the standard version thanks to a redesigned face. On a relatively low torque engine like the FR-S is equipped with, keeping rotational mass to a minimum will give our Scion better acceleration out of the corners and better performance on the brakes too. The benefits of reduced unsprung mass are also something we factored in when manning up on these wheels, since less unsprung mass means the suspension can more easily control wheel movement and that means the tire will be in more consistent contact with the road. This is especially important on rough road surfaces, making the CE28RT's remarkable lightness an even bigger asset than it would be on a race car that's only used on smooth racing circuits.
Plus (and we may be biased here), we think these wheels looking totally badass on any car and work beautifully on our FR-S thanks to their Burning Red colour tying in perfectly with the Scion Racing red/silver logo and red Spyder taillights. All in all, we're very happy with the way the car looks now, so it's time to get back to focusing on the go-fast bits and sorting out a few problems we discovered during a recent track test, including a wonky limited slip differential, a missing sway bar, and a flat spot in the engine's powerband.