It seems people get a kick out of seeing new stuff getting unboxed. There's an endless number of new product videos on YouTube of people doing horrible little unboxing videos that last for 15-minutes, 13 minutes of which is them fumbling with packaging and struggling with camera focus and audio control.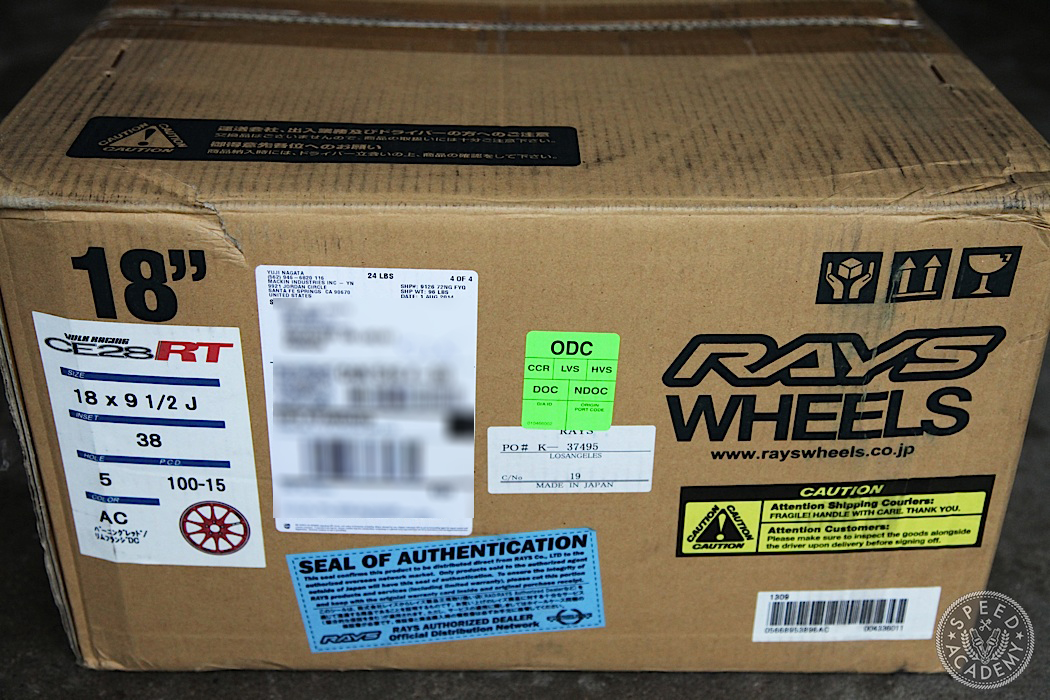 We're going to spare you that agony here and simply give you a bunch of pictures of our fresh set of Volk Racing CE28RT's being unboxed. Ok, and we'll add in a few words too, just in case you want to know a bit more about them. Hope this doesn't get too sexy for you.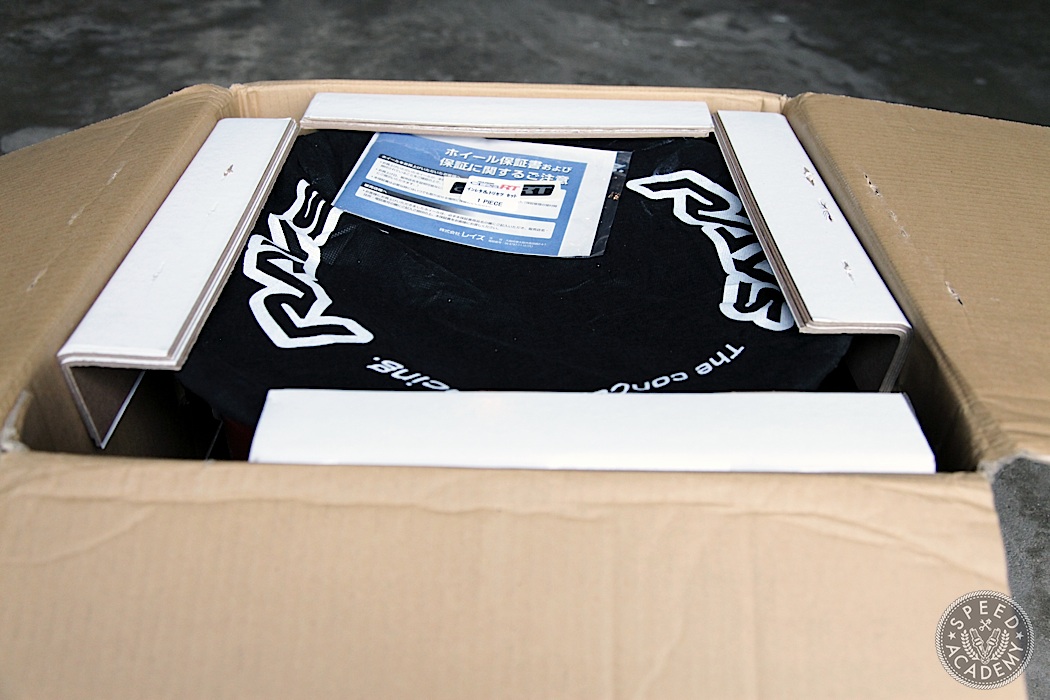 Pop open the box and you're greeted by this rather tantalizing view. Those white cardboard shims hold the wheel securely in place and that black cloth wheel face cover with the Rays logo on it helps protect it from scratches during packing. For those of you who don't know, Rays is the parent company that manufacturers Volk Racing as well as several other wheel brands including Gram Lights, all of which are distributed in North America by our friends at Mackin Industries. Rays really does go the extra mile when packaging their wheels and it makes the unboxing ceremony that much more enjoyable. We call this step in the unboxing process 'foreplay'. Or if you prefer high school analogies, then lets call it 'getting to 1st base'.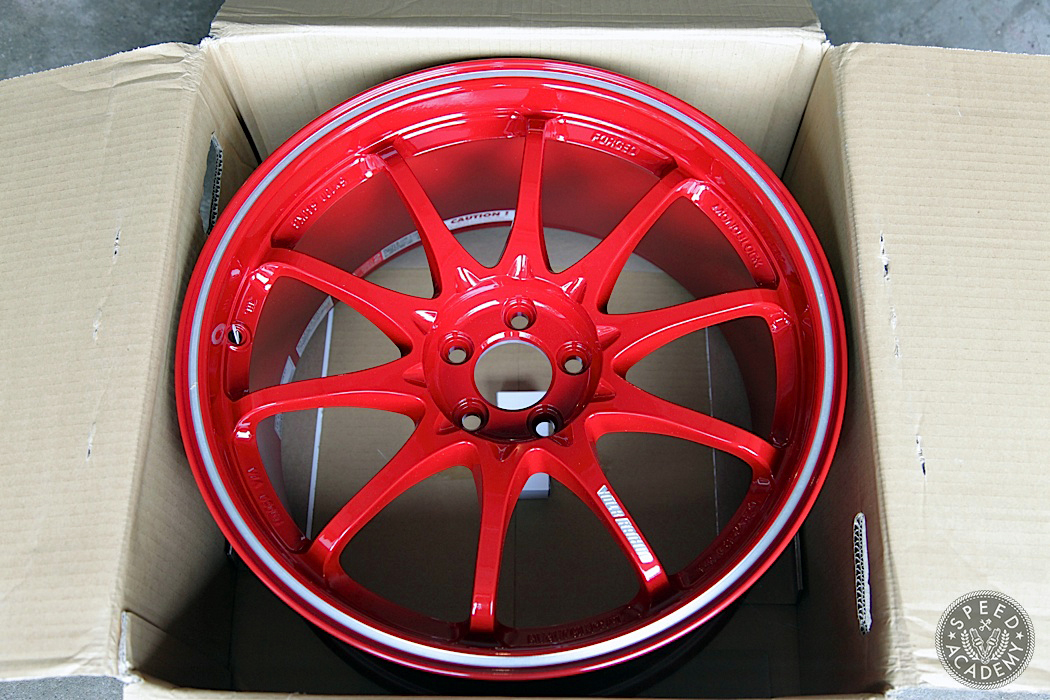 Feel like stealing 2nd? We thought so. To do that, take a healthy lead and then smoothly pop the cover off the wheel. Behold the new CE28RT in all its 10-spoke Burning Red glory! Now more than ever the RT makes sense, since it stands for Rigid Tuning. You know, because the wheel's barrel is 5-6% more rigid than the original CE28N and is designed to work well with more camber than the standard version. What did you think we meant?
You're charging hard for 3rd now, so don't be shy. Grab that ultra lightweight wheel and run your fingers along its diamond cut rim flange and Volk Racing logo. The raised details in the inner lip add to the sense of detail, including the two most important words in the Volk Racing vocabulary: forged monoblock (which of course mean that these wheels are manufactured using Rays proprietary billet disks of aluminum and then hot-forged into the rough shape of the wheel before being further refined in a process that simultaneously pressure forges and spin forges the wheel before final proprietary low-heat forging process that ensures continuous grain and metal flow throughout the wheel for maximum strength and rigidity).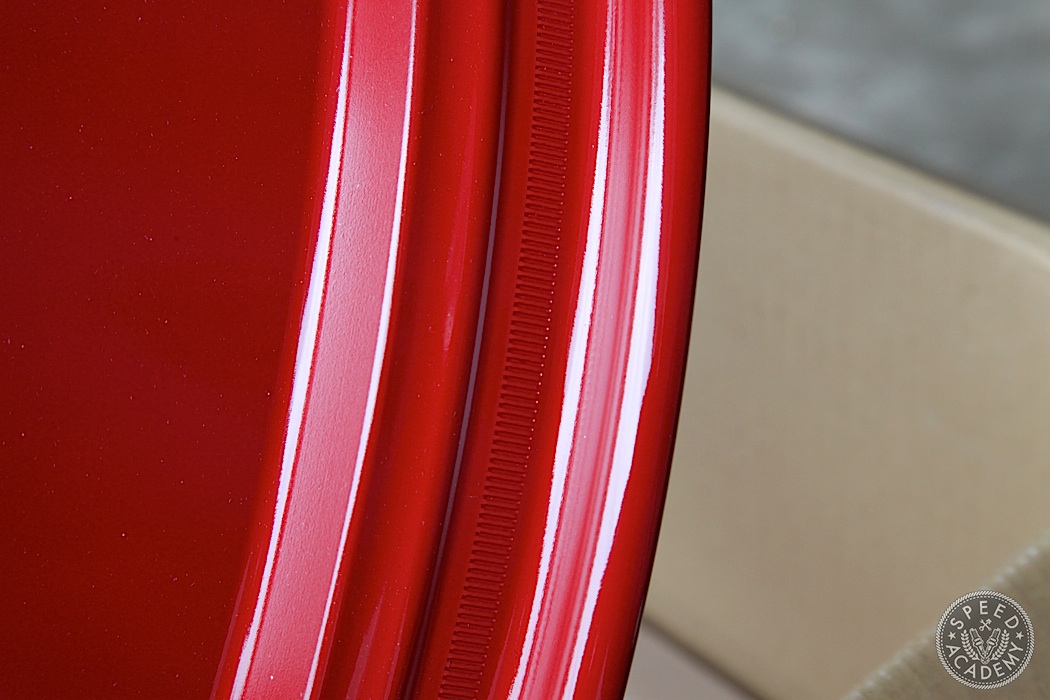 Another beautiful detail in the finish of these CE28's is the knurled tire bead mating surface, designed to prevent the tire from slipping on the rim during hard launches in your 1000-hp Supra. You've got a 1000-hp Supra, right? If not, you'll still appreciate this feature since high-grip tires can slip on the rim surprisingly easily under heavy braking or acceleration and throw the balance of the wheel and tire package out, so this is a clever design feature even for those of us racing a 200-hp Scion FR-S.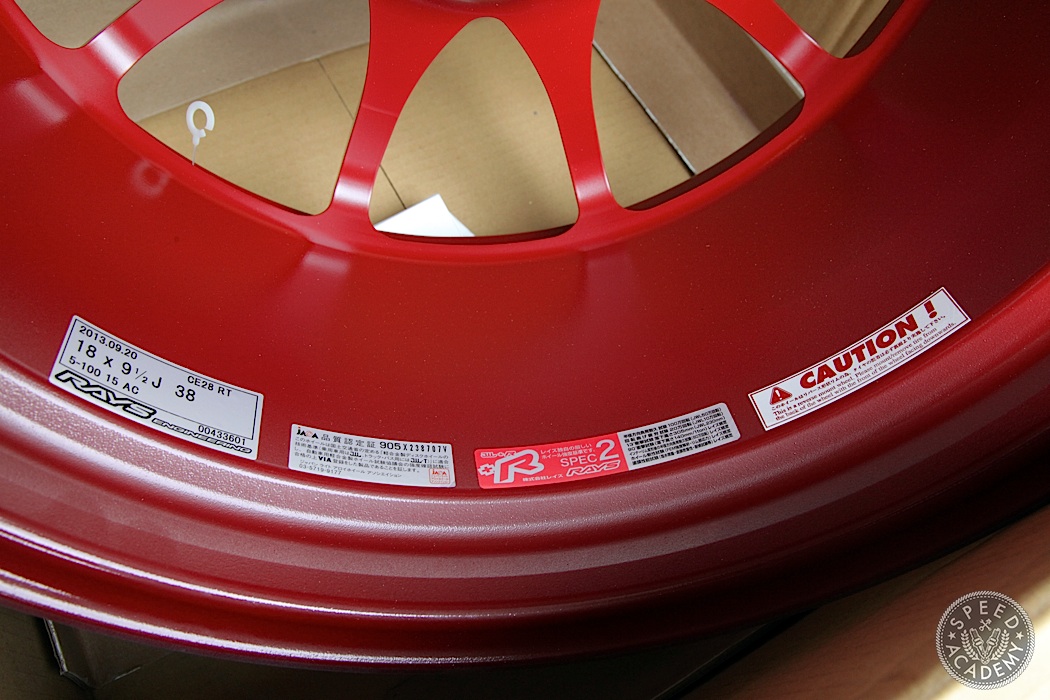 On the inside of the barrel you'll find this lovely assortment of stickers, all of which authenticate the wheel as a Rays Engineering product and also give you some information on size (18×9.5"), offset (+38) and bolt pattern (5×100). There's even a build date (2013.09.20) and a serial number, which is something you don't typically see on wheels but is a nice addition since it'll give second-hand buyers an exact age of the wheel when lowballing the seller on Craigslist.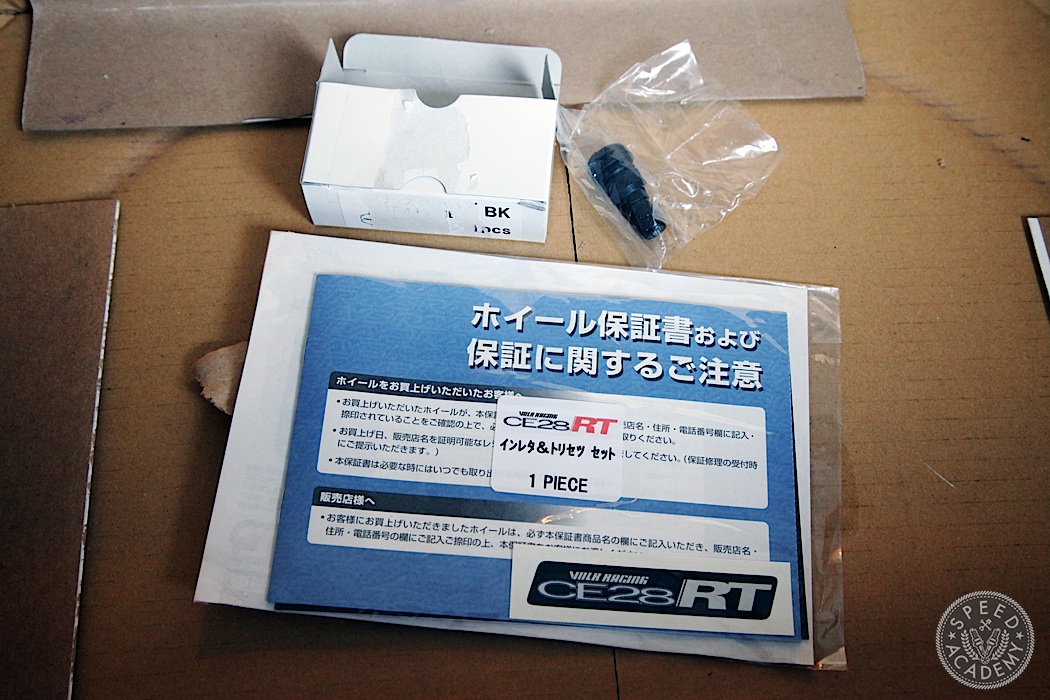 A couple other goodies you'll find in the box is this sealed baggie with some paperwork and those all-important CE28RT stickers you can opt to put on the rim's lip (we did) and valve stem. All you need are some appropriately high-performance tires, a good installer to mount and balance them, and you can shelf those hideous and heavy OEM wheels you've been rolling on for far too long.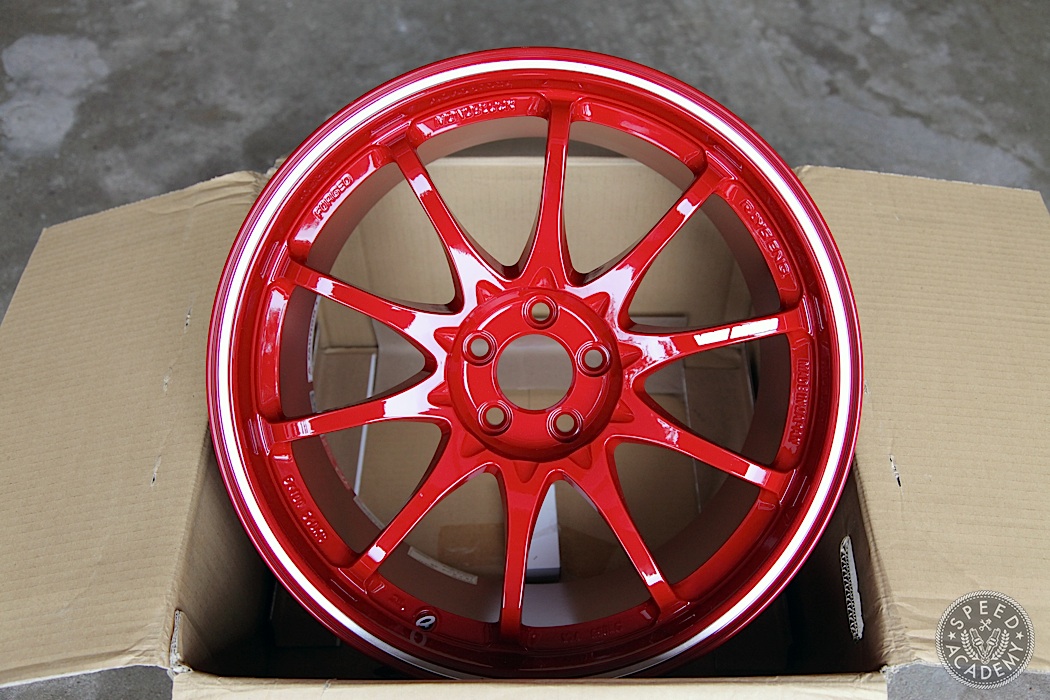 Oh, and it should also be mentioned that the hub and rim face of the RT version of this wheel has been redesigned to reduce weight. This means there's less rotational and unsprung mass, both of which have well documented performance advantages. In fact, the RT version of the CE28 is about 1-lb lighter than the already very light standard version. In our 18×9.5" size these weighed just 16.5-ish pounds on an admittedly not-so-scientific bathroom scale.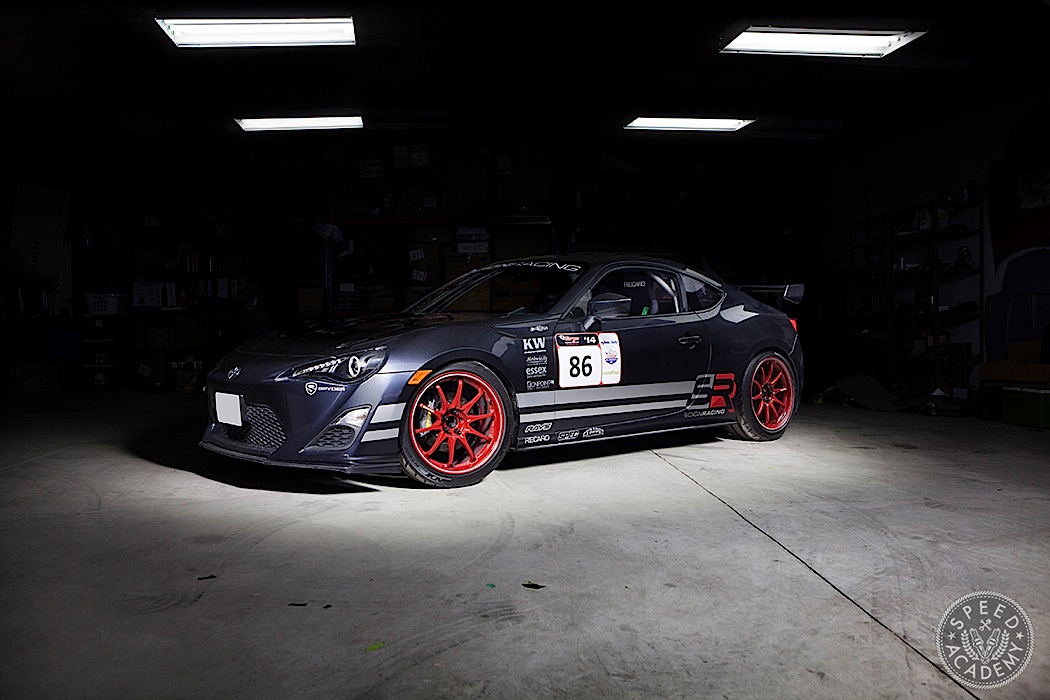 And…the happy ending! More on these wheels in Part 3 of the Targa FR-S build coming at you shortly.