In Part 1 of the Abandoned STI story, we covered off how we found this '09 GR chassis collecting dust (and rust) in the back lot at NV Auto and restored, replaced, and upgraded it with the support of Turn14 Distribution to the point that it was time to put our fully built and stroked JDM EJ207 engine in the bay.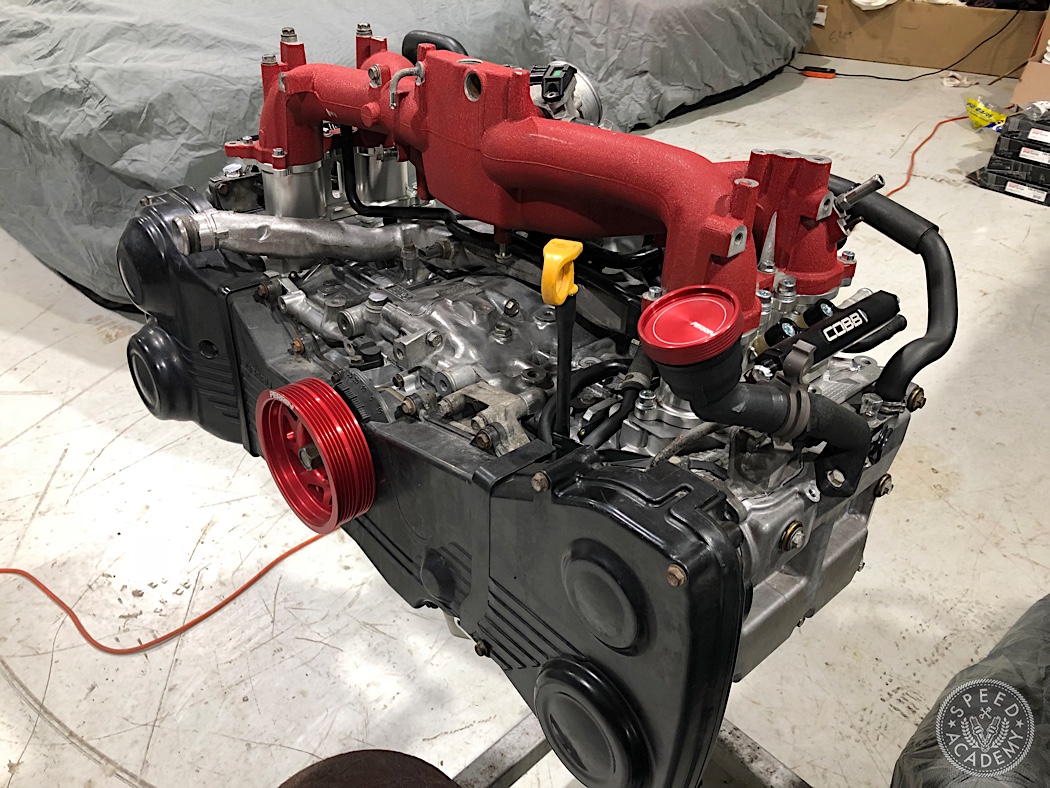 Sounds simple enough until you look at this massive pile of parts we had to completely build out the engine and drivetrain such that the Abandoned STI was officially a running and driving car again.
Rather than tackling this entirely on our own, Master Nam from  NV Auto came by our shop for an evening to help us install the longblock, Competition Clutch twin disc clutch kit, and transmission. This was a huge time-saver for us, since Nam's done this job hundreds of times as a master technician with over a decade of experience working on Subarus including all manner of race cars and rally cars.
The first step actually turned out to be doing a bit of camshaft sensor surgery with Nam so that the USDM factory engine harness could be mated up to the JDM engine, the details of which you can view in the episode above.
In the follow episode (above), Pete and Nam fit up the intake manifold and install the Full-Race stock location G-series V-band turbo kit featuring a Garrett Motion G25-660 turbocharger and a Turbosmart USA Gen-V Hyper-Gate45 wastegate. We installed the COBB Tuning fuel system package which includes pre-assembled AN fuel lines, an AEM 340-lph in-tank fuel pump, fuel rails, fuel pressure regulator and Injector Dynamics 1050x fuel injectors before heat wrapping the Tomei unequal length header (which we later swapped out for an equal length version from Tomei for reasons I'll explain in a future update) and bolting it up to the underside of the engine.