There were a ton of cool cars at the inaugural Open House & Car Show at Turn14 Distribution's brand new 260,000 sq/ft warehouse in the Philadelphia area, but for us this K-swapped Porsche 911 at RT Tuning's booth was the unicorn that stole the show.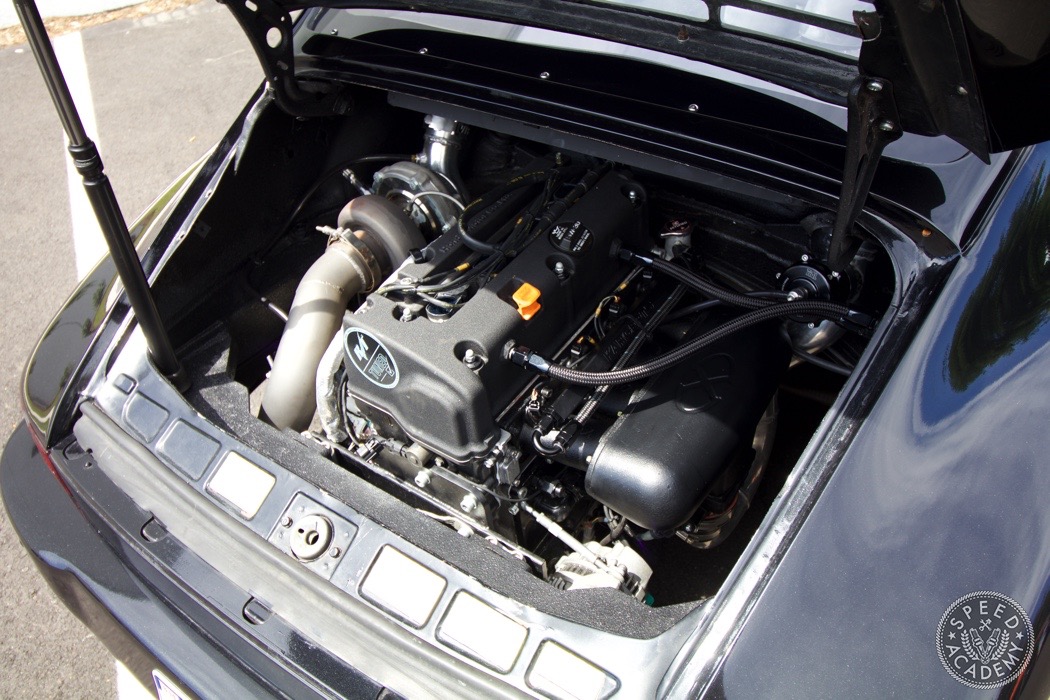 We had a good, long chat with owner Scotty G, who, like a lot of us born in the '70s and '80s, grew up in the car scene playing with Hondas in the 90's and early 2000's, and more recently built a fully track prepped Evo prior to acquiring this Porsche. This begins to explain why he decided to drop a K20A2 in the "trunk" of his 911, but to fully understand this build we need to go back to when he first bought it.
Just like our buddy Danno's twin turbo LS V-8 swapped 911 we just posted another video update on, Scotty's 930 came to him in anything but pristine condition. According to Vince from RT Tuning, who we chatted with about the car before he introduced us to Scotty, this so-called Unicorn K-swapped 911 started life as a narrow body but the previous owner added the wider turbo fenders, resprayed it this dark gunmetal colour, and swapped in a LS V8 using the same Renegade Hybrids engine cradle and front water cooling system as Danno's car features in the video above.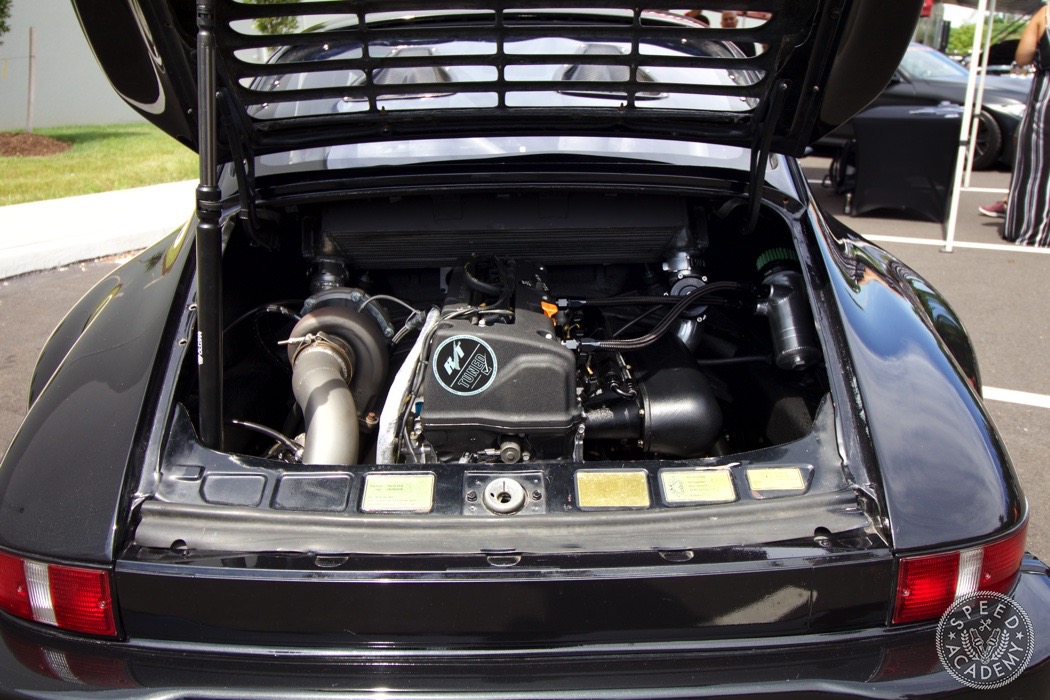 As Scotty told us, he'd always dreamed of owning a 911 but never thought he'd be able to afford one. But when this bastard child V8 swapped 911 popped up for sale at a reasonable price, he grabbed it. At first he thought he'd enjoy V8 life, but it didn't take long for him to realize it just wasn't his cup of tea. That's when the K swap idea was born.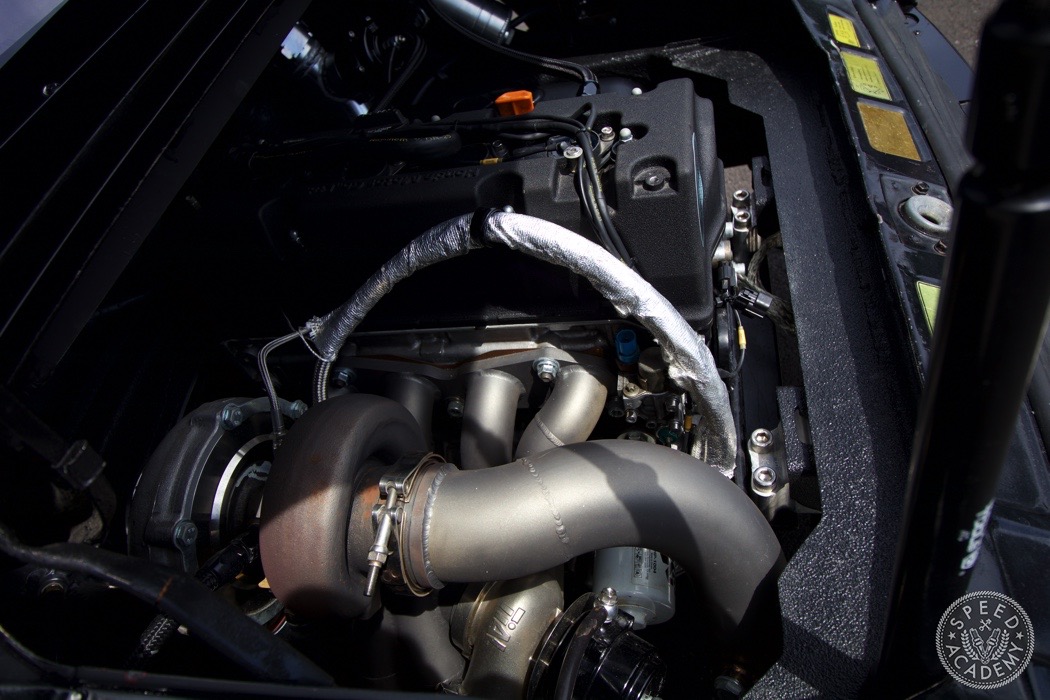 Rather than just dropping a stock K20 or K24 in the boot and calling it a day, Scotty upped the ante by adding a Garrett GTX3076R turbo to the mix. The intercooler is mounted above the engine and is fed by two NACA ducts on the Lexan rear window. It'll be interesting to see how this clever bit of airflow management works once Scotty hits the track in this 911 later this year. It's also worth noting that the K20A2 is mated to the factory Porsche G50 transaxle via a custom adapter plate and flywheel.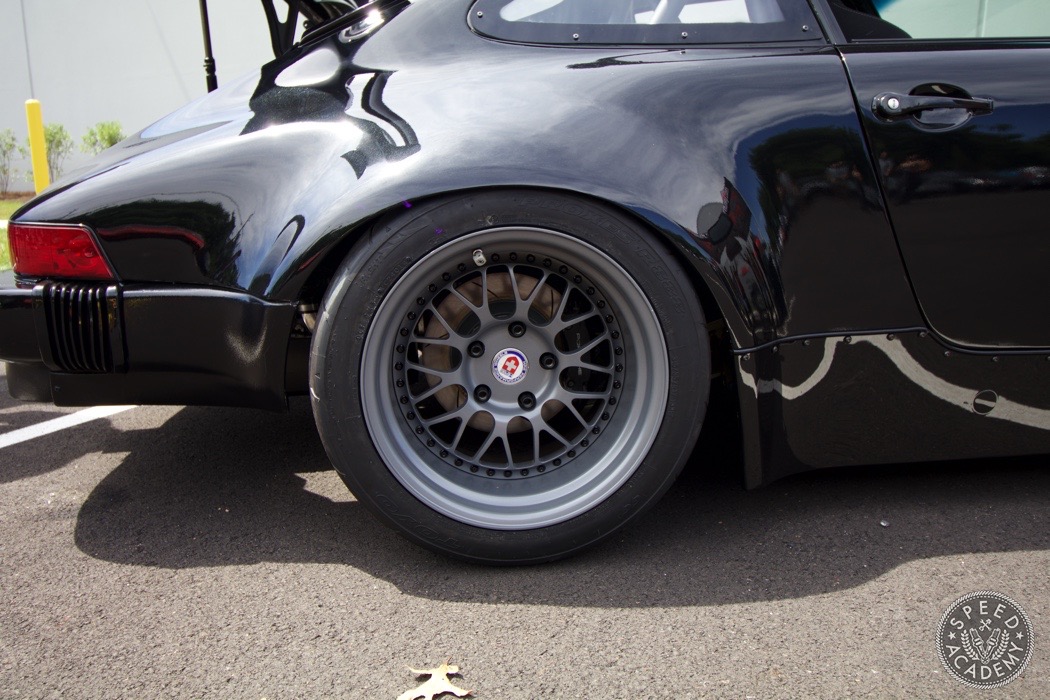 The HRE wheels wrapped in Toyo R888's aren't just for show, then, nor is the Elephant Racing GT3 front suspension and 2008 Cayman brakes.
The cabin is also all business and ready for track action, and we loved the JDM flare Scotty went with including Bride seats and Defi gauges.
We also loved the aggressive RSR style side skirts and front fascia he's added, which give the car a very low to the ground race-ready appearance. The LED headlights are a nice touch, too, and the 3.8 RS rear wing should give Scotty's 911 some extra rear downforce to go along with the more modern style.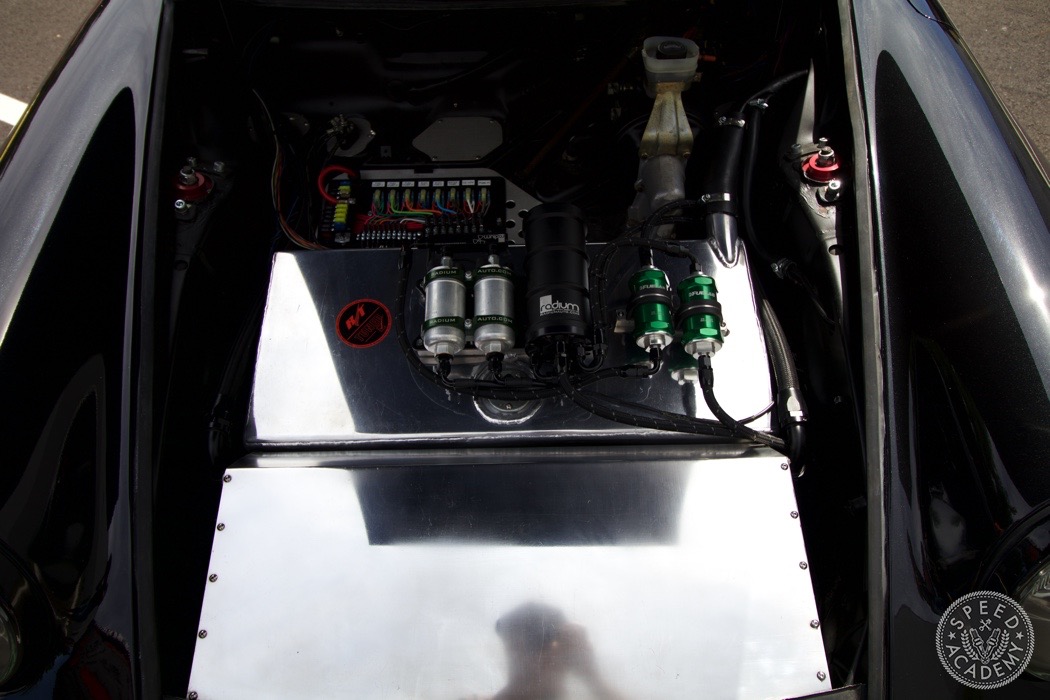 The Renegade fuel cell and cooling system remain in place up front, although Scotty modified the way the radiator mounts and added a very robust fuel system including a Radium Engineering surge tank so that he can rip some serious TEC at the track without having to worry about fuel starvation.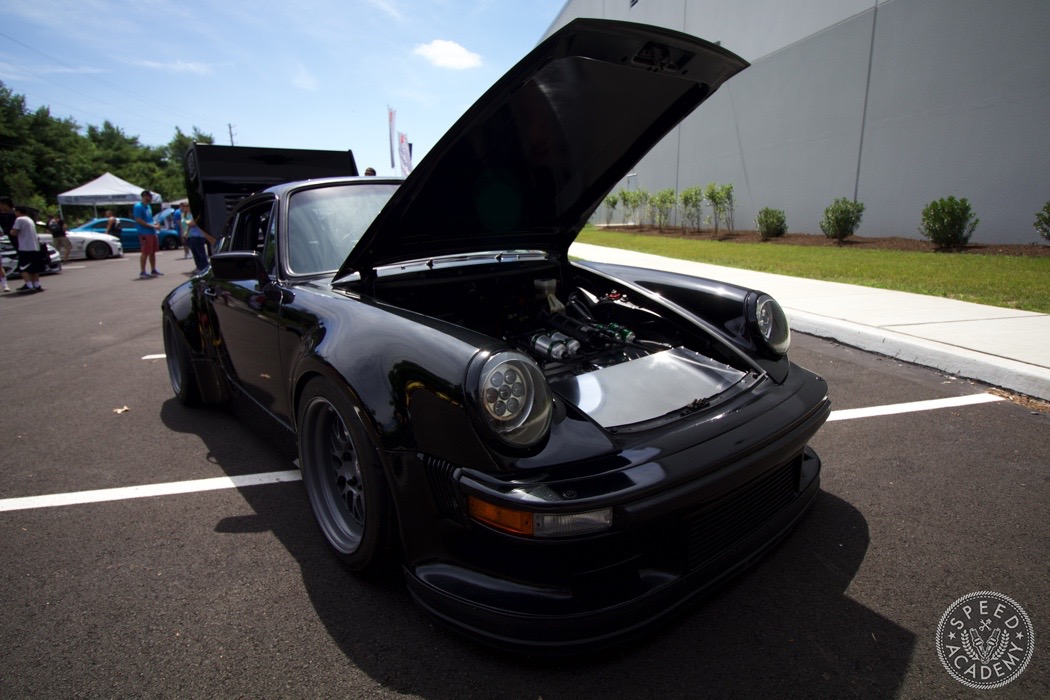 All in all, we think Scotty's built one of the coolest and most unique 930's we've ever seen and we're stoked to see some video footage of it out on track later this summer. And with any luck he'll bring it out to the Turn14 Car Show again next year, because we'd love to see it in person again and see how he's developed it further.