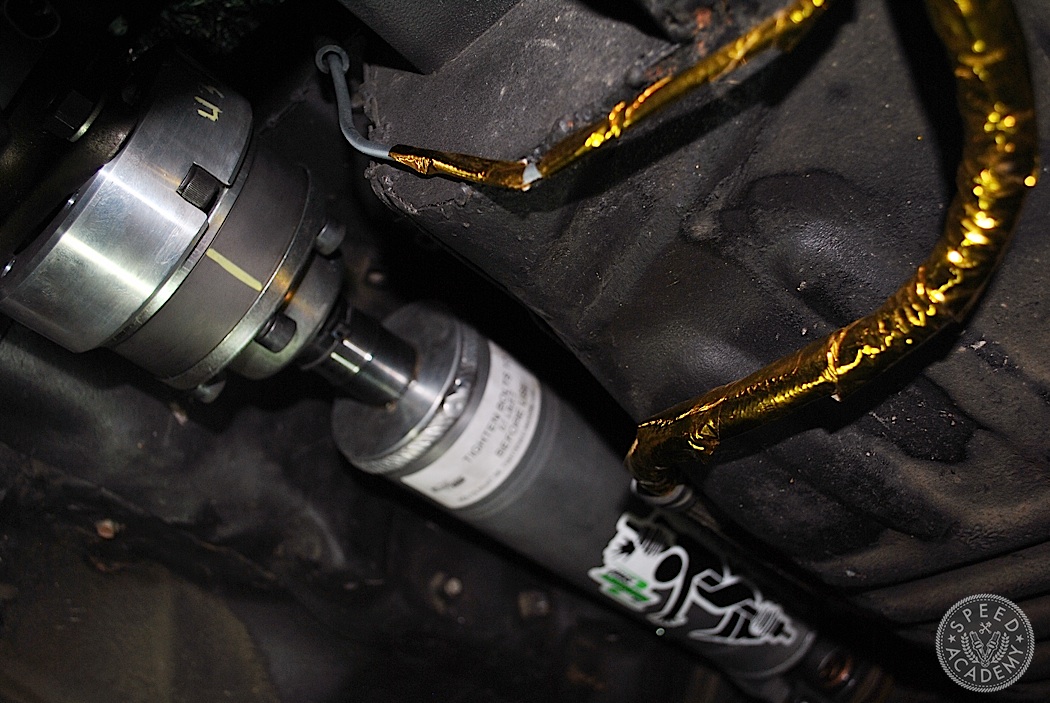 Next was the tail shaft.  As John explained, "Not having a slip yoke like the T56, I had to call up The Driveshaft Shop and order a new custom driveshaft that uses an aluminium adapter to a CV joint.  It's rated at well over 1000-hp, so I should have no trouble there."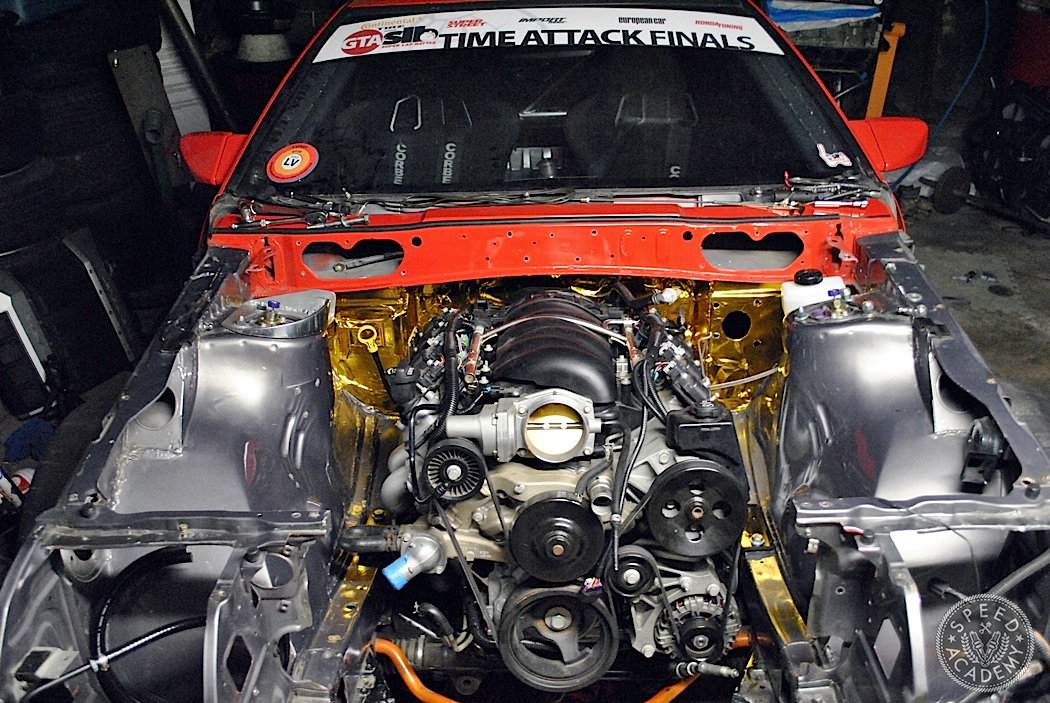 In an effort to keep the heat out of the cabin, John also lined the engine bay with DEI gold foil. As John put it, "This stuff is amazing and works as good as it looks."
After many, many long nights, John finally got the engine in. As he put it, "I now remember how not awesome it is to get this huge engine into such a small car. With the headers being as they are [which John built himself], it makes it nearly impossible to put them on while the engine is in. The entire cross member and power steering rack had to be removed in order to snake the headers in." Ouch.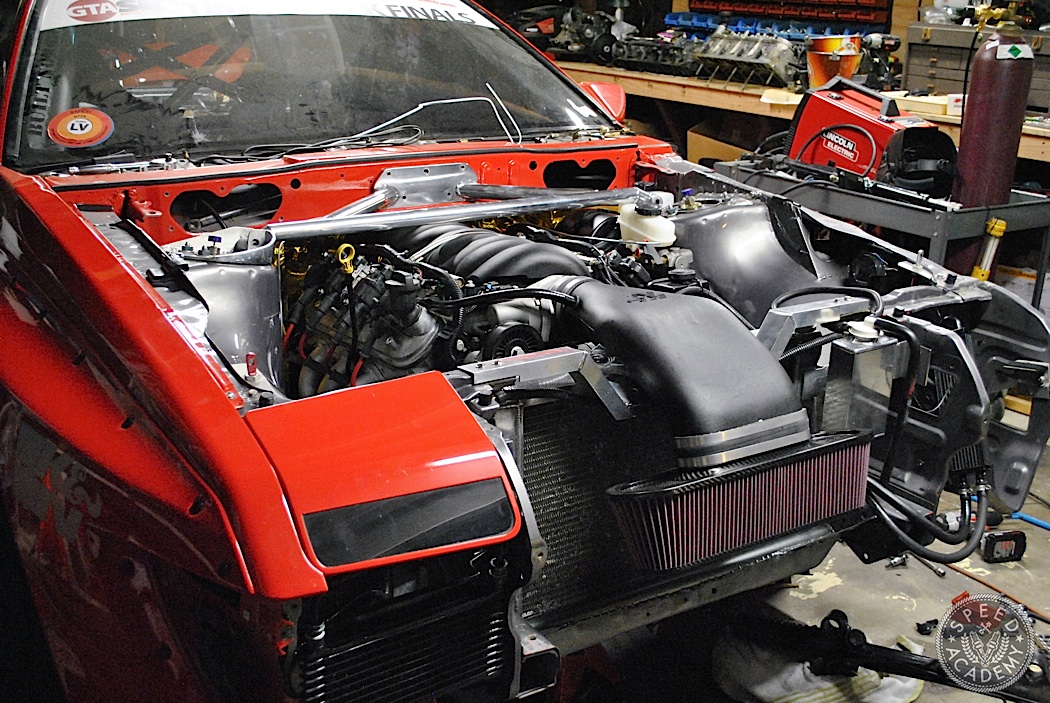 The great guys at K&N Filters came through again this year to help me out with a few intakes and filters to help the engine breath better while making 17+hp over a stock intake.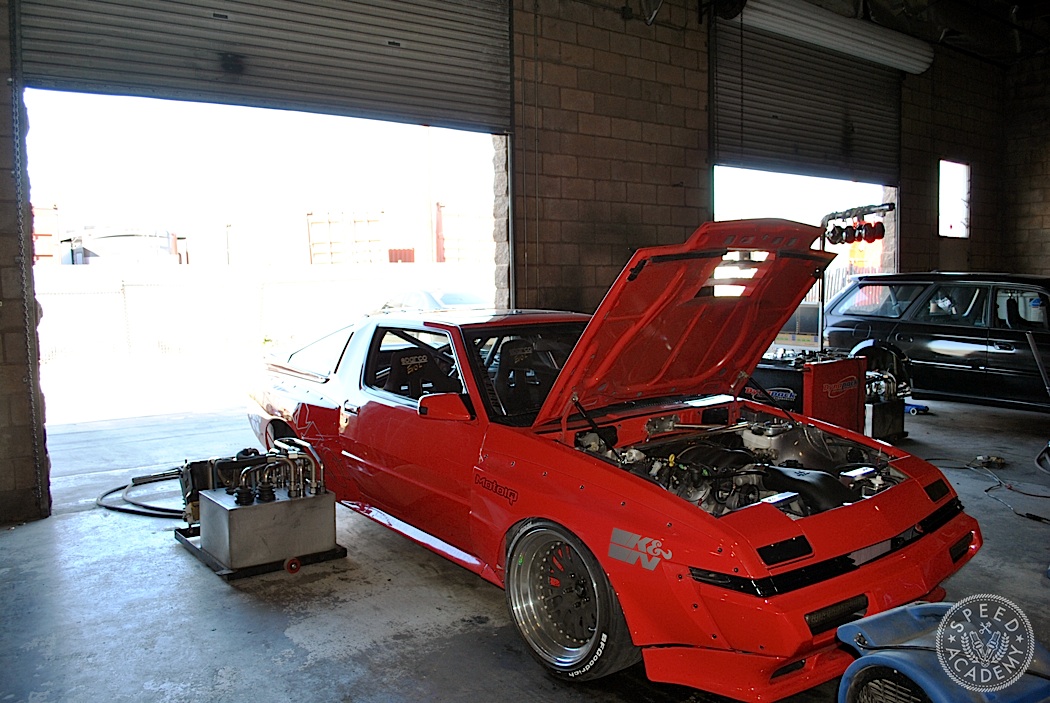 Once everything was back together, brakes bled, all fluids filled, I finally took her for a ride….what a difference.  I immediately took the car to Church Automotive Testing in Wilmington, CA where tuning expert Shawn Church worked his magic perfecting the tune, finishing with 452-hp and 438-lb/ft at the rear tires.  Seriously fun numbers gaining nearly 90-hp over the old LS1.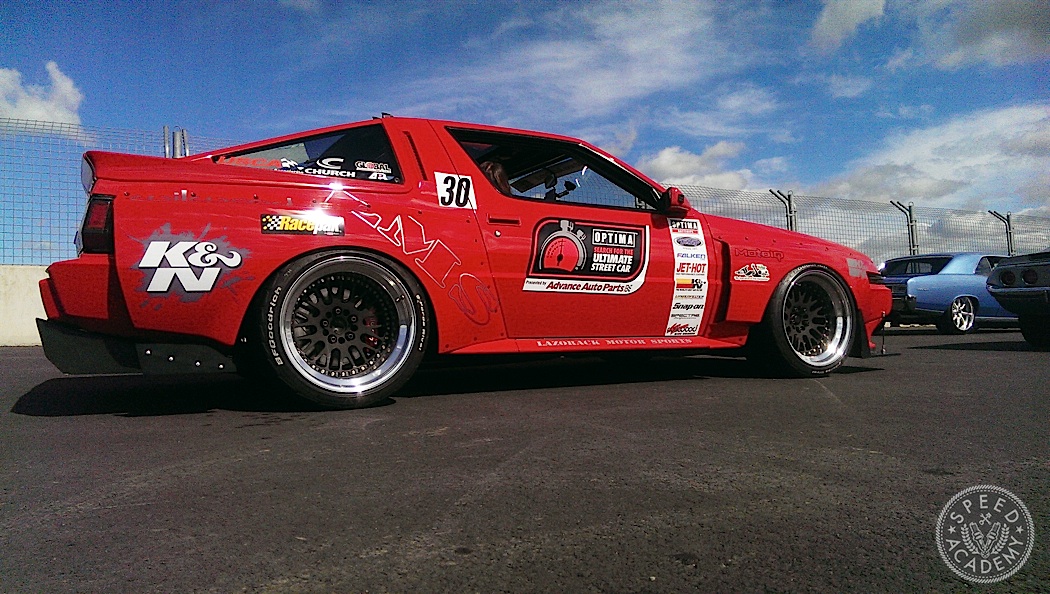 So how did things go at the USCA event at Thunderhill? Well, as John explained, "I was just started to get a feel for the car on the autocross course when a high pressure power steering line blew out. It took me a few hours running around the little town of Willows to try and have one made. We got it fixed but the system was full of air. After trying a bunch of different things, even changing the whole rack out with a new one, we still had the same issue. The air was causing the pump to pulsate, which in the turns made the wheels go crazy. Running such a wide tire and a short steering knuckle makes for a horrible experience without constant steering pressure. Finally on Sunday a guy from JDP Motorsports had an air vacuum tool that we used to suck the air out of the system, and unbelievably it worked! Unfortunately we lost most of the day on the road course, but made it out for the last two sessions.  Somehow I still ran 8th fastest out of 74 cars, lol. Long weekend none the less. The car is a beast now, I just need to learn how to drive it with everything being so different (I also did a full big brake setup from Wilwood). I've been super busy with work since the last race (working 60-80 hours a week) and trying to squeeze in wrench time is difficult, let alone some test days. If all goes well I'll get everything on the really long list checked off and bring a better car to the fight in Vegas on April 25th."
So what's next on John's To-Do List? As he put it, "aero…"  We'll update you as soon as we hear back from our favourite Conquest Mad Scientist!