I know, we've done an awful lot of Scion FR-S tuning lately, what with the Targa NL build and all, but this dyno test actually pre-dates the Targa project and has been collecting dust on my computer for too long now. But rest assured, this'll be quick and painless and will bring you up to speed on a couple of the simpler mods you can do to your FR-S or BRZ to give it some extra jam and a sexier soundtrack.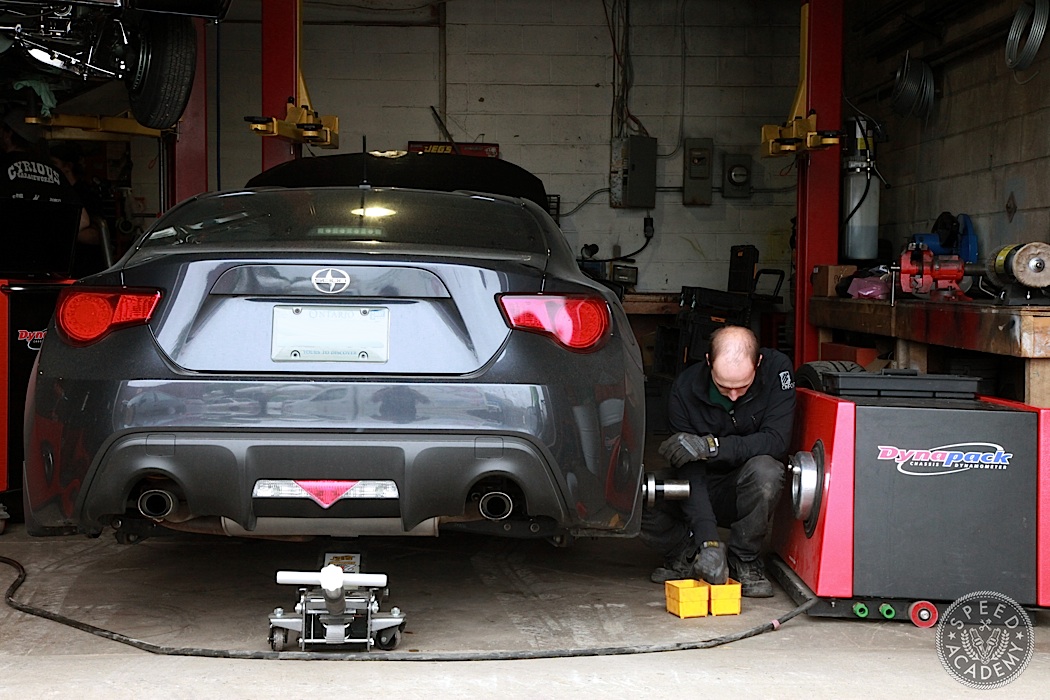 First of all, I think we can all probably agree that the Scion FR-S and its Subie sibling can use a little more excitement in the exhaust note department. Our friend Mike, whose FR-S we featured a few months back in our Track Prep Basics story, certainly agreed, because he wanted his FR-S to have an exhaust note that was more exciting but still mature enough to not wake the neighbours or drone him into submission during highway cruising.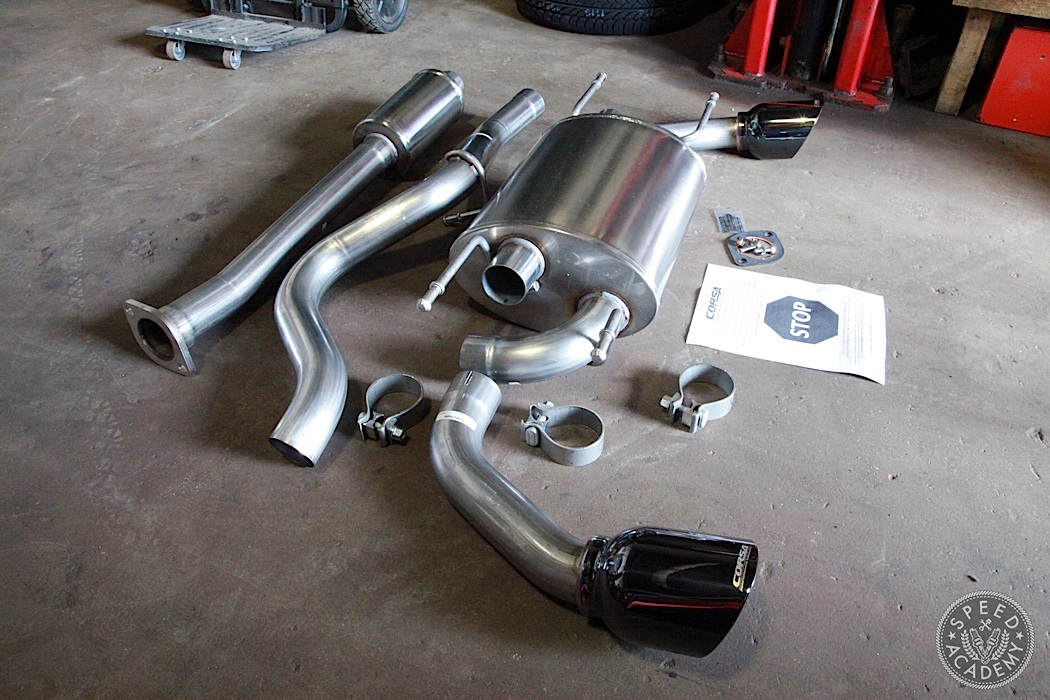 Corsa Performance, a company best known for making awesome-sounding exhaust systems for Corvettes, had just released a new cat-back for the FR-S right when Mike started looking around at exhaust system options. He was intrigued since Corsa prides themselves on the quality of their exhaust note and the elimination of drone, two things that were very high on Mike's wish list. We know from experience that a cat-back doesn't make much power on a FR-S, and Corsa's system doesn't reduce weight either, but with the objective of a high-quality soundtrack being the main focus, Mike opted for Corsa's 2.5" cat-back system, featuring 4.5" Black Pro-Series tips.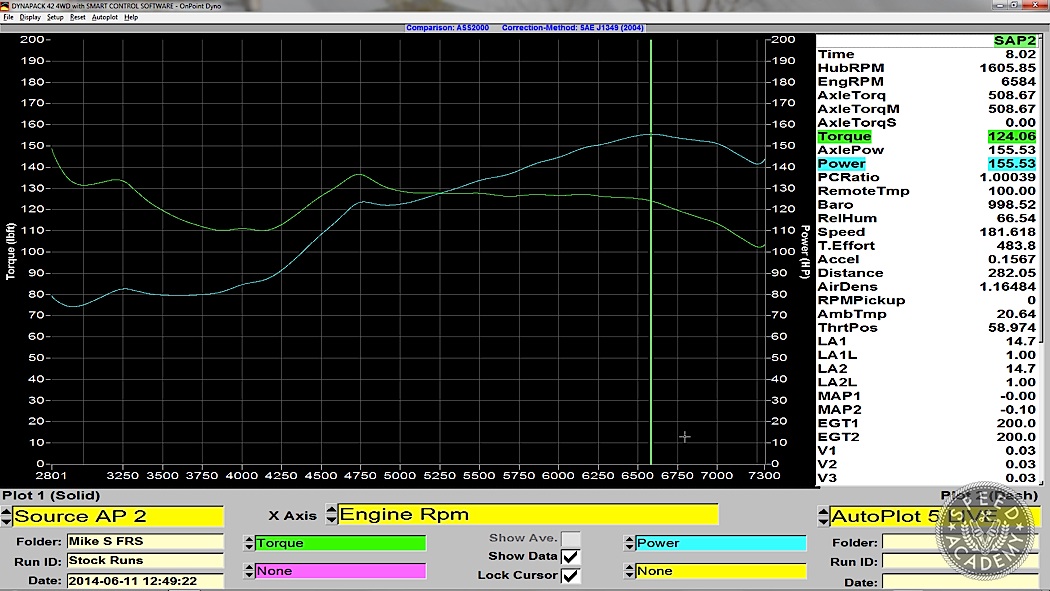 Before Pat Cyr at Cyrious Garageworks crawled under Mike's FR-S to install the Corsa cat-back, which bolts up to the stock front-pipe and comes complete with all the hardware and gaskets needed, Sasha baselined the car with the stock exhaust on the OnPoint Dyno Dynapack. As is typical for a stock FR-S, Mike's made 155-whp at 6,600 RPM and 138-wtq at about 4,700 RPM. So far so good.
Pat made quick work of the install, although we did have to spend a bit of time getting the exhaust tips perfectly aligned in the rear bumper cover before tightening down all the clamps on the slip-fit joints. Corsa advertises a 4-5% improvement in exhaust gas flow with this system compared to stock, but you can't think of that as resulting in a 4-5% increase in power. This is, after all, just an improvement in flow after the catted header and catted front-pipe, which are really the main points of restriction in the OEM exhaust system.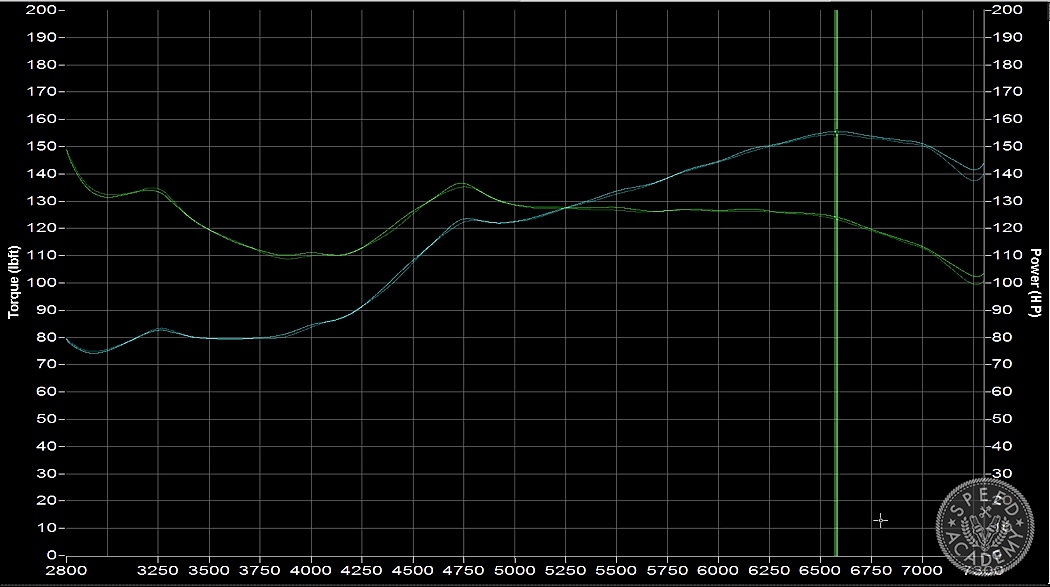 We thought we might see a 2-whp gain from the Corsa system, but it is difficult to consistently detect small gains like this on a dyno given the changing output that comes with rising engine temps and such. As you can see, the Corsa system dyno'd at pretty much exactly what the baseline showed, but had we let the engine cool more, it's possible we would have seen some small gains. In any case, you can't expect a simple cat-back to make much power on a naturally aspirated engine, especially when it's attached to a highly optimized engine like the FA20.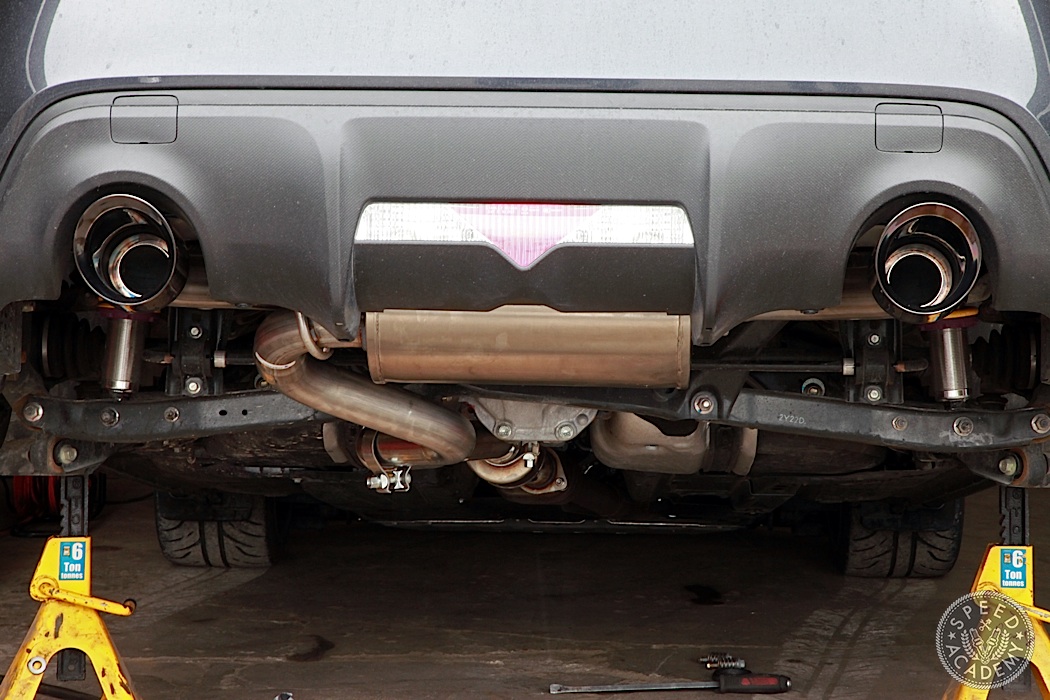 Where the magic really happens with the Corsa exhaust is in the muffler, which uses their patented RSC Technology. RSC stands for Reflective Sound Cancellation, which uses out-of-phase sound wave cancellation developed by a NASA engineer in partnership with Corsa. It is this technology that Corsa holds a patent on, which reflects sound pressure waves within the muffler case to produce the same 180-degree out-of-phase wave cancellation effect found in electronic noise suppression mufflers, without electronic devices or flow restriction. Each Corsa exhaust system is designed to cancel from one to four primary resonance-producing sound frequencies, so that all that remains is the clean crisp sound of a healthy performance engine.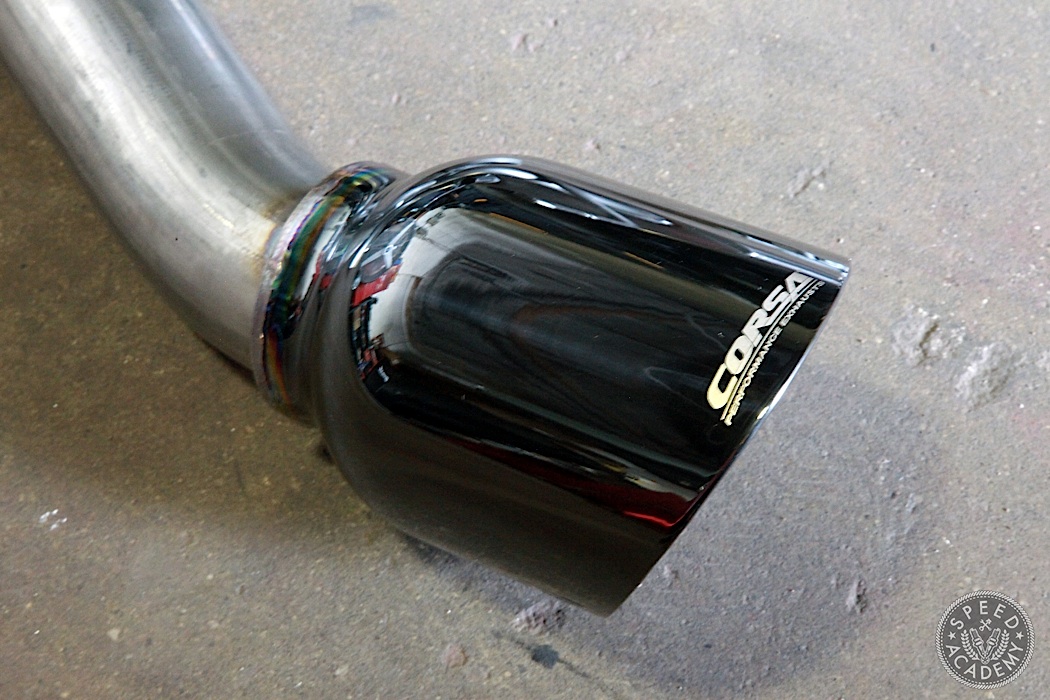 Another cool feature of RSC technology is that it can be further fine-tuned, so that customers can choose from systems that are quieter (RSC Touring) or bolder in sound (RSC Sport and RSC Extreme). In the case of the FR-S system, it uses the RSC Sport setup, so it's meant to give a more aggressive sound at wide-open throttle but still be drone-free when cruising. This sound quality is achieved by adjusting the size of the radial air gap and the length of the channels within the muffler. Initially, muffler design is determined using acoustic and thermodynamic formulas, but the final design specs are arrived at by using Real Time Spectrum Analysis equipment to analyze "real" sound at idle, acceleration, and cruise. So Corsa's engineers literally drive around recording and analyzing the sound quality of their exhaust systems and then fine-tune the design in an iterative process until they're 100% satisfied with the final product, at which point it's put into production at their 58,000 sq/ft facility in Berea, Ohio, where they use state-of-the-art plasma welding, TIG welding, and hydroforming equipment when building their 100% stainless steel exhaust systems.
So how does it sound? Exactly as advertised in the top clip, that's how. But the bottom clip is from our dyno test session on Mike's car, for comparison's sake. Both sound pretty sexy to us, and Mike's system has gotten a bit bolder with age, which he likes, but it's still completely drone-free while cruising. All in all, we think Corsa's exhaust is a mature and very appealing approach to enhancing the soundtrack of the FR-S and BRZ. The younger crowd might prefer something louder and angrier at wide-open throttle, but the ability to fully enjoy the car while cruising makes the Corsa system an intelligent choice for anyone who respects their eardrums and the fatigue that comes with cockpit drone.