After bolting the ATS LSD into place within the spare diff housing, a Nismo finned differential cover sourced from www.mynismo.com was then sealed and bolted up before filling the freshly built pumpkin with break-in fluid. The Nismo cover not only increases fluid capacity, the fins provide increased surface area for greater cooling, both features that should allow the ATS LSD to function optimally while prolonging the life of the diff fluid and the differential itself.
What we didn't expect was the clearance problem the Nismo diff cover had with the Rear Active Steering assembly on our '06 Sports Package coupe, but with some careful application of a die grinder enough material was removed from the cooling fins to allow our freshly assembled pumpkin to bolt into place.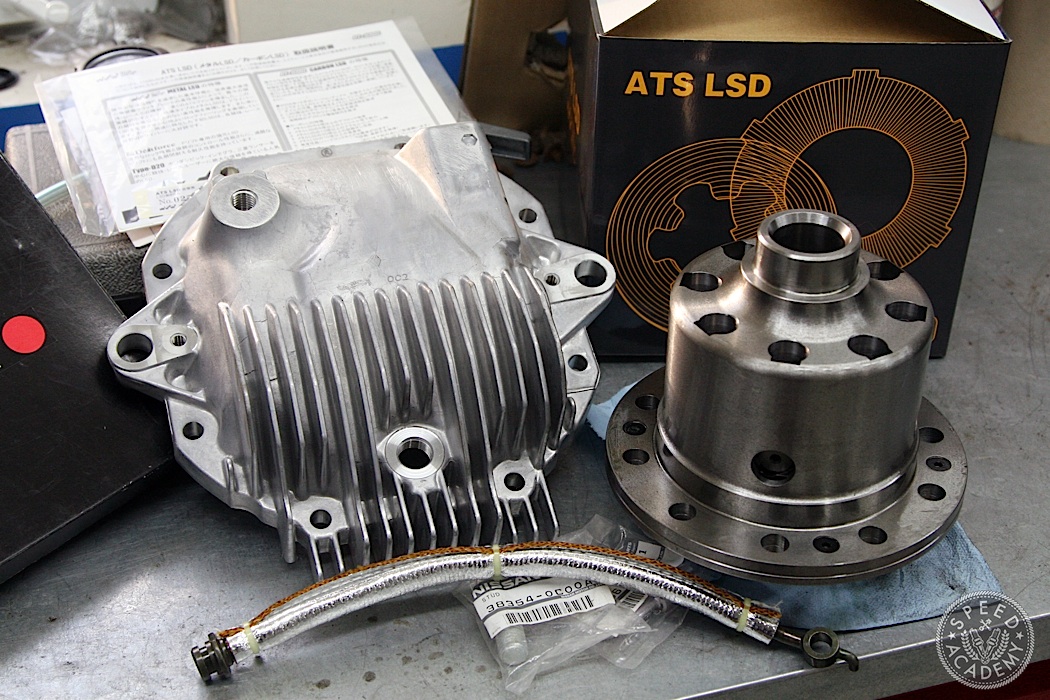 We also decided to install a Nismo braided stainless steel and heat shielded clutch line. The OE clutch line runs really close to the header and during hard use at the track the heat from the header can boil the clutch fluid, causing the clutch pedal to go to the floor. This happened to me once when we were shooting a video and I was doing a bunch of hard standing starts, so to avoid that "OMG did I just blow up the clutch?" feeling, swapping this line in is cheap peace of mind.
After breaking in the LSD by doing figure 8's in a parking lot for about 20 minutes, we swapped in some fresh Motul 90PA diff fluid and headed to TMP to see if all this hard work would pay off with quicker lap times. Our previous best lap time with the factory VLSD in place was 1-minute 23.8-seconds around this 11-turn, 3-km long circuit. With the ATS Super Silent LSD in place, that time dropped to 1-minute 22.9-seconds, almost one full second quicker!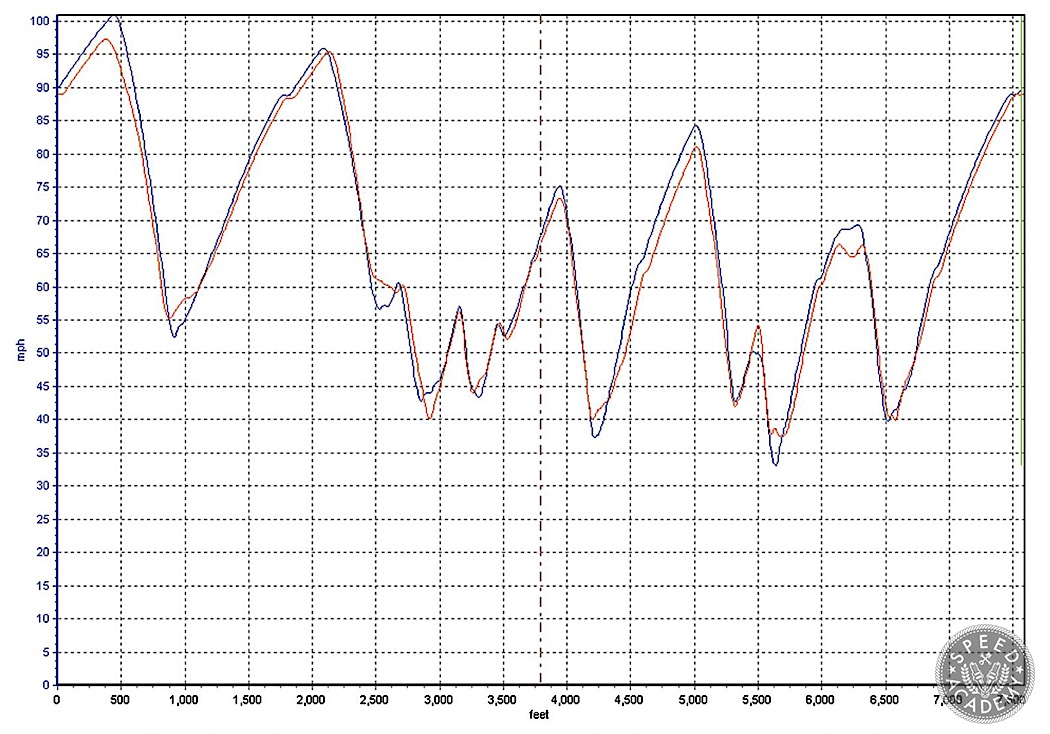 As you can see from the speed comparison between the ATS-equipped lap time (blue line) and the factory VLSD lap time (red line), maximum speed on each straightaway (as represented by the peaks across the graph) was significantly higher because of the ATS clutch-type LSD's ability to put the power to the ground coming out of the corners. This was very noticeable from the driver's seat, where early application of the throttle generated some useful rotation of the chassis and some easily controlled power slides. The factory VLSD was never able to transfer enough power to the tire with the most traction such that throttle-on rotation or oversteer was achievable in anything but the slowest and tightest corners, but with the ATS LSD power-on oversteer could be induced even in higher speed sweepers and full-on Formula D drifts were a piece of cake in tighter turns.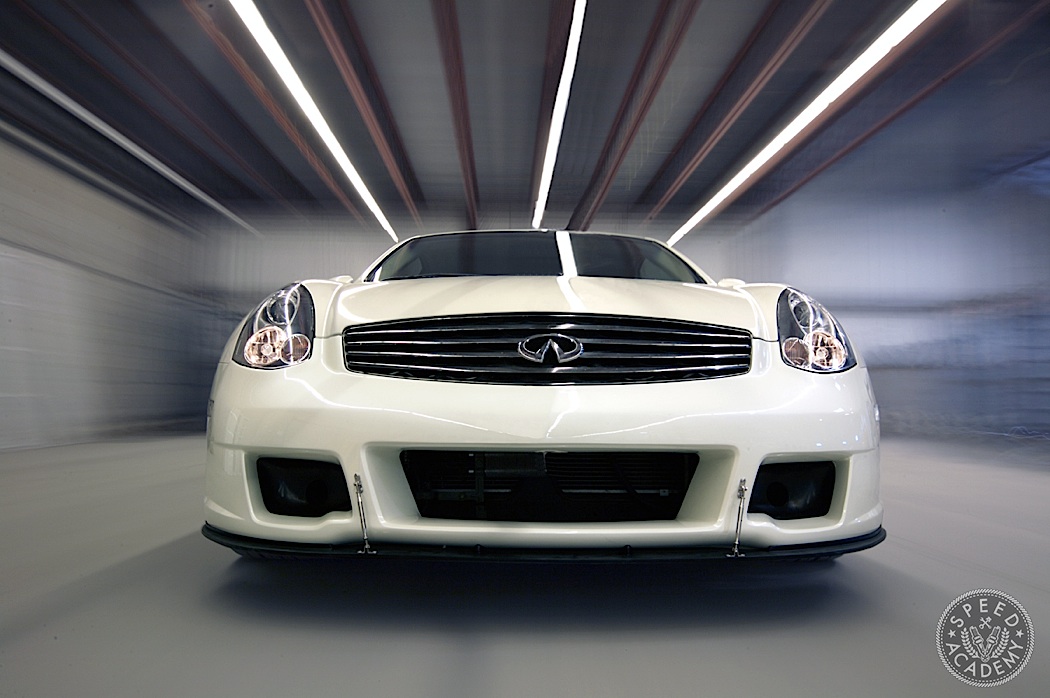 Clearly ATS's Super Silent LSD did a much better job of transferring torque and putting the power to the ground than the OE viscous LSD, but did it live up to its name in terms of noise and street-friendliness? Well, at first it was a bit clunkier than I expected, with some chatter during slow, tight corners, especially when the diff fluid wasn't up to temp. However, we cured this by adding a bit of Nismo friction modifier, as suggested by Yasu from PPi. This resulted in a completely silent clutch-type limited slip differential that had no real downside during street use while providing much improved torque transfer at the track. And because the ATS diff locks up so much more aggressively than the OE diff, the G was also way more fun to drive since I could hang the tail end out way more effectively. All in all, a great upgrade for any G35 of 350Z owner looking to add torque transfer and driftability to its playbook.
| | | |
| --- | --- | --- |
| MODIFICATIONS | LAP TIME | LAP TIME REDUCED BY |
| Stock | 1:29.198 | |
| Power Adders (43-whp) | 1:28.142 | -1.056 |
| KW V3 coilovers + Stillen camber arms | 1:25.618 | -2.524 |
| AP Racing big brakes | 1:23.742 | -1.876 |
| ATS Super Silent LSD | 1:22.901 | -0.841 |
| Total Time Saved | | -6.297 |
That wraps up our G35 performance upgrade storyline, and as you can see from the chart above we managed to knock 6.3-seconds off its lap time simply by using high quality bolt-on parts that addressed the car's most glaring weaknesses. No custom fabrication, no unobtanium in use, not even a set of DOT track tires. Everything we did is achievable by an enthusiast in his home garage, and you could certainly do it on a tighter budget by skipping the rear big brake kit (since the fronts do most of the work).
The rest of the G35 upgrade stories are located here:
G35 Tuning: Big brakes make a difference
G35 Tuning: Adding grip and saving time
G35 Tuning: How to bolt on over 40WHP