Any time you begin a build with a bare rolling chassis, your first priority should really be to get the car running. While I do tend to become easily distracted and skip around a bit to keep things interesting, I've done a fairly good job of getting down to business where the drivetrain in my Lexus GS is concerned.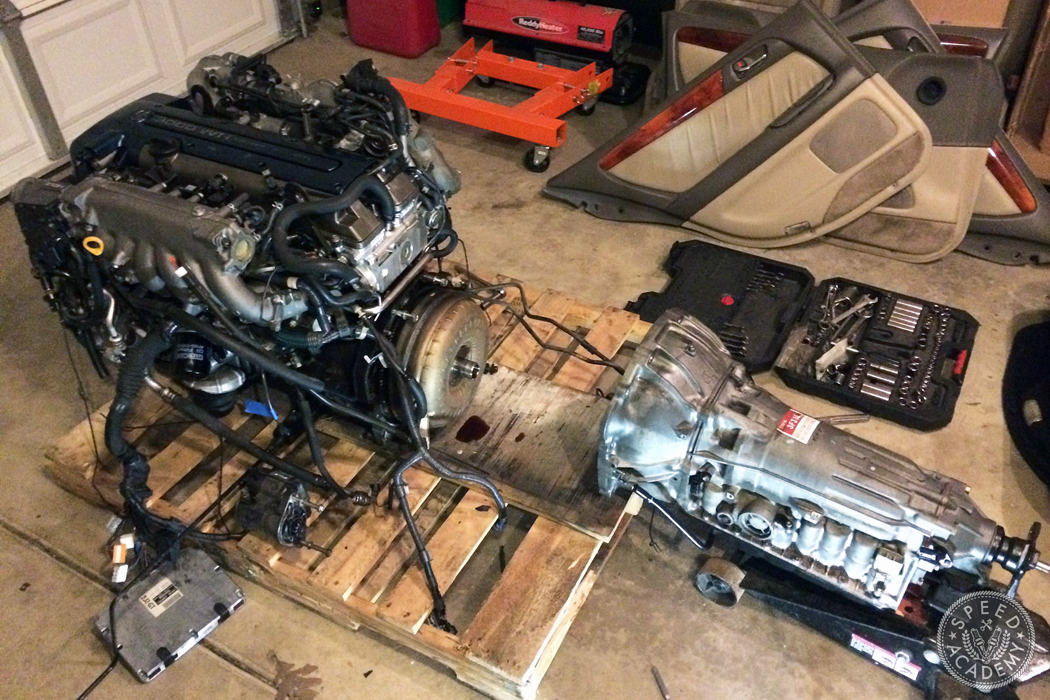 After my engine arrived, the first order of business was to remove the factory automatic transmission. Like I mentioned in my previous installment, this car was never sold with a manual gearbox- not even in Japan. I made quick work of the Aristo automatic transmission, torque converter, and flex plate. A friend is planning to swap his GS with a built auto for big horsepower, so I dropped these items off at his place to free up some much needed garage space.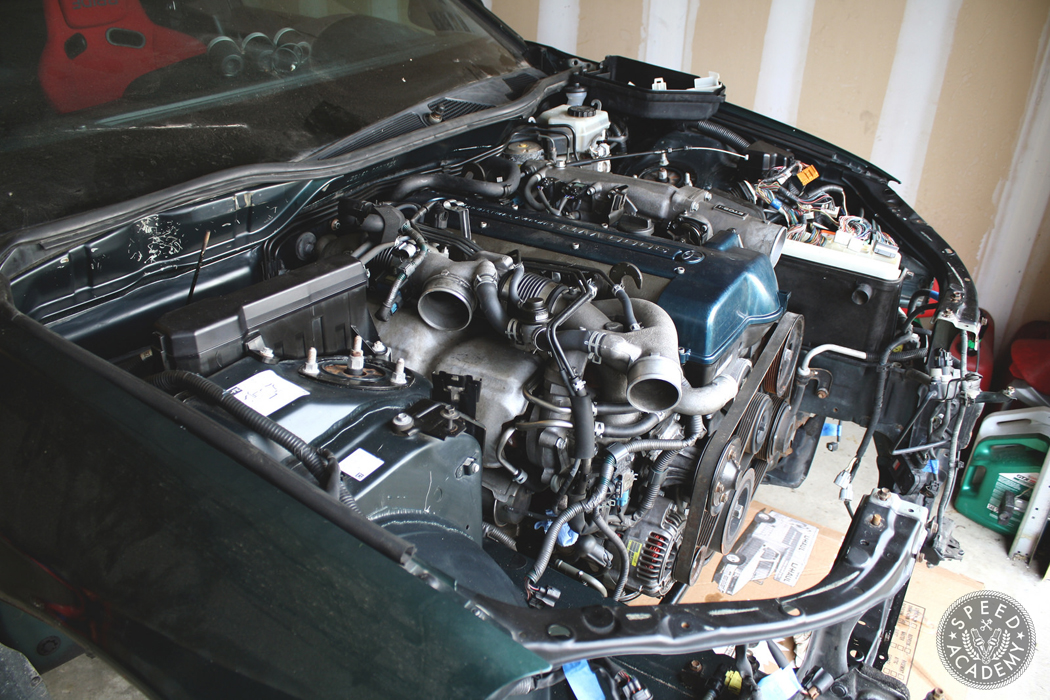 At this point I decided it would be a good idea to mock up the engine and R154 manual gearbox in the car to ensure that everything fit properly. I also needed to take some measurements for the custom driveshaft and mock up the transmission mount to make sure everything was peachy- but more on the drivetrain details in a later update.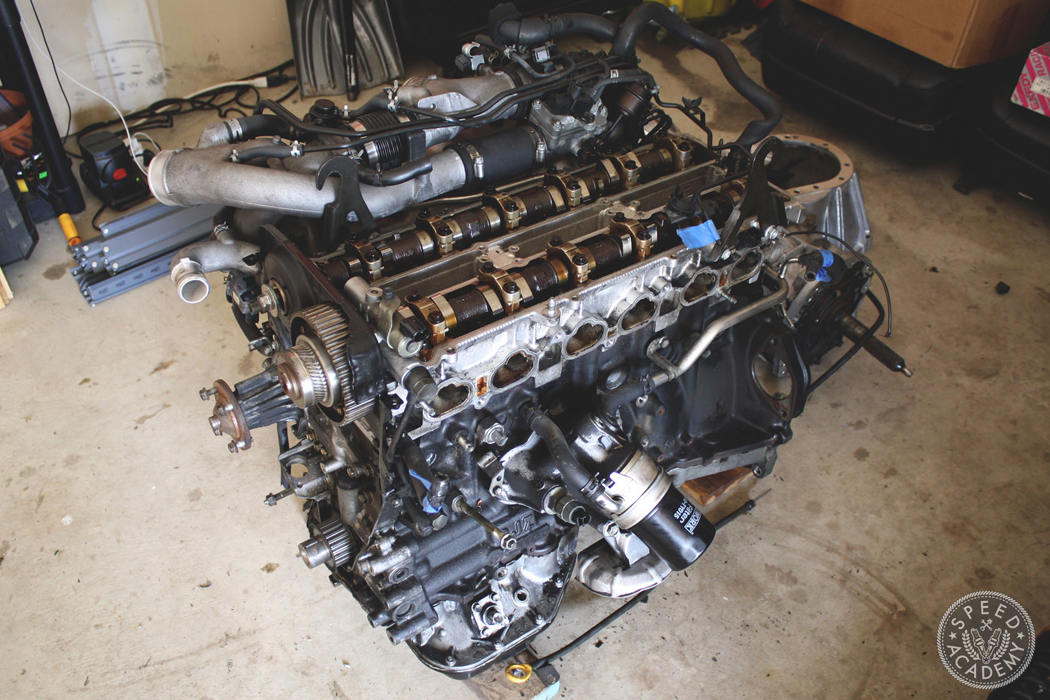 I've found through past experience that it is always best to inspect and freshen up an imported engine before bolting it into your car. Despite all of the reassurances from the importer, swapping an engine with an unknown past will always be a crap shoot. You never know what your particular engine has been through, and if you think about it, there has to be a reason the engine ended up in the junkyard in the first place.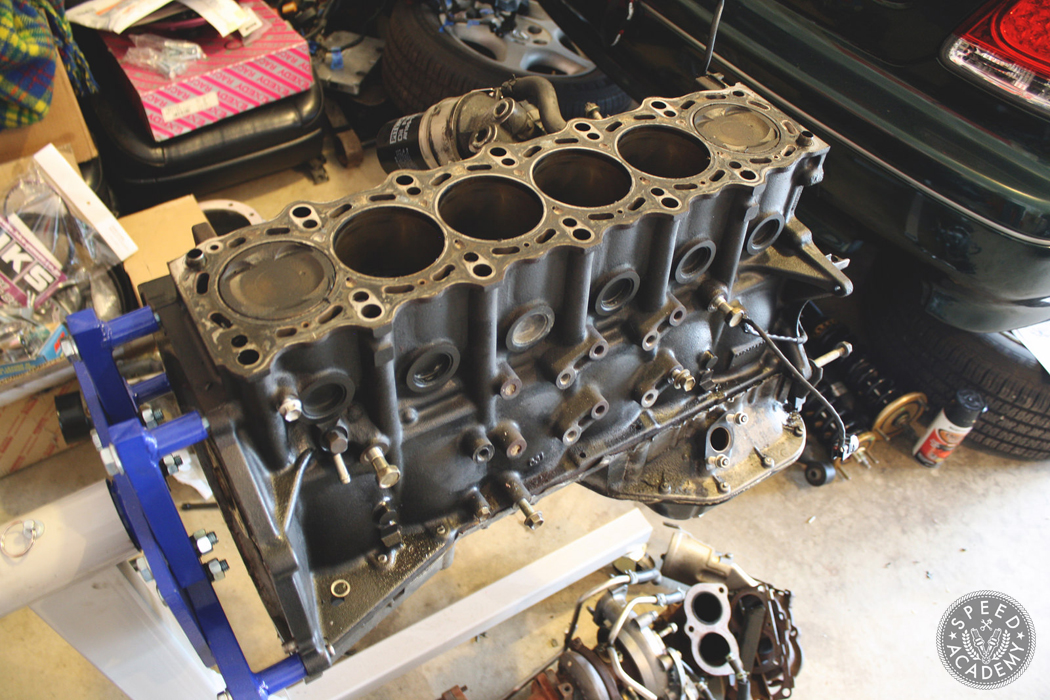 My original plan was to purchase an OEM gasket kit and install all of the simple maintenance items, including the timing belt and related service items. But as usual, the more I tore into the engine, the more things began to snowball. It was apparent that the cam seals were leaking, and I found traces of coolant in the spark plug tubes. This was likely due to the heater core hose being hastily cut when the engine was removed in Japan, but you never can be too careful. There's no sense in rushing into getting the car running only to run into major headaches later.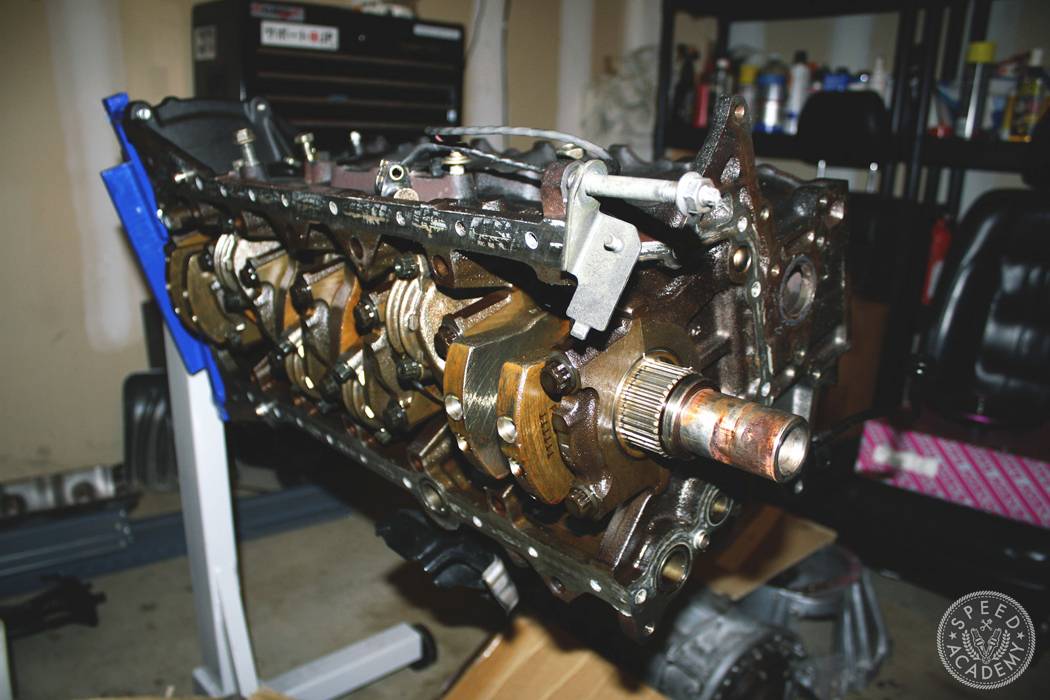 The sight of coolant anywhere near where it wasn't supposed to be was enough for me to decide to replace the head gasket. I also wanted to inspect the factory twin turbochargers to ensure that there wasn't shaft play or other major issues. Anyone that has worked on a stock 2JZGTE before can tell you that removing the factory twins is a complete and utter pain in the backside. Even with the engine out of the car and sitting on the stand, reaching all of the manifold nuts was a knuckle slicing experience. I removed the intake manifold and wiring harness while I was at it to make the removal of the head a bit easier.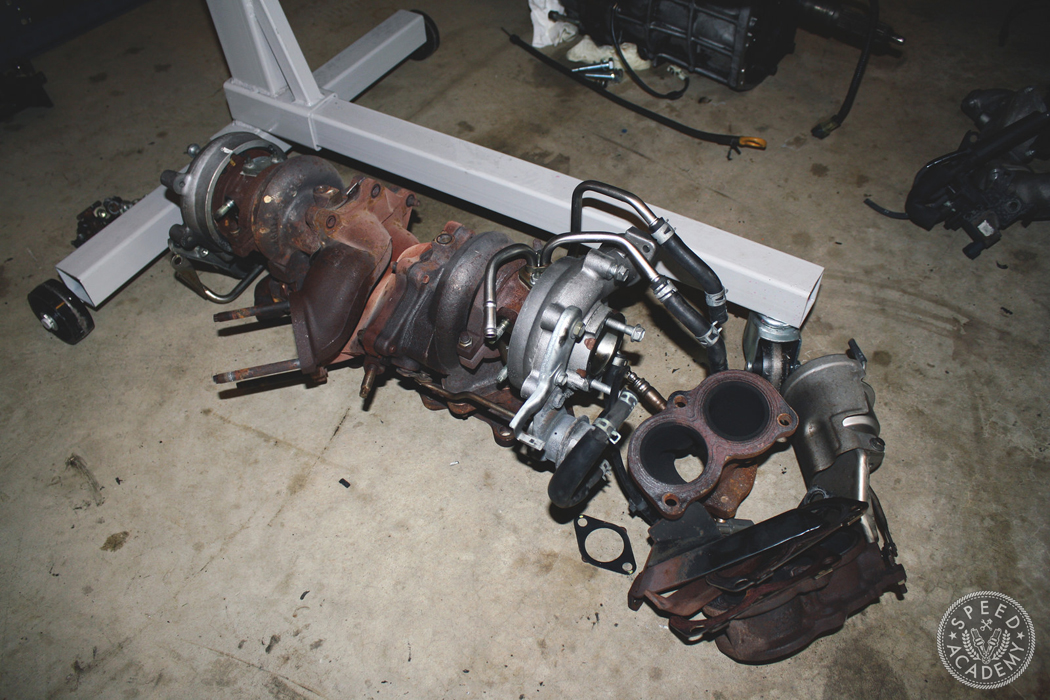 Sure enough, the factory twin turbos had all but given up the ghost. I had really hoped to utilize the factory twin turbo system to maintain some low end grunt and save some cash, but after spending a few hours removing them there was no I way I was going to bolt those things up to my engine again. With both manifolds and the camshafts pulled from the engine, I removed the head and was left with the shortblock.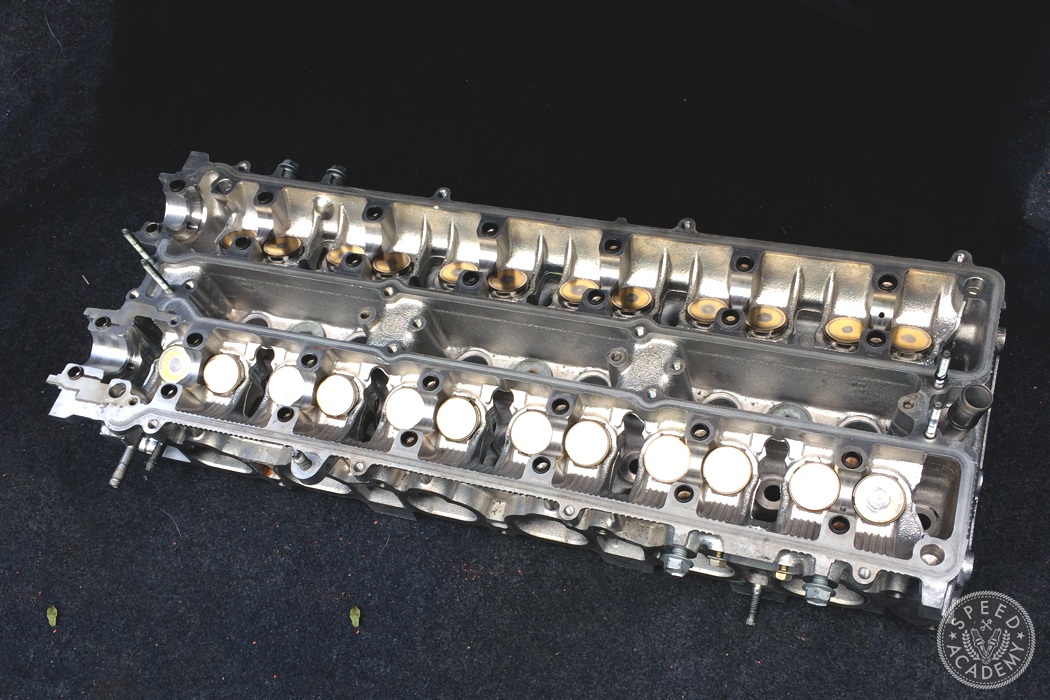 A common issue with the 2JZ is it's ability to destroy valve stem seals. These seals are one of the items that tends to go bad over time, resulting in some annoying smoke from the tailpipe on startup. While I was pleased to see that the head on my engine was in great shape, I ordered a set of OEM Toyota intake and exhaust valve stem seals as an added precaution. I dropped off the head at the local machine shop to have it decked and freshened up with the new seals. I like to do as much work on my car as possible in my own garage, but when it comes to messing with engine internals I prefer to stick with the professionals.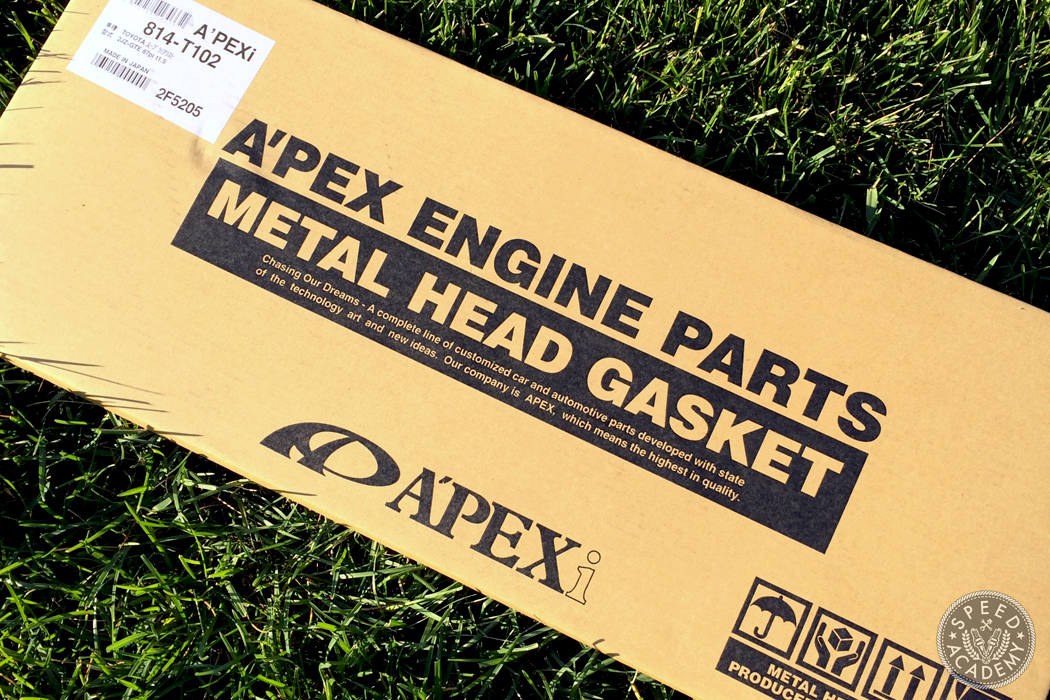 While waiting for the head work to be completed, the maintenance items began to pour in. A slew of OEM Toyota items arrived including a full gasket kit, water pump, oil strainer, oil pump, PCV valve, timing belt idler pulley, and belt tensioner. But for some of the other maintenance items, I chose to go with aftermarket components. Mike at Evasive Motorsports hooked up with an Apexi head gasket. While the OEM metal gasket would have been sufficient, I'm a sucker for cool Japanese parts and couldn't say no- not to mention he gave me an awesome deal.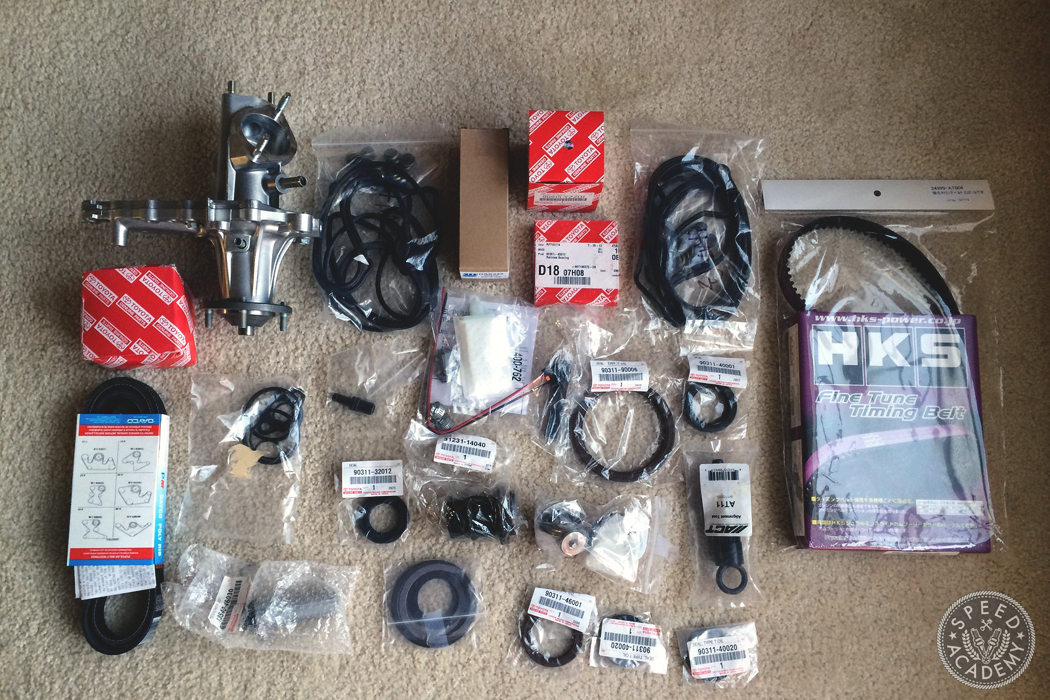 A friend of mine runs a small parts business here in Michigan called BaoHouse Tuning and was able to help me get a hold of a set of ARP head studs, as well as an HKS timing belt. Not only is it designed to be stronger than the OEM belt, but it's PURPLE! Tough to beat how cool it looks on the engine, even if it will be covered up when everything is said and done anyway. Finally, I sourced a SARD low temp thermostat to top off the maintenance items for the rebuild.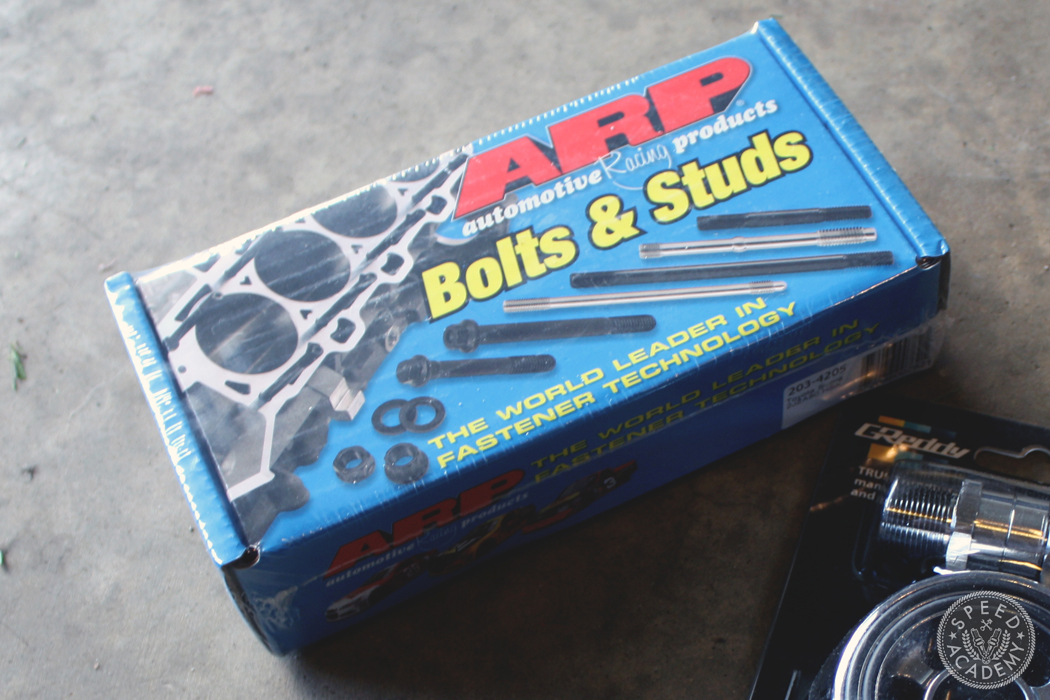 So where does that leave us? With one stripped down engine and a pile of shiny parts waiting for a new home. Stay tuned to see the refreshed engine come together and what I've chosen to replace those crusty twin turbos with to give this boat a new lease on life.
SOURCES
UPDATE: Damon had to abort this project and sell off the chassis for reasons that are explained here: http://speed.academy/damons-s13-240sx-re-birth-the-prologue/ On the bright side, you can now follow along his Nissan S13 240SX build which is proving to be pretty awesome already!