Building our Turn14 Distribution sponsored '02 AP1 from what we half-jokingly called "the worst S2000 in the world" has been a fairly huge undertaking, but a very rewarding one. For a refresher on what we started with, jump back to our Intro Story on the project. The transformation from clapped out salvage title beater to Jaguar F-Type V8 S slaying track day weapon didn't happen overnight, but we're extremely satisfied with the results.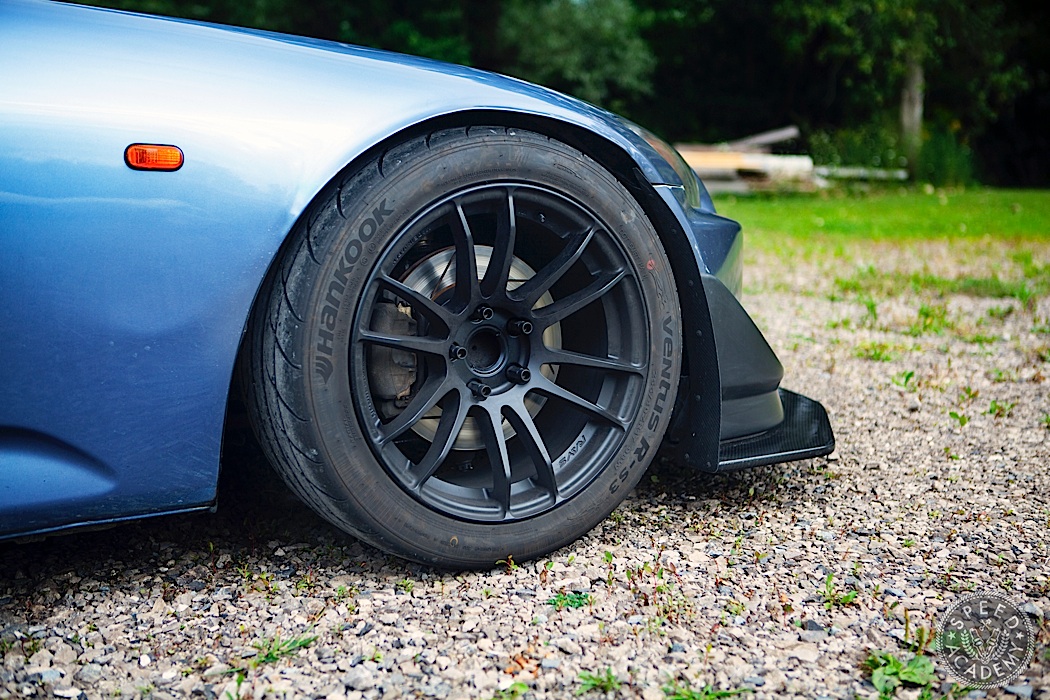 We started where everyone starts if they're serious about going faster, by bolting up a wider and stronger set of wheels, in our case 17×9" +40 offset Gram Light 57Xtreme wheels, and then wrapping them in seriously sticky rubber, in our case Hankook Ventus RS-3 extreme performance summer tires. Combined with Eibach Multi-Pro R2 coilovers and anti-roll kit as well as Stoptech's Sport brake kit (including rotors, pads, brake lines and fluid), we knocked 7-seconds off the baseline lap time (1:31.1) we set when comparing it to the Jaguar F-Type V8 S (1:20.1), with the idea being that we'd try to beat what's arguably the best roadster in the world today with what was arguably the best roadster in the world back in 2002.
We still had to find 4 more seconds to beat the Jag and break the 1-minute 20-second barrier at our local test track (Toronto Motorsports Park), though, and we knew those last few seconds would be much harder to find since tires, suspension and brake upgrades always deliver the biggest improvements in on-track performance.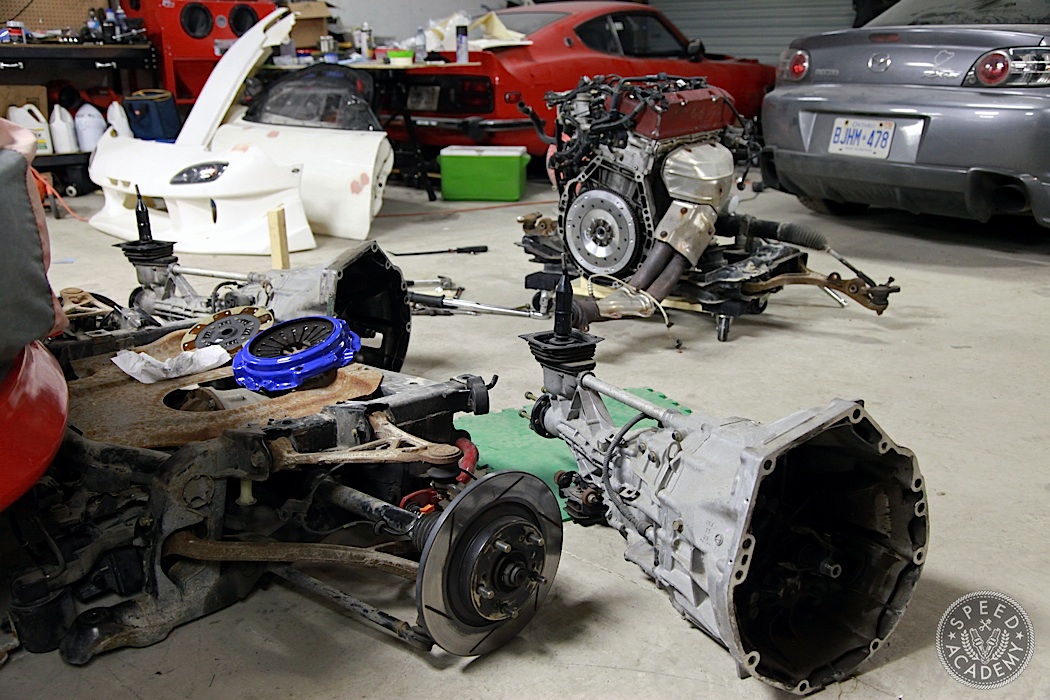 We started our quest for those last 4 seconds by fixing everything that was broken or worn out, which turned into a massive winter project that included removing the entire powertrain, swapping in a fresh SPEC Stage 2+ clutch kit and AP2 transmission and replacing both the front and rear subframes with lightly used ones we found on Kijiji (the Canadian version of Craigslist, for all you Americans wondering what the heck Kijiji is).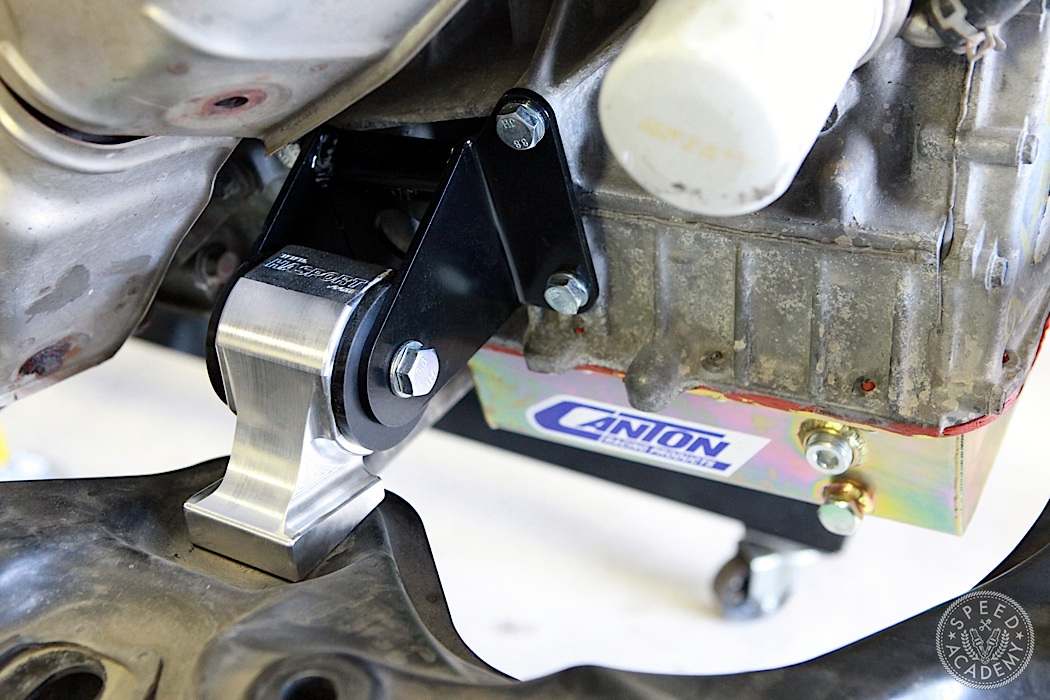 This also gave us the opportunity to more easily change out the worn out engine mounts and rear diff mounts with Hasport Performance billet aluminum and poly bushed pieces as well as all the suspension arm bushings with Hardrace hardened rubber versions from our friends at Stage Four Motorsports. We also added camber adjustable ball joints from Buddy Club USA and SPC Performance along with a Blox Racing bump steer kit and axle spacers. And as you can see above, we also ditched the banged up OE oil pan in favour of a larger capacity and beautifully baffled Canton Racing oil pan.
With the engine out we also took advantage of the ease of access by installing Mishimoto radiator hoses that would eventually be mated up to a Mishimoto high performance radiator. Plus we added a Mishimoto oil cooler kit, since the high-revving F20C runs hot at the track. Oh, and we added an EVS Tuning high capacity differential cover too, which triples the oil capacity and helps keep the failure-prone AP1 diff alive.
Once we reinstalled the engine we also bolted up an AEM dual chamber intake, a system that's proven to make at least 8-whp on S2000's but got denied credit during our follow-up dyno test because our original baseline was crazy high at 215-whp and the OnPoint Dyno Dynapack system underwent a recalibration over the winter. The Tanabe Touring Medalion cat-back exhaust and Vibrant GESI high-flow catalytic converter didn't get the credit they deserved on the dyno either, but there's no denying the fact the intake and exhaust both sound fantastic and operate at a road-legal dB level, too.
After that we attacked the interior with all sorts of pointy tools while installing Spek-Pro gauges from Auto Meter, Recaro Profi SPG racing buckets, a Takata Race-4 harness on the driver's side, a Buddy Club shift knob, some fresher OE carpeting and a Rockstar Garage 4-point roll bar and bulkhead bar.