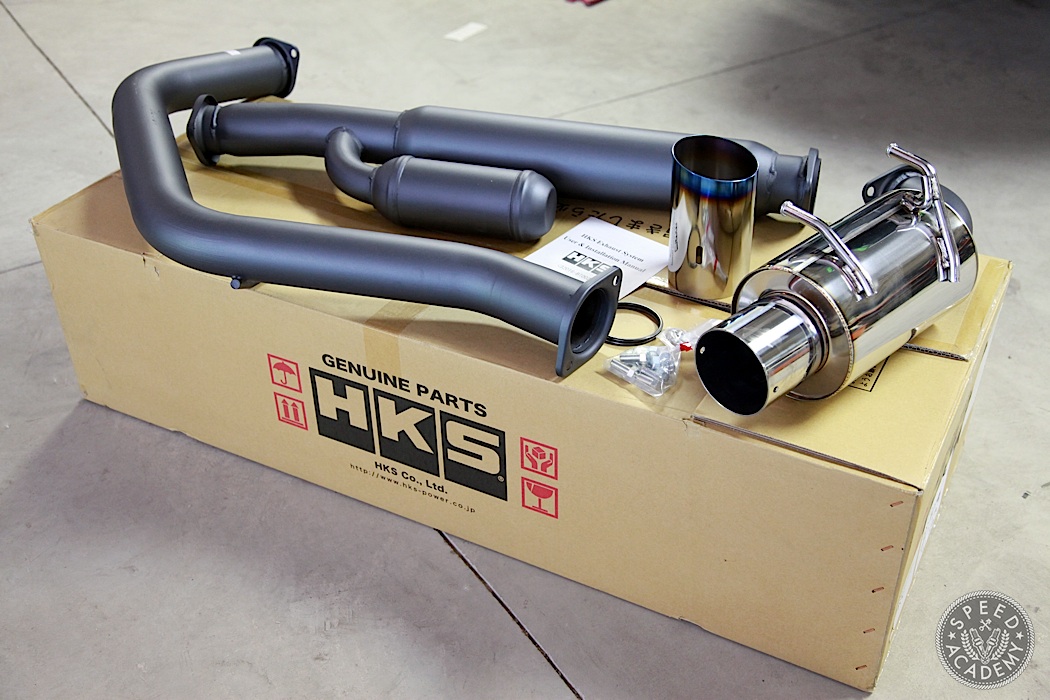 On the exhaust side of things, we have an ultra-sexy and ultra-functional JDL Auto Design equal-length long-tube header, overpipe, and catted front-pipe on the way, but we decided to bolt up the HKS Hi-Power single exit exhaust beforehand, because nobody wants to roll in a stickered up race car without a little exhaust burble to go with it. And we're happy to report that this cat-back provides an appealing, deep exhaust note but very little cabin drone thanks to the clever resonance tube HKS has included as part of its design. FYI, the resonance tube is that dead end tube attached to the mid-pipe and it's designed to cancel out the drone at the typical engine speed and engine load level used during highway cruising (meaning light load and throttle).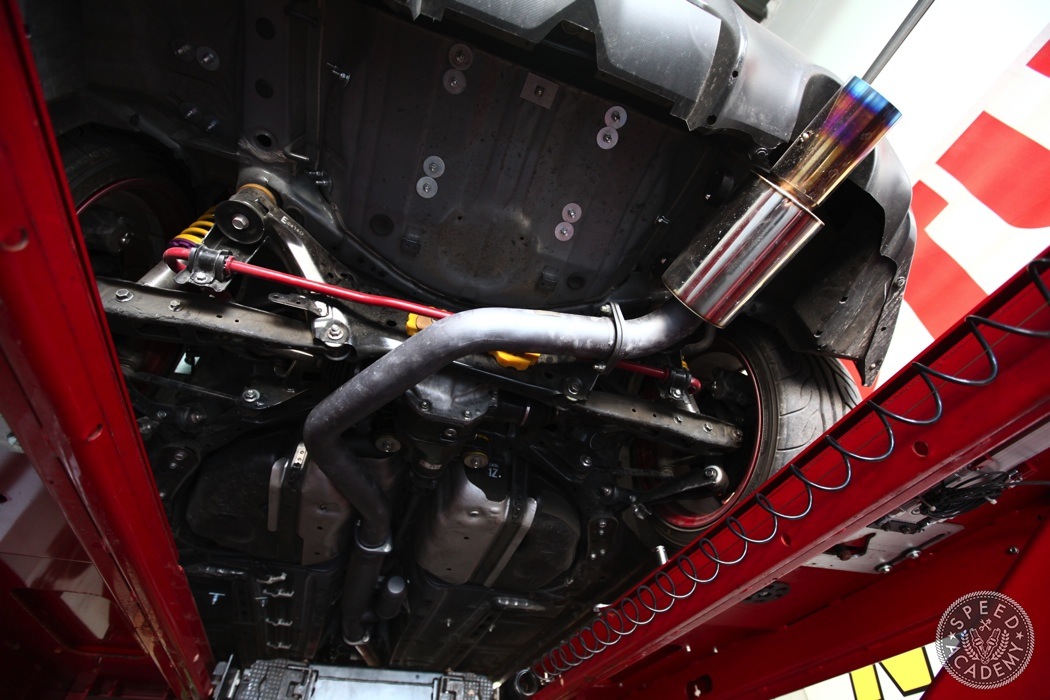 That said, because of its 75mm diameter SUH409 stainless steel main piping and straight-thru SUS304 stainless steel muffler, there's certainly very little restriction to flow with this system. And of course being a high-quality Japanese product, it bolts up to the FR-S (and BRZ and GT86) with the greatest of ease, or at least it would if our car wasn't missing an exhaust hanger! Discovering yet another missing tidbit, we ordered a hanger and properly installed the system, even though the temptation to use zipties was strong!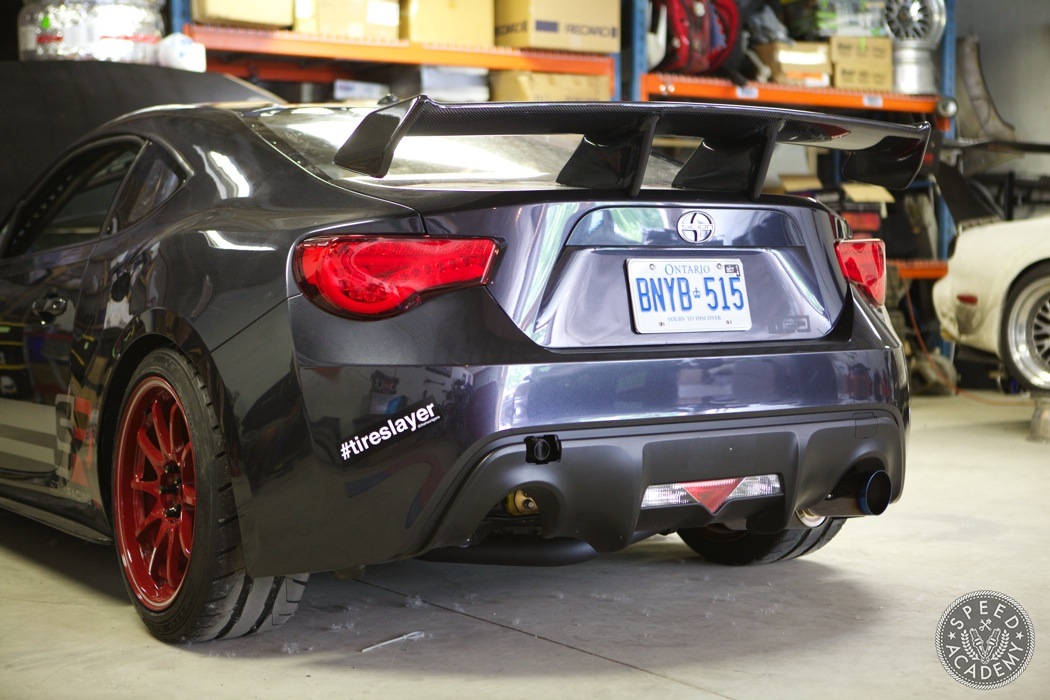 Being a single-exit system also means we've saved a lot of weight compared to the OEM setup or most aftermarket dual-exit options (which use a much larger and thus heavier muffler by design), and saving weight on a car that's got to haul around a spare wheel and tire and a bunch of other rally gear plus a driver and co-driver is a very good thing in our books. This HKS system weighs just 22-lbs, while the factory mid-pipe weighs 12.4-lbs and the factory dual-exit muffler an additional 28.1-lbs for a total of 40.5-lbs. So based on our advanced math skills, we've saved an impressive 18.5-lbs with the HKS single-exit setup. Suddenly the look of the rear bumper with a missing tailpipe doesn't bother us so much.
The one tailpipe we do have is rather sexy, thanks to its titanium construction and 97mm diameter. Sure, it's purely for show, but since cat-back exhaust systems really only make a couple horsepower on these cars, you're upgrading to a system like this for 3 main reasons: sound, weight savings, and looks, and not necessarily in that order. In our case it was really all about the weight savings, with the sound and looks being a given with a brand as reputable as HKS. Any power or torque it frees up is an added bonus, but based on our experience dyno testing exhausts on the FR-S and BRZ platform, you just can't expect more than 2-3whp.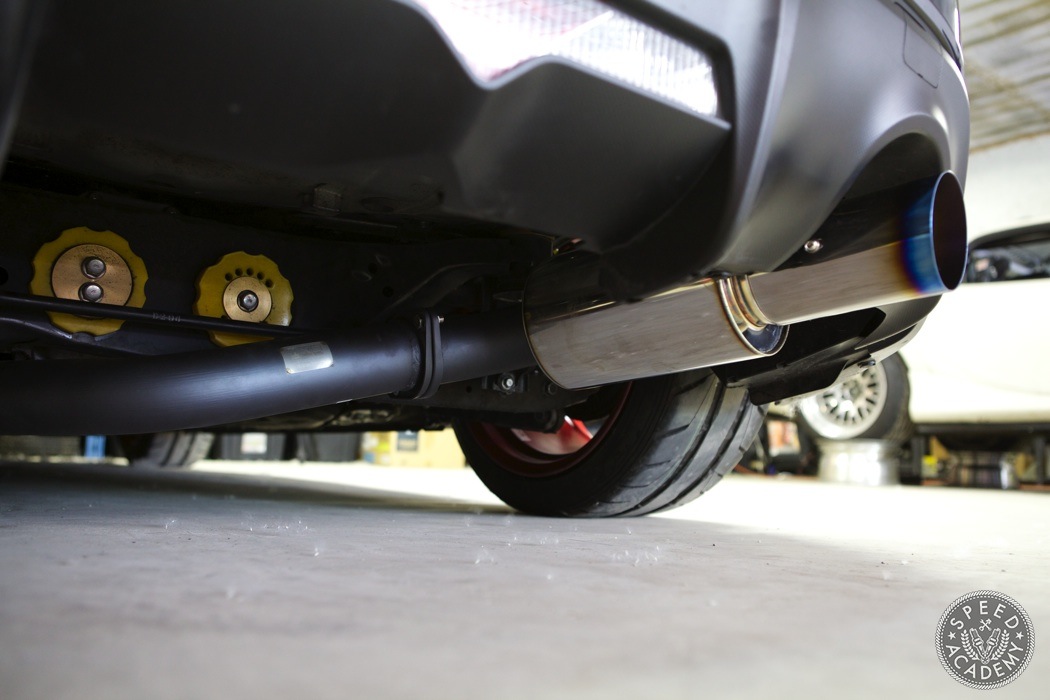 The only drawback to this exhaust system from a Targa NL standpoint is how low it hangs. There isn't enough ground clearance as it passes under the rear subframe, at least not at the KW Clubsport recommended starting ride height you see here (which is about 1.75-2" lower than stock). We have since raised the ride height to a stockish 26 1/4" from fender lip to ground to ensure we don't pancake this part of the exhaust when hitting jumps or big potholes on the rough roads Newfoundland will be throwing at us soon.
That's it for this round of power-adders, but next time we promise we'll have dyno results for you along with a close look at the JDL Auto Design parts that complete our exhaust side setup.