As we climbed higher into the Alps, we pulled over at one of the many scenic outlooks along the route to Stelvio to test the yodel-echo factor off the cliff faces and to water some local vegetation. Stay classy on the road, my friends!
From there we passed through a number of gorgeous little alpine villages. It felt a bit like travelling back in time, except for all the spandex-wrapped cyclists. Still, it felt very special and helped build a sense of anticipation as we closed in on Strada del Passo dello Stelvio.
Approaching Stelvio Pass from the northeast meant some amazing sweeping alpine roads that we could carry some serious speed on, followed by a seemingly endless number of switchbacks (ok, 48) as we climbed steeply toward the 9,045-ft peak, making it the highest paved mountain pass in the eastern Alps. Originally built between 1820 and 1825 by the Austrian Empire, these days it's primarily a tourist destination and, as we were learning, a very popular route with death-defying cyclists.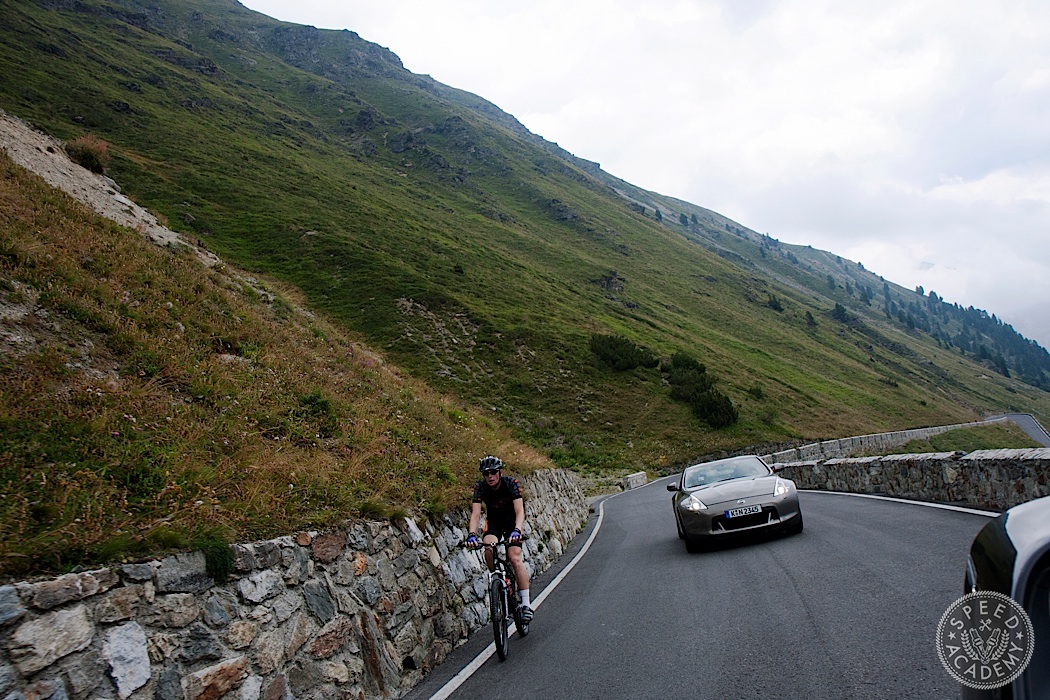 With a stone wall on one side and a steep drop off on the other, not to mention traffic travelling in both directions despite how narrow the road is, it takes a special kind of cyclist to want to ride the Stelvio Pass. You have to respect their fitness and determination, but also question their sanity.
We also wondered about the sanity of the engineers who designed and built this road, because the magnitude of the feat simply cannot be overstated. I mean just look at this paved ribbon of madness!
With apologies to Clarkson & Co, Stelvio Pass is not the greatest driving road in the world. Not even close. It's certainly the most extreme road we've ever driven, the most severe, and the view is spectacular in every direction, but the drive up was more of an exercise in survival than the WRC special stage we'd hoped for. That's because you have no view of oncoming traffic around each hairpin, so you have to approach carefully and, since we had a passenger in each car, stick your head out the window to see if the road was clear or if you were about to murder a cyclist or be murdered by a RV or bus.
We encountered some slow-moving traffic on the way up, which didn't help Top Gear's case, and we were told by locals that we were lucky to come on such a quiet day. Apparently there are traffic jams climbing Stelvio during peak summer tourist season, in large part because of Top Gear's endorsement.
But the views once we reached the summit certainly made it all worthwhile. Epic epicness in every direction!