In our continuing series of spotlights on the record breakers from the 2014 Global Time Attack Super Lap Battle finals at Buttonwillow back in November, we bring you a team that not only obliterated the Limited AWD class record by 4.5-seconds, but did so with a freshly built and largely untested Evo VIII, having written off their famous Evo VII at Road Atlanta in 2013.
When you name your race team Professional Awesome, you're probably a fan of JDM Engrish and a bit of a humorist. But there's really nothing funny about what this team went through at Road Atlanta, driver Dan O'Donnell hooking a tire on the outer edge of the curbing on the outside of Turn 1 at about 85 mph and ending up in a spin that came to an abrupt halt against a concrete wall. The resulting wreck wasn't pretty, but Dan walked away unscathed. Here's the in-car video of the crash, just in case you're the sadistic type. Props to Professional Awesome for posting this on YouTube. I think that tells you a lot about the kind of guys they really are (putting it all out there, for the love of the game).
A lot of teams would have slinked off into the darkness never to be heard from again, but not these guys. Rebuilding after a hit this big wasn't going to be quick or easy, though, according to Dan. "There was no second guessing from the team in regards to the commitment to the sport after Road Atlanta 2013, but in what way we would be back was up in the air. The biggest obstacle was cost for rebuilding. I would say 90% of the old car was scrapped in the crash. The engine, trans, transfer case and rear diff were all damaged. The chassis was done, suspension ruined, aero destroyed, including the rear wing. I don't handle the purse strings for the team and wouldn't be able to afford a new build, so the decision wasn't up to me."
Dan continued, "As luck would have it, we had a conversation with Terry from Fortune Auto and he expressed interest in working with the team, something we had discussed before, but never took the leap because of our good relationship with KW. On top of product, he would help us in getting a new chassis to start the rebuild, so then began the great sponsorship round-up of the summer of 2013."
The wrecked car was a rare (in North America) Evo VII, which meant replacing it with a more widely available Evo VIII, sourced from Utah to ensure a rust-free and booze-free chassis. From there it was a matter of developing a plan of attack for the new build. As Dan told us, "Every sponsor was amazing in their support for the team. This really helped push us even more towards rebuilding. Knowing we'd have help along the way, we sourced a new chassis and started to really discuss the shortcomings of the old car and plan for what was possible with a new design. By late summer, we had the car, stripped it and sent it to All Speed Innovations for the cage." And as you can see from the video above, the Professional Awesome guys like to have fun, know how to generate some entertaining content, and ASI didn't cut any corners when building them a serious cage.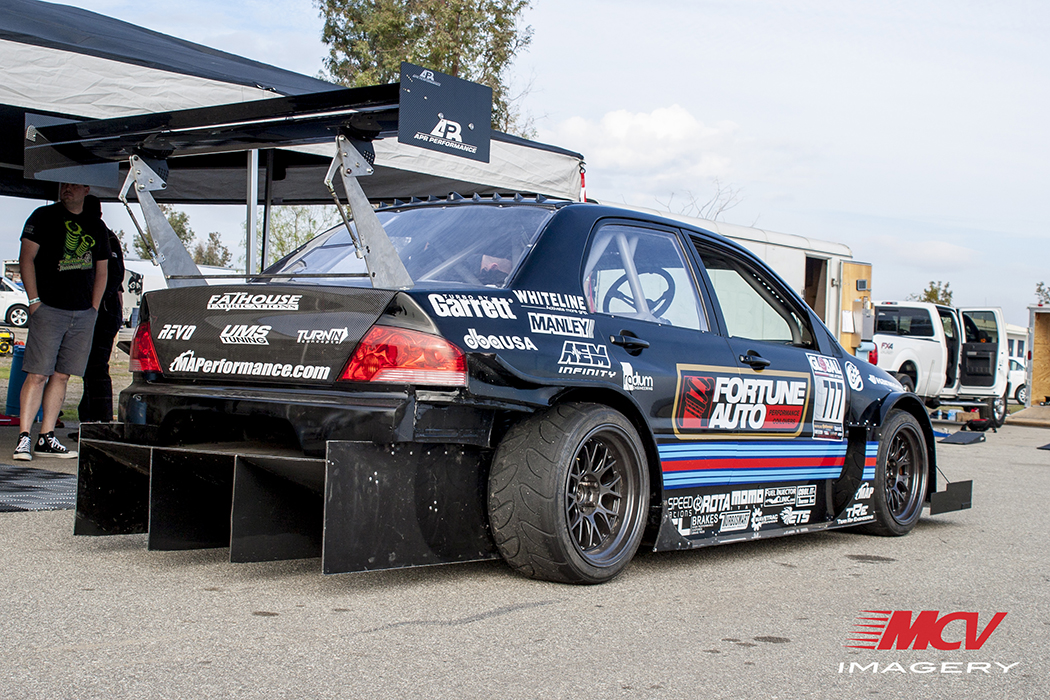 The old Evo VII's aero package was well developed for a Limited class car and included a custom front splitter, rear diffuser and Kognition wing, but they've definitely taken it up a notch or two on the VIII. As Dan put it, "While it all may seem dramatic, a lot is just an… I hate to say it… evolution of the old design. The aero had input from all members of the team (which is Grant Davis, team mechanic; Mike Lewin, engineer; me, janitor). Mike and I read A LOT, and I mean, A LOT, on the topic of aero. We've got multiple aero books sitting around the house. I have a subscription to Race Car Engineering courtesy of my girlfriend's dad (how lucky is that), so I read a bunch of Aerobytes and scoured the internet for old articles as well. We drew inspiration from GTP cars, of which we have books around the house as well, as well as F1, DTM… basically anything that was fast with aero. And yes, the diffuser is blown and works very well! Of course there are things we wish we did differently and hindsight is always 20/20. Look for big things in 2015 as far as aero development is concerned."