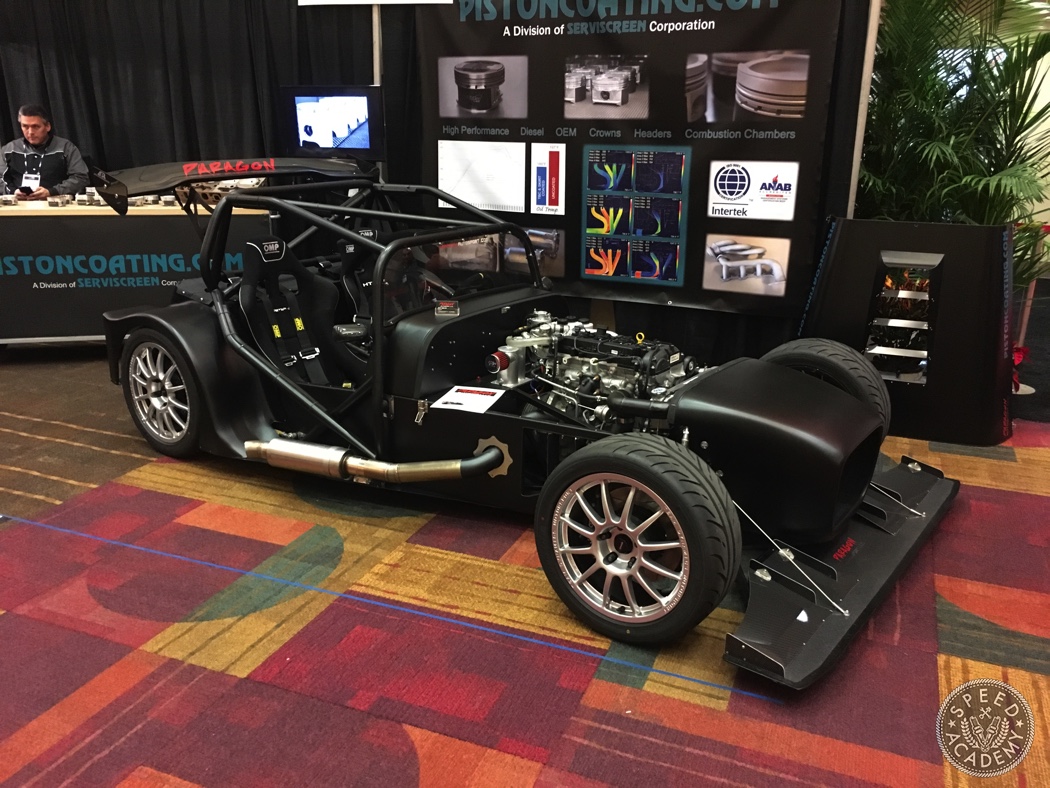 This Lotus Super Seven type fun-machine from Paragon Autosport has got be an absolute hoot to rip around a track in, thanks to a 1500-lb curb weight, a 300-hp Ecoboost 2L engine, an NC Miata 5-speed transmission, and some functional aero.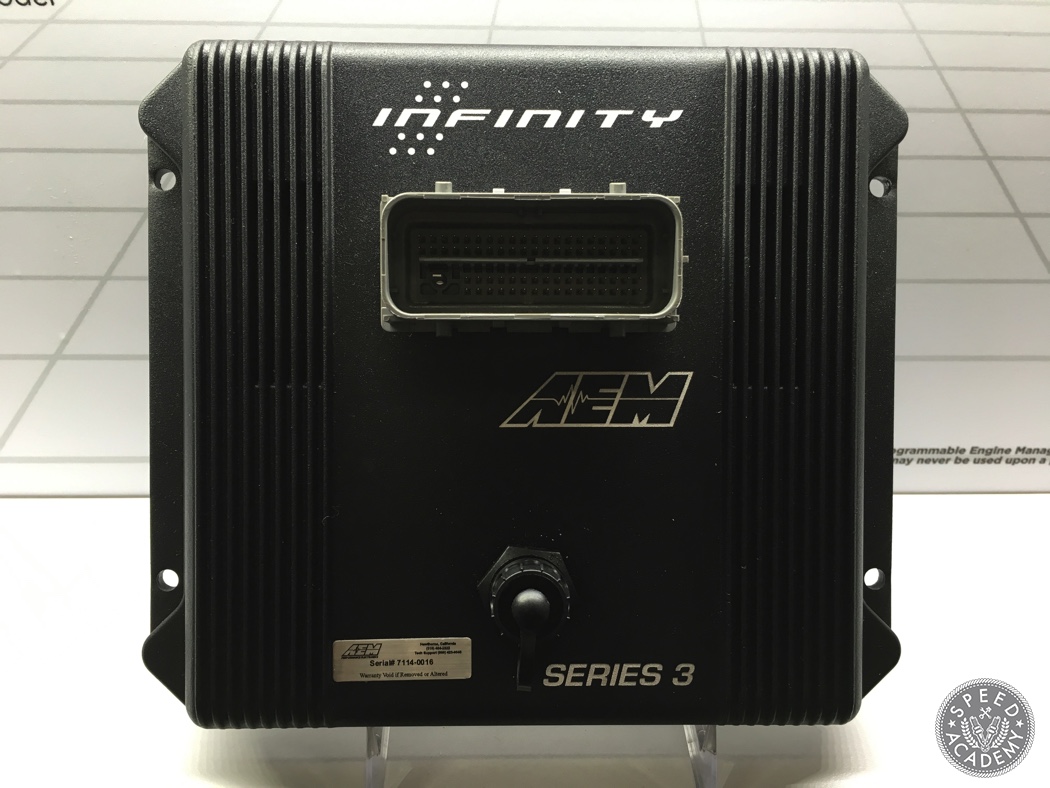 AEM Electronics, one of our biggest supports from Day 1, also had a bunch of cool new stuff on display in their booth including the Infinity Series 3 programmable ECU for popular early- and late-model throttle body and port injected Ford, GM and Mopar V8s. This is the most affordable Infinity yet at about $1100 jobber price and although it's not quite as feature-rich as the higher series boxes it's still incredibly powerful and includes AEM's integrated engine protection strategies, has multiple boost control strategies, dual knock sensing circuits, two-step launch control, and map switching.
This beautiful old Ford Cortina hot rod in the Hawk Performance booth was one of my favorite cars at the show, both because of the ITB'd V8 under the hood…
But also because of the surprises in the trunk including the chest housing the fuel cell and the gas can that was actually a cover for the battery.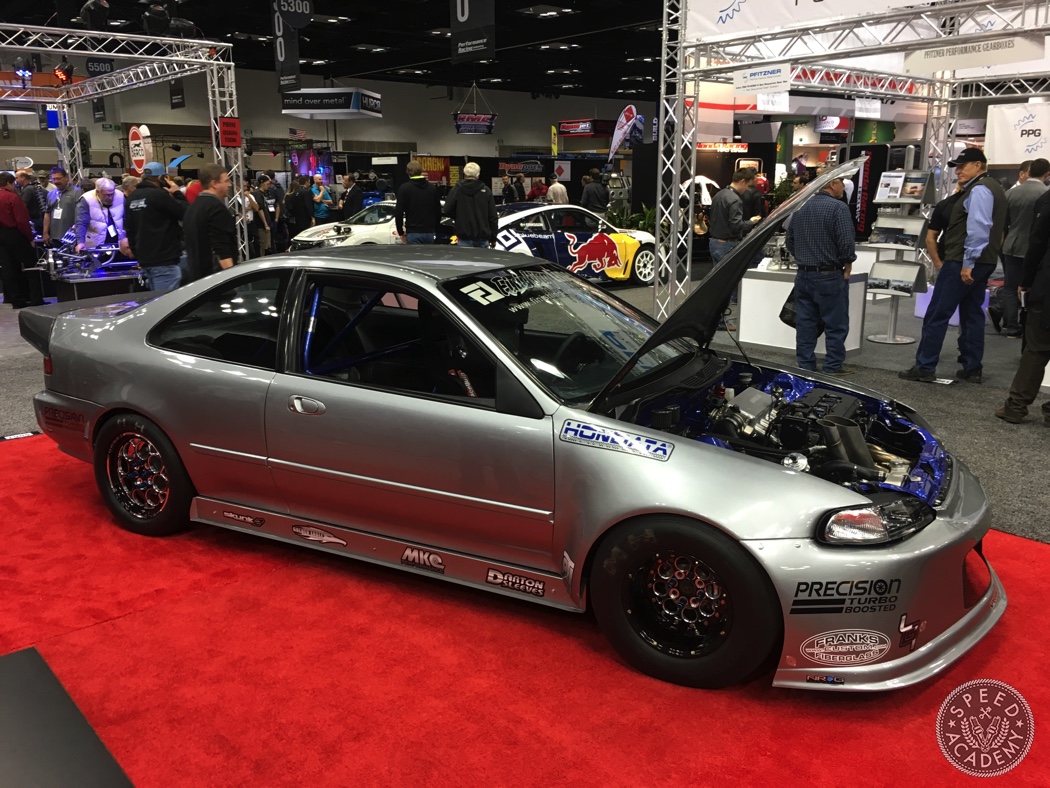 It's always fun seeing an EG Civic drag car since it takes us back to the "good old days" of the import scene.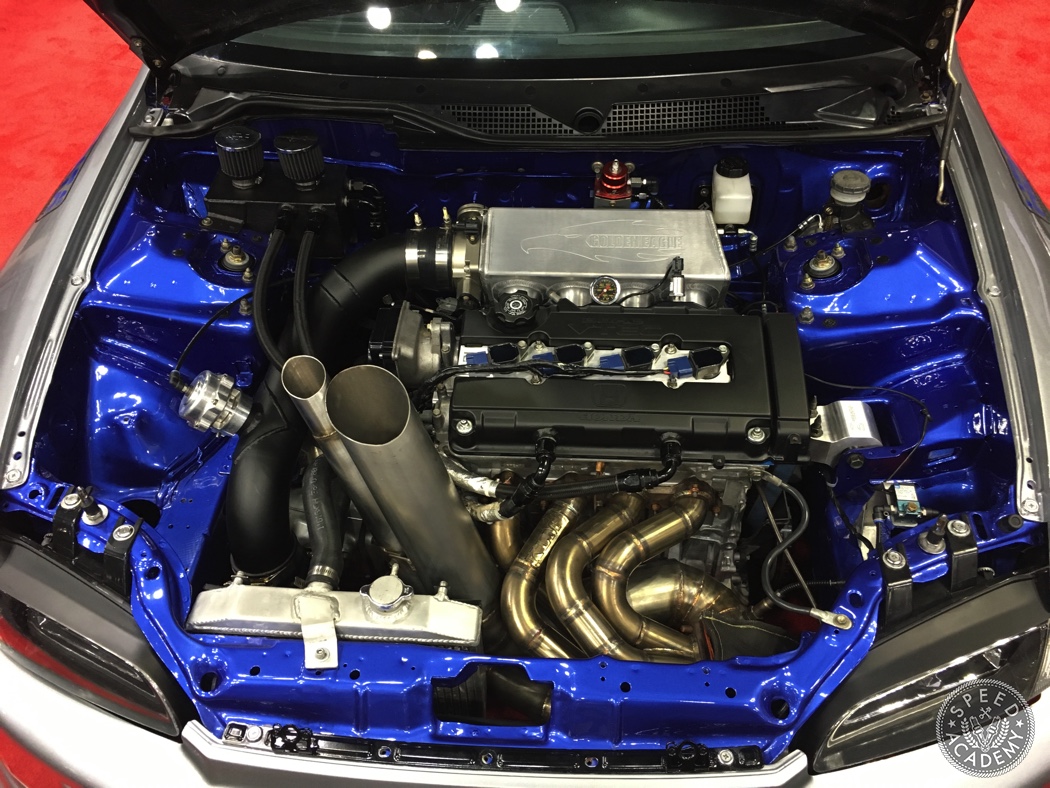 Far from a show car, this EG coupe runs low 9's from a turbo B. Impressive.
Over in the KW Suspensions booth it was interesting to see a display of the private label coilover kits they produce, include these for Greddy, AMG and RUF.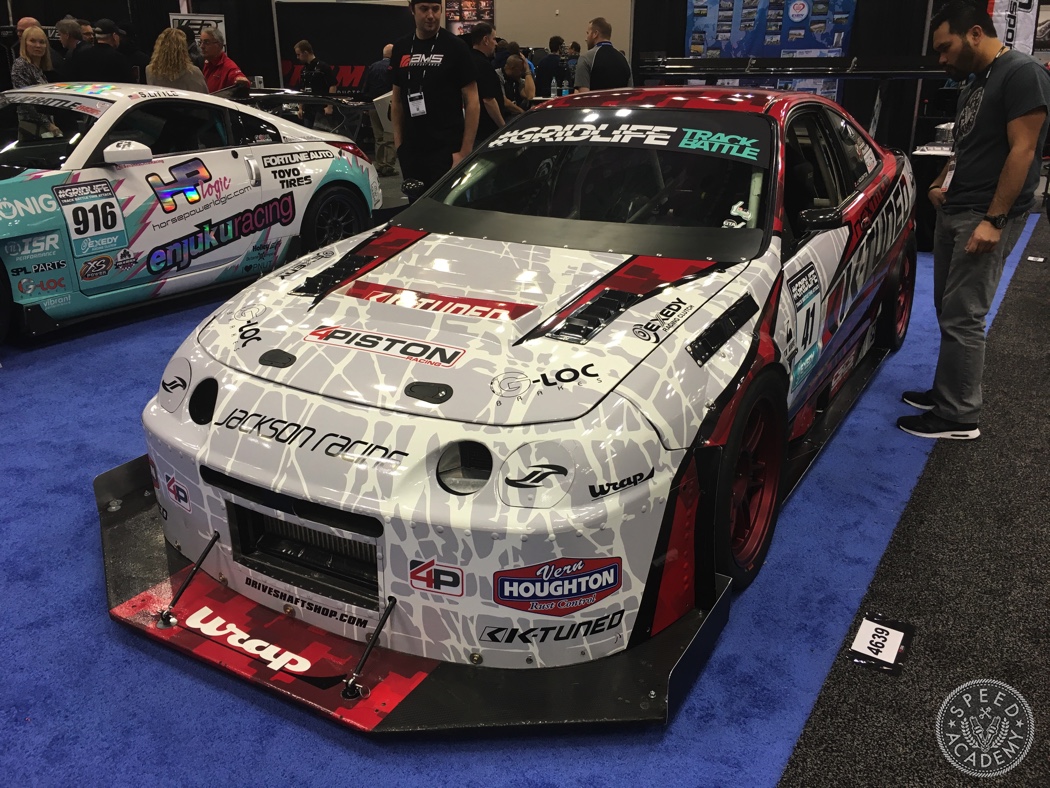 It was also great to see our buddy James Houghton and his K-tuned Integra Type R at the show in the Exedy booth. James and the crew from R-Division have done an absolutely incredible job developing this car over the years into one of the fastest FWD Time Attack cars in the world, and they're doing it with a supercharged K-series rather than a turbo setup. If we know anything about James and his team, they will be back stronger than ever in 2017.
Some more Canadian content, this time from our friends at Vibrant Performance with this slick display showing off their silicone couplers, clamps, intercooler core and intake velocity stack. They've also recently revamped their website, so it's now much easier to find what you need from their massive lineup of fabrication parts.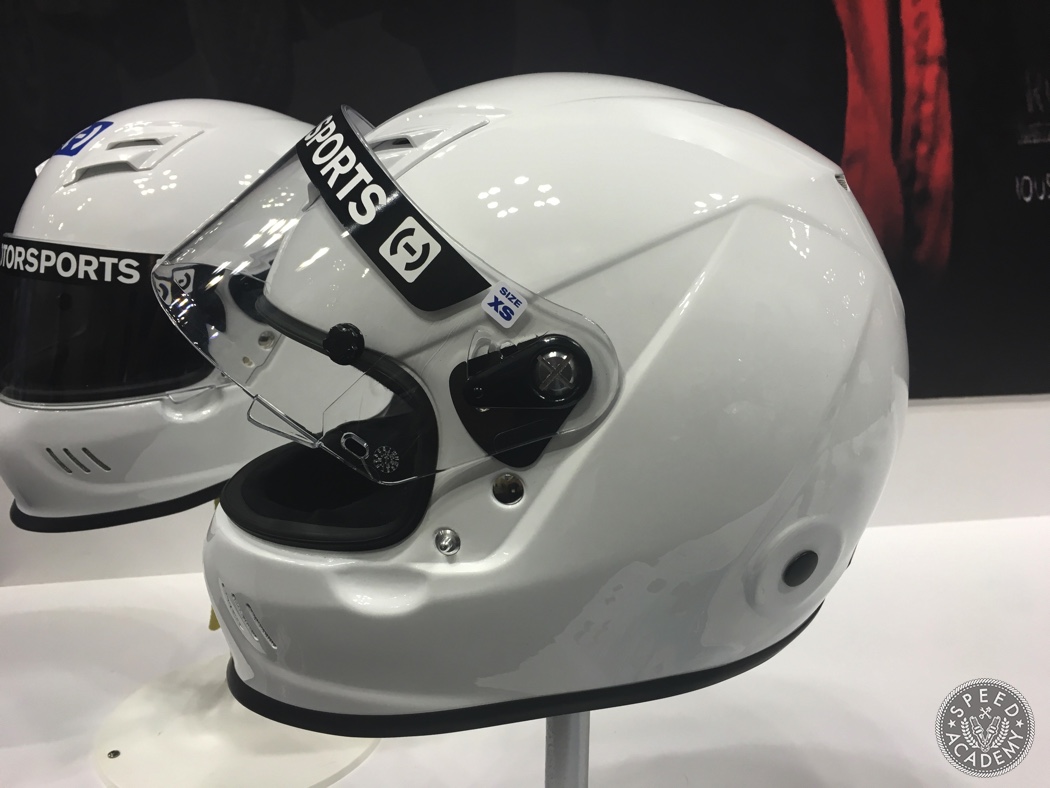 After seeing our buddy Gary Sheehan walk away unharmed from a nasty in-car fire while racing in the USTCC, we're in the market for full face helmets. I loved the comfort and weight-to-price ratio of my old HJC Motorsports AR-10 II helmet, so this newly released AR-10 III is high on my Christmas shopping list.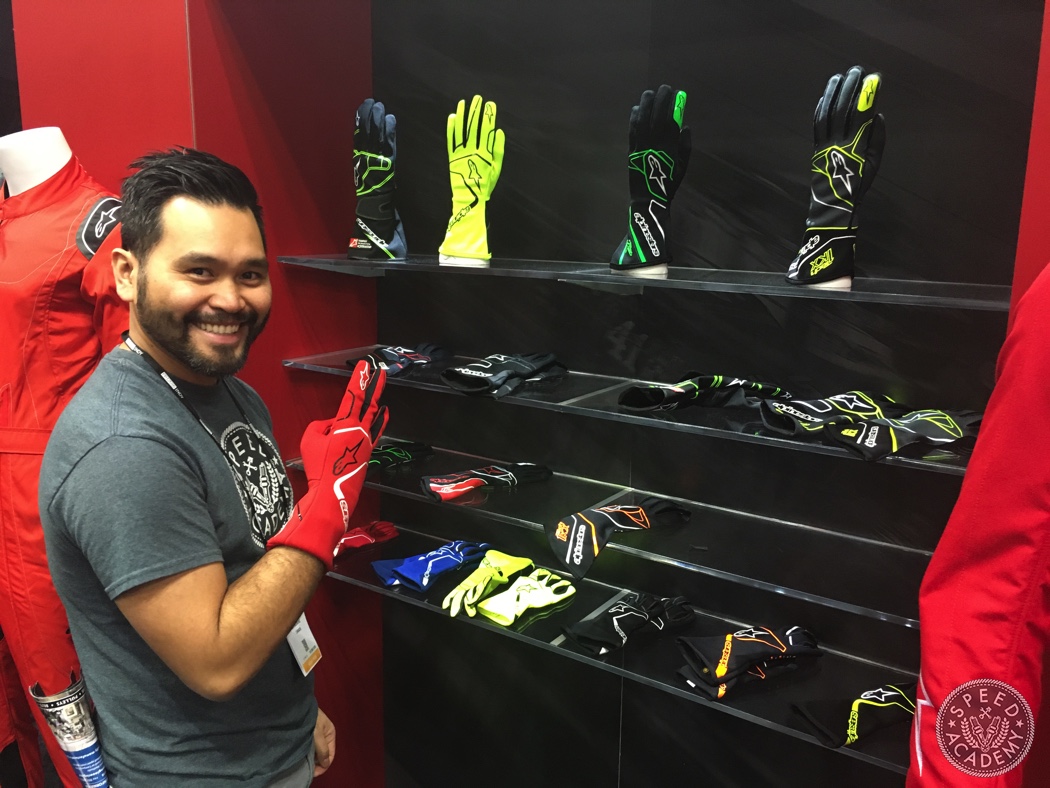 Ken may or may not be doing the shocker, but there's no disputing the fact that Alpinestars makes some of the most comfortable and fashionable racing gloves on the market.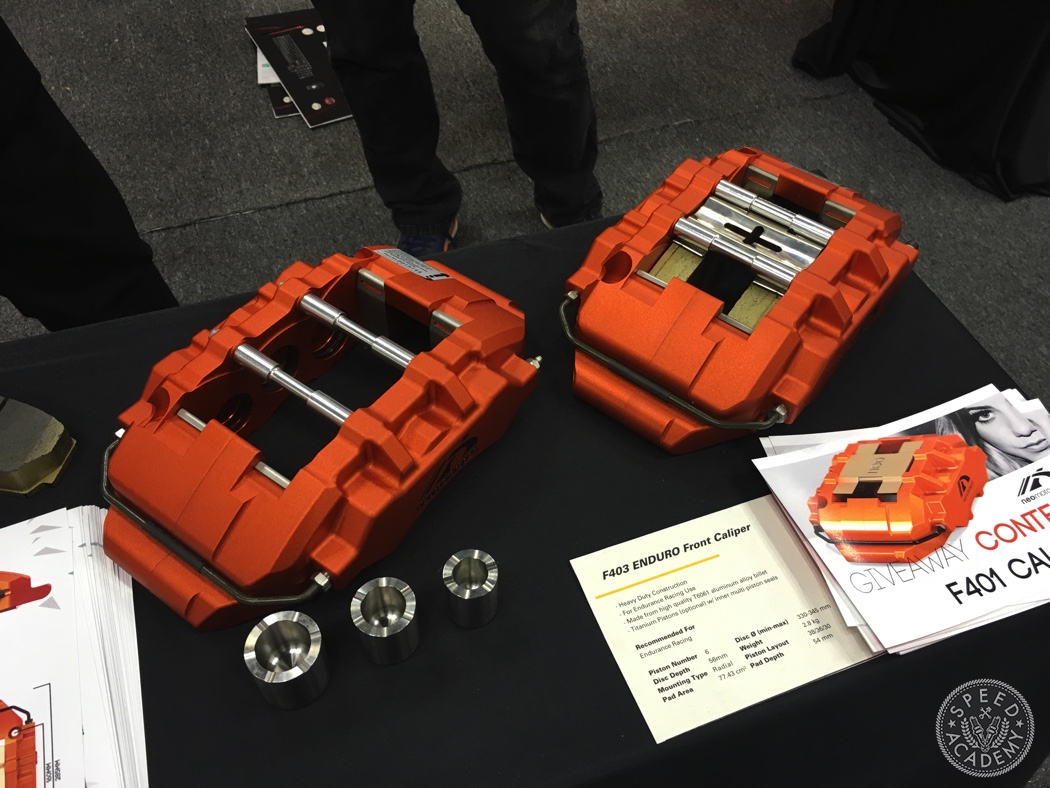 We were impressed by the engineering that Neo Motorsport has put into their endurance racing calipers, including titanium pistons. In fact, we've received so much positive feedback from racer-friends on Neo's big brake kits that we're currently working with them on a solution to the KSwift's brake failure.