Clearly the 2015 STI was an important car at this year's TAS, featured here in the HKS booth with all sorts of their latest go-fast goodies bolted up to it, including coilovers, carbon suction intake, Hi-Power exhaust and a GT series turbocharger.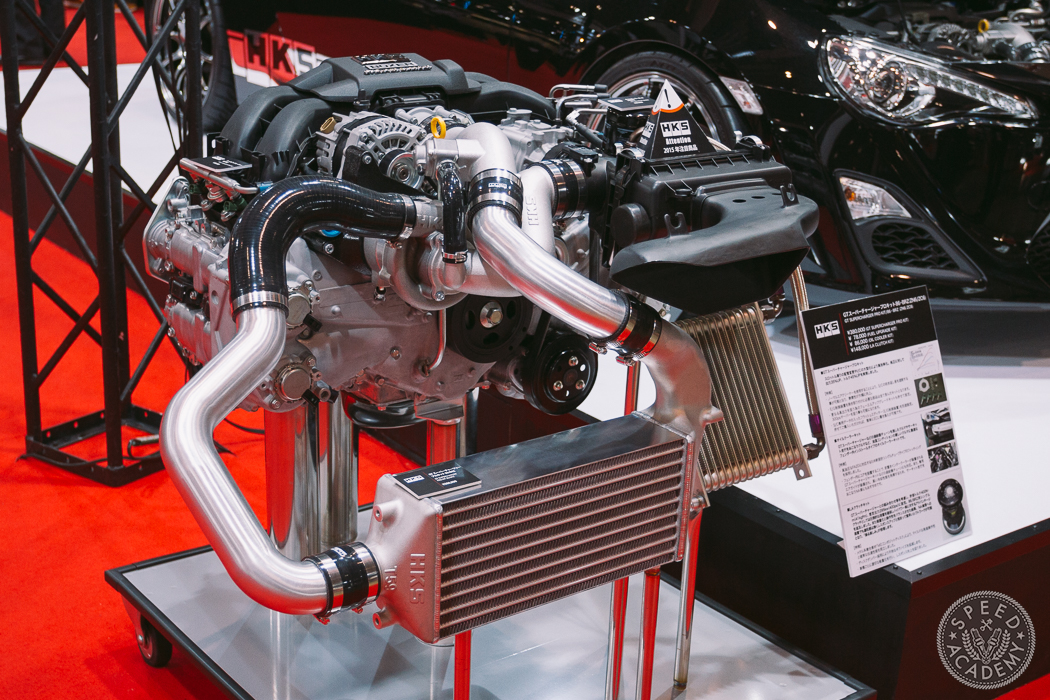 HKS also had this FA20 engine on display with their GT supercharger Pro Kit bolted up to it. This kit has been redesigned and now produces quite a bit more power than it did originally, thanks to more efficient charge pipe routing and the use of a larger intercooler. When the Fuel Upgrade Kit (larger injectors) and a tune are added, power is rated at around 300-whp. Plus you'll notice they've kept the stock air box/filter housing in place, which is done to keep induction noise to a minimum. For owners of the original kit, HKS has everything you need to convert yours to Pro Kit status.
Few parts give your car instant JDM cred the way a Voltex wing does. The topside mount swan's neck wing stays aren't a fashion statement, they're functional since it's the bottom surface of the wing that generates downforce. The double-decker Evo X WRC-style wing looks highly functional, too.
Zero/Sports also had a 2015 STI on display in what appears to be a matte blue vinyl wrap. You can see they have some nice looking exhaust parts for it on display in the background, along with this big brake kit featuring a floating two-piece slotted rotor with a very unique looking finish on it. Anyone know what that's about? We're guessing it's some sort of heat treatment to increase durability.