Engine Electrical Harness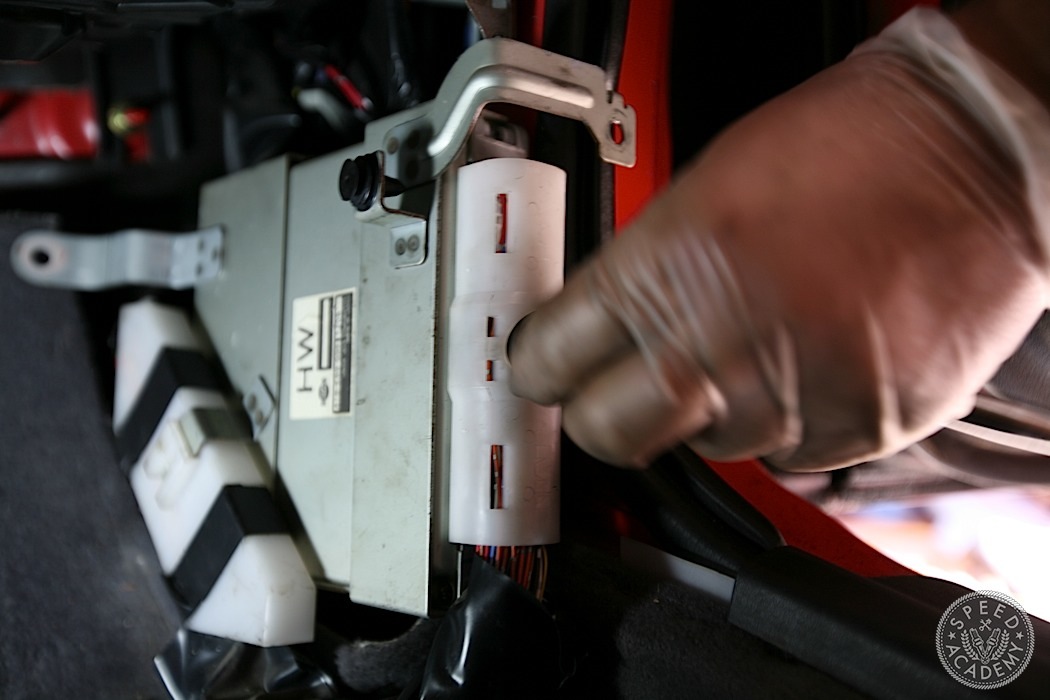 In the passenger side footwell you'll find the stock KA ECU. It's dead to us so we need to get it out of there. Remove all the nuts and bolt holding the ECU into place. Then disconnect the ECU from the lead harness.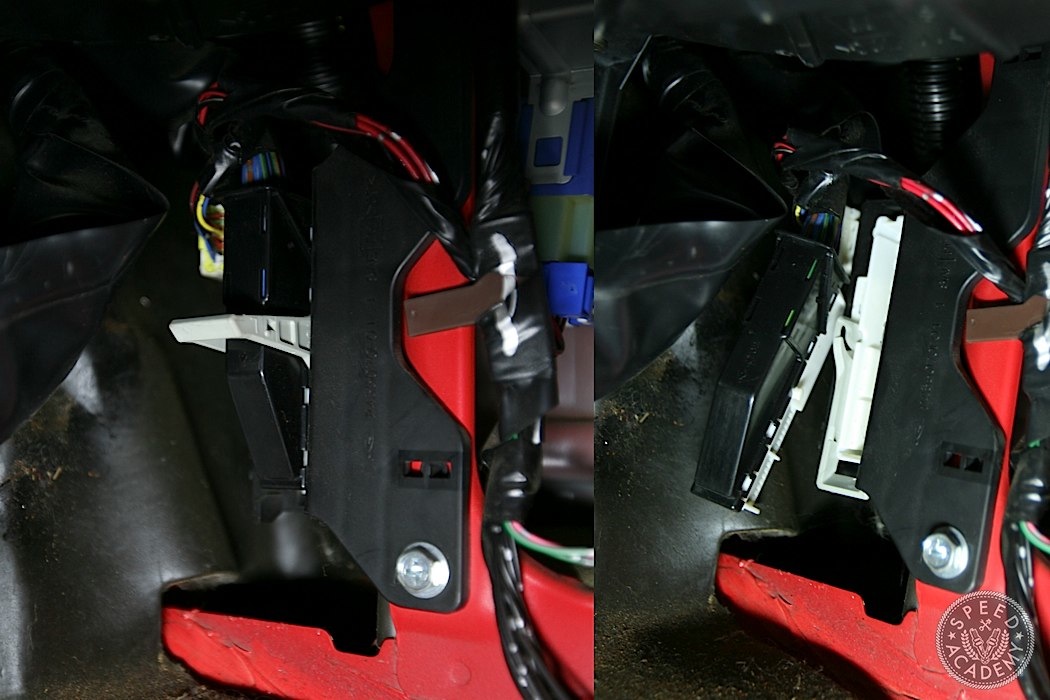 Look deep into the area where you just removed the ECU and you'll see a large plug (M63) with a grey tab locking it in. Move that tab up. This will unlock the plug and allow you to disconnect it.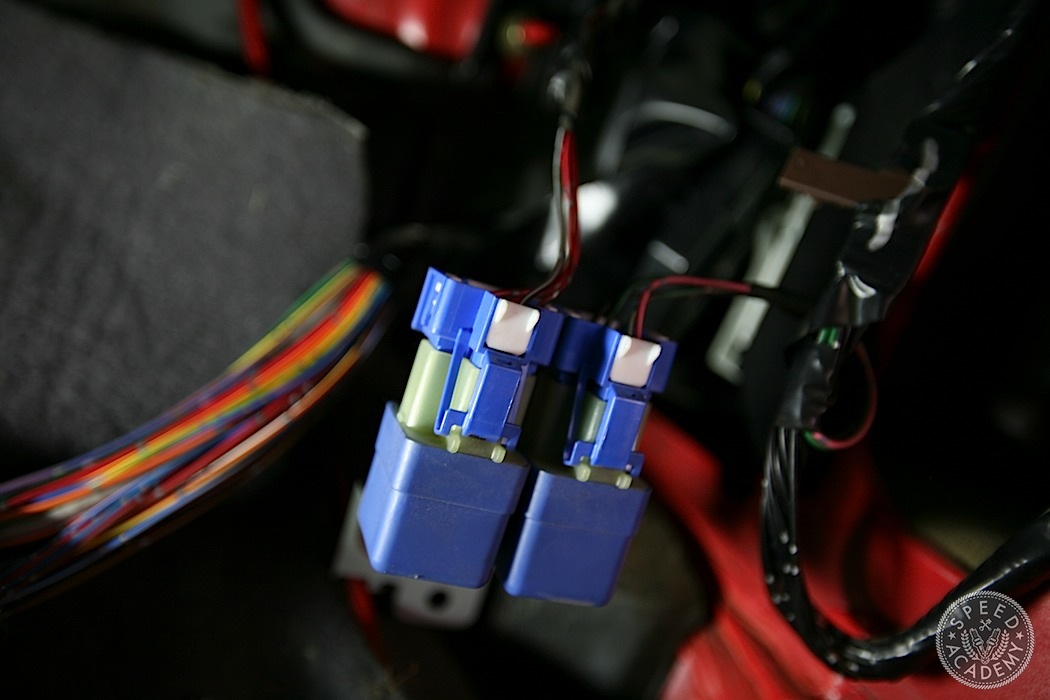 There will be two blue relays beside the large plug that you just disconnected. They are attached to the main harness so you'll have to remove them from the chassis as well.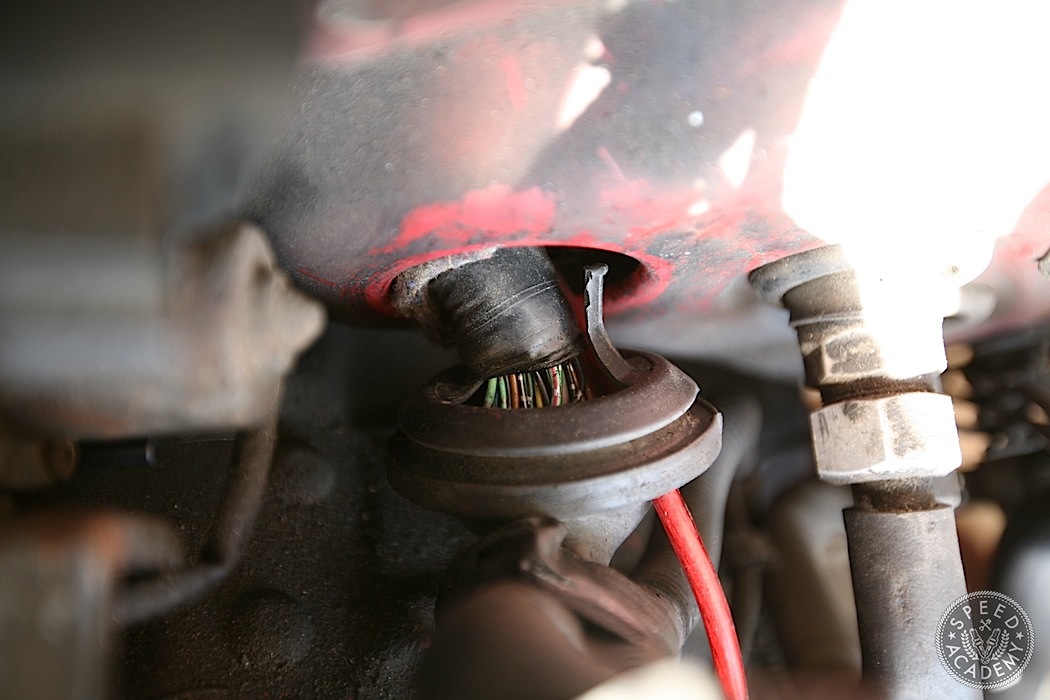 Go back to the passenger side of your engine bay and carefully pry the rubber gromment away from the chassis.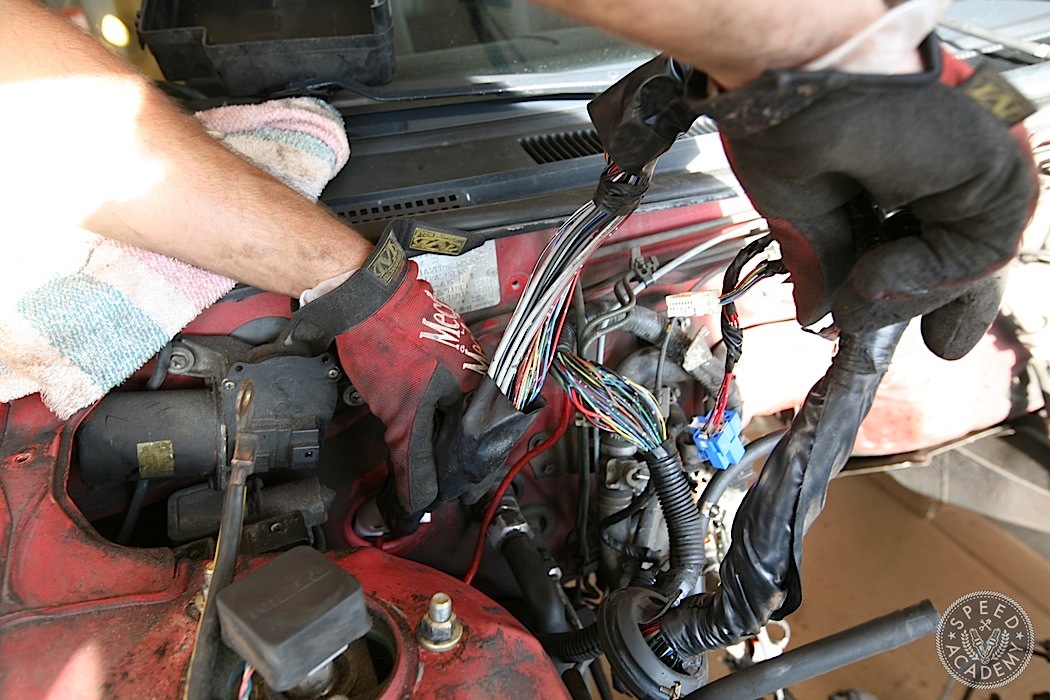 With the help of a friend, slowly feed the harness up into the engine bay until it all comes out.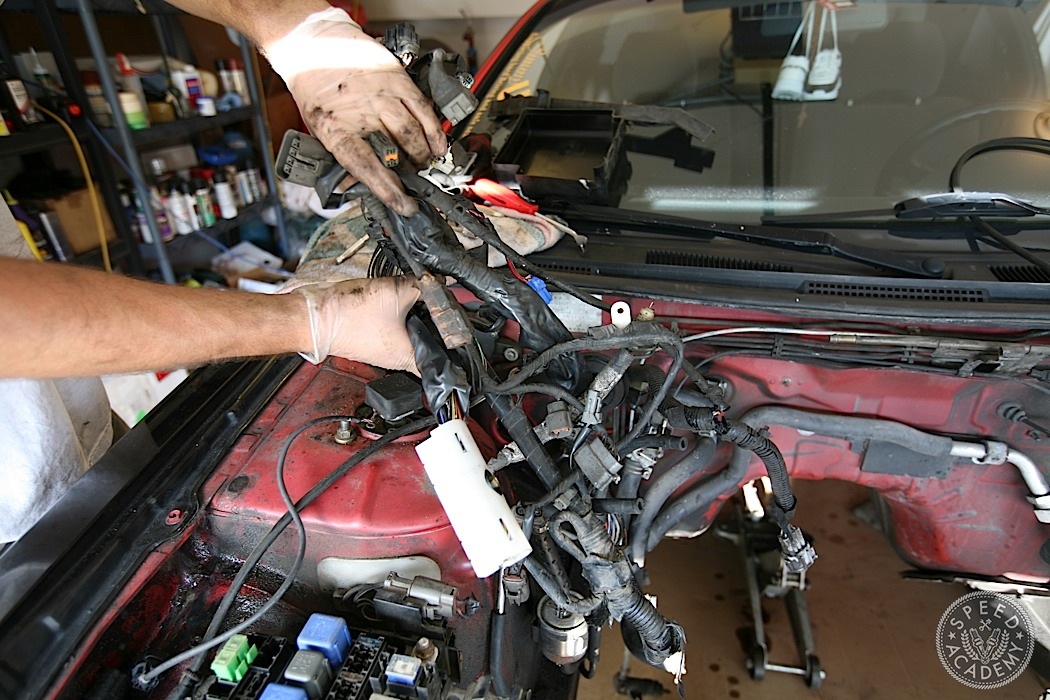 That's a lot of wires, most of which you won't be needing anymore so set the harness aside.
NOTE – My KA to SR conversion harness was built by a reputable local shop (in 2011) but these days the best solution is to order one pre-made from WIRING SPECIALTIES. Trust me when I say it's worth every penny. Finding and fixing mechanical issues that you missed when doing this swap is simple. Finding a bad connection, or wrong wire is a bloody nightmare so go with a harness that you can trust.
If for some reason you still want to chance it the alternative is to do it yourself. Here are some links that may help you.
S14 sr into S14 –> zilvia.net/f/tech-talk/209158-how-s14sr-into-s14-chassis.html
S13 sr into S14 –> www.frsport.com/SR20DET-Swap-Engine-Harness-Wiring-Diagram-Guide-SR-SR20_t_26.html
S14 sr into S13 –> www.mestiso.net/forums/index.php?showtopic=428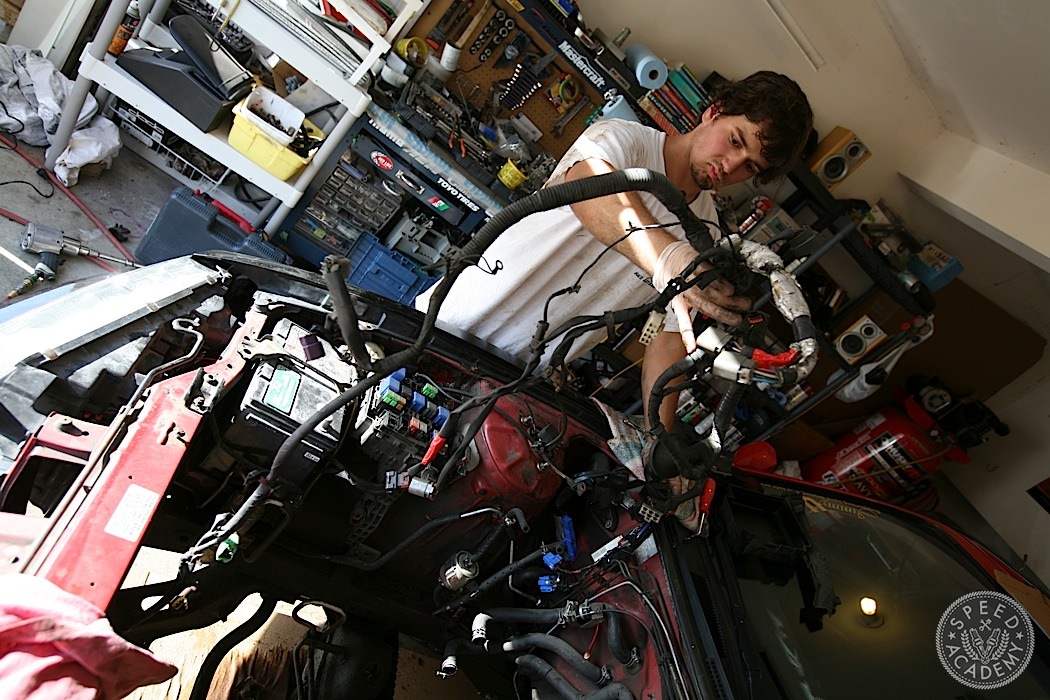 Grab your SR harness and slide it back in just the way it came. Proceed to make a duck face while doing it.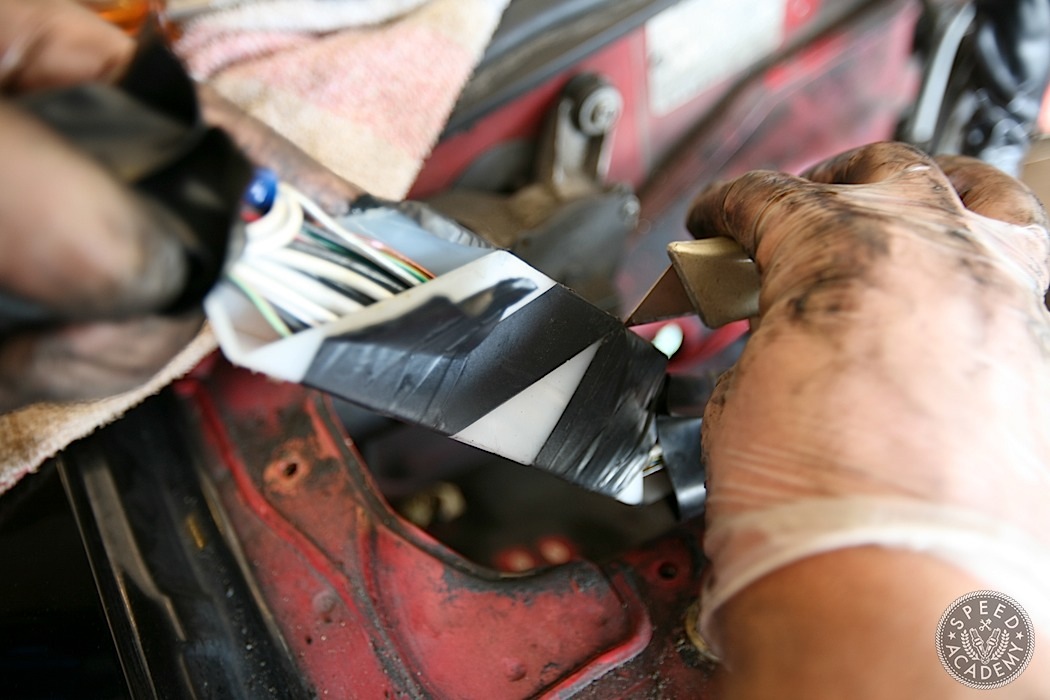 You may encounter snags like this plastic holder along the way but just cut it off so it'll fit through the hole and then put it back on inside the car.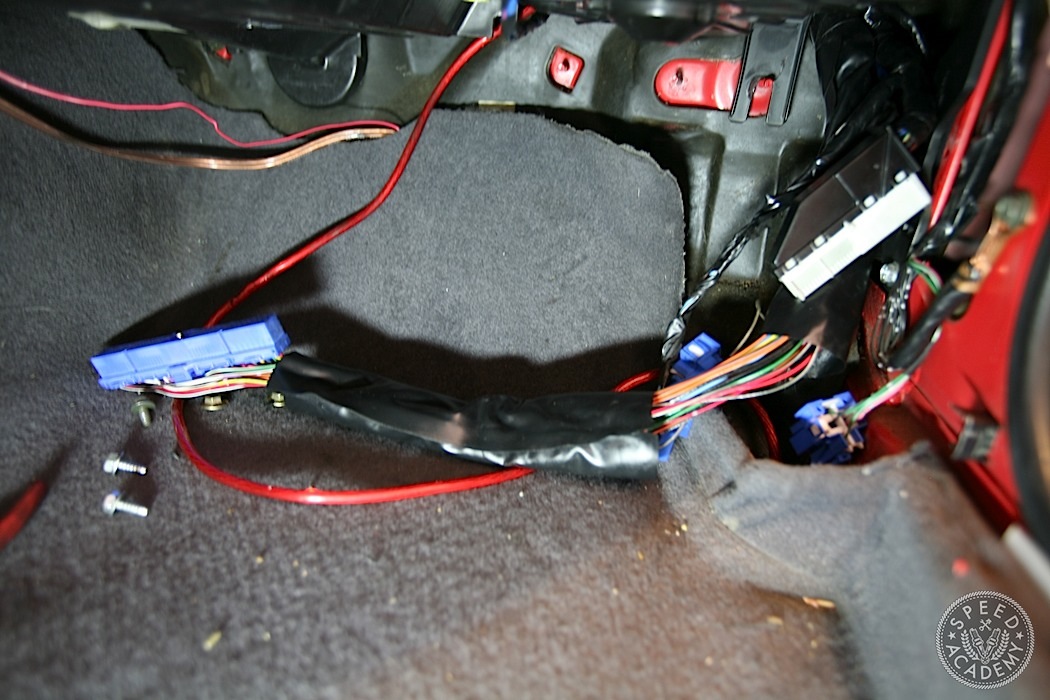 And just as quickly as the KA harness came out, you'll have the SR harness back in.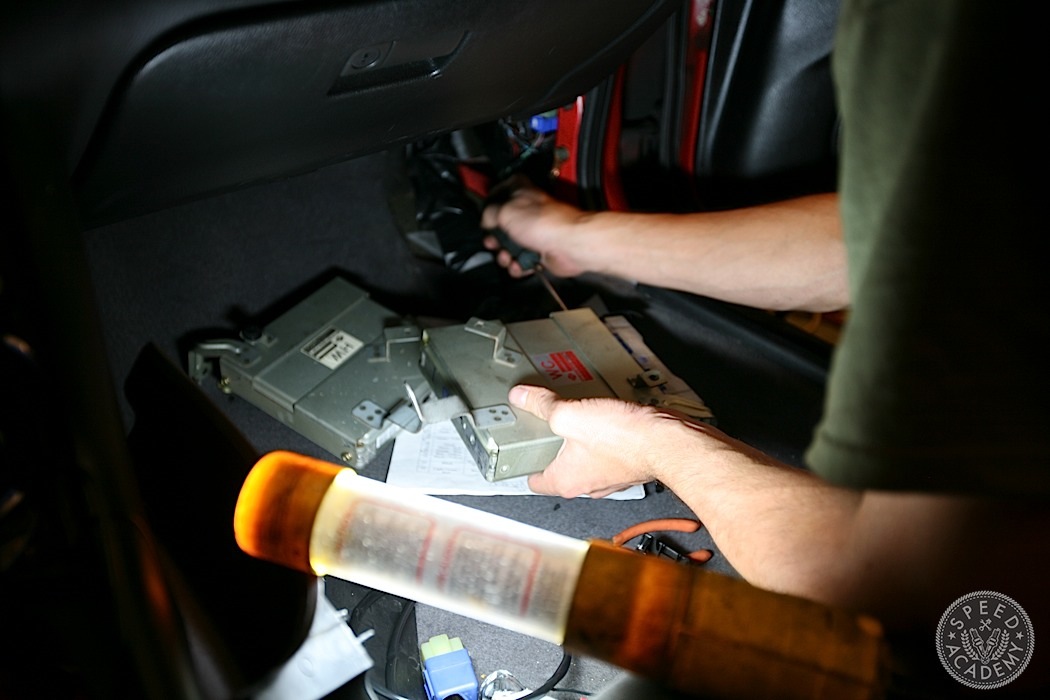 Plug everything back in. This includes the main M63 plug and the two relays. and then swap the mounting bracket from the KA ECU onto the SR one.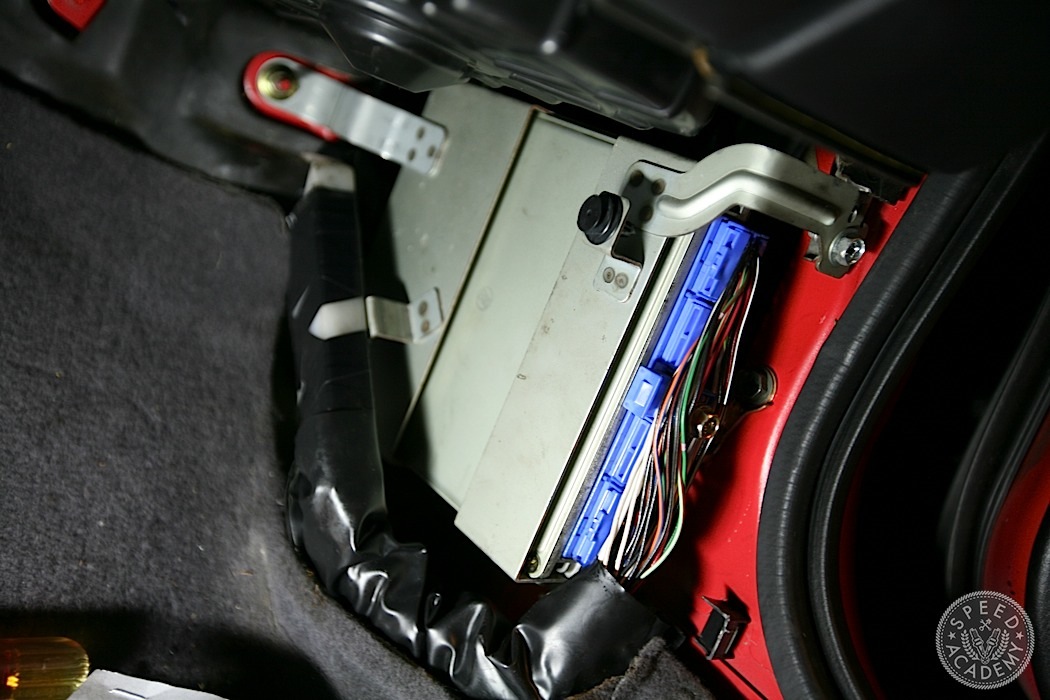 Bolt the SR ECU in place and thank yourself you didn't do the wiring because that was easy. If you do, crack a beer and relax but not for too long because you'll need to double check your wiring to make sure it's all done correctly.
I know I'm laying it on thick here about the wiring but most of the emails I get are about wiring and how to connect this or my car doesn't start. Seriously, buy a pre-made harness if you aren't a wizard with wiring.