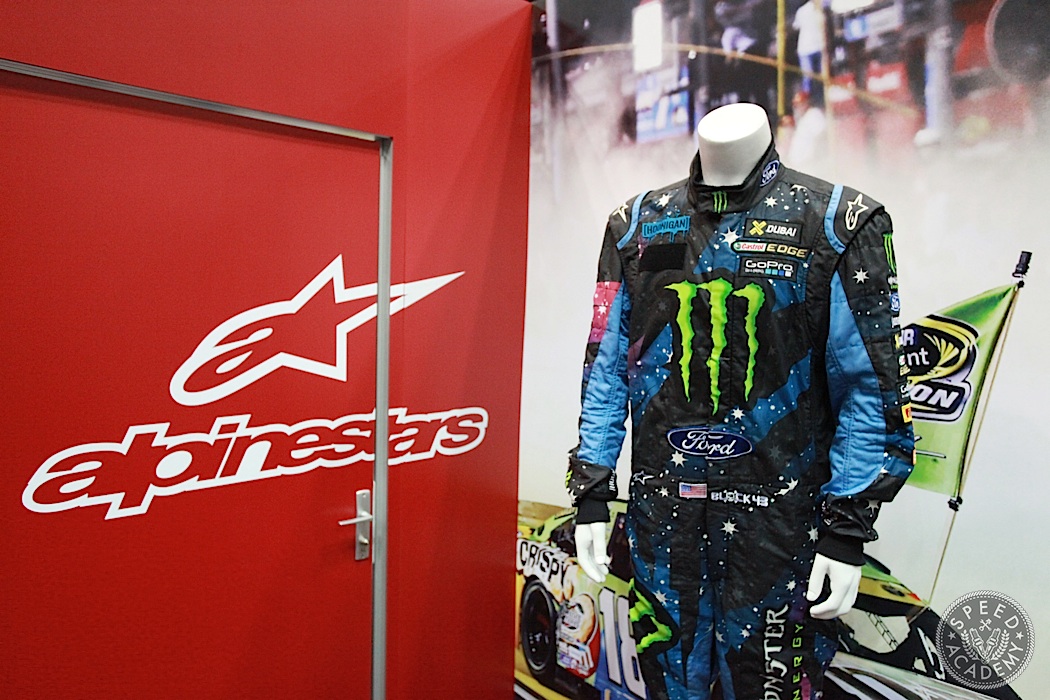 Speaking of industry leaders manufacturing products to a very high standard, Alpinestars had their latest race apparel on display, including Ken Block's GRC race suit.
We'll take two pairs of erraythang! I know I've mentioned it before, but the silicone pads on the palms of Alpinestars gloves are the best driver's aid I've tried in a long time, since they give you a really secure grip on the wheel without adding thickness or weight to the gloves.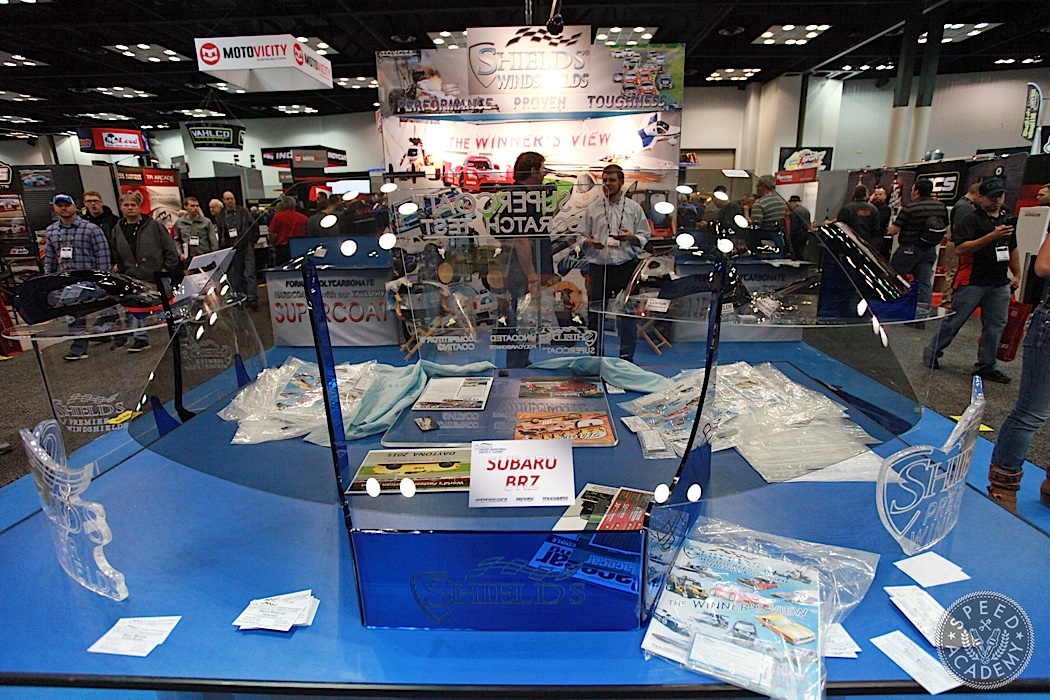 What you're looking at here is a formed and Supercoated polycarbonate windscreen from a company called Shields. The reason this windscreen caught my eye is that it's for the Scion FR-S and Subaru BRZ, and any time I see a product that will make our FR-S lighter (these windscreens are 50% lighter than OEM glass) I can't help but take a closer look.
Shields has an impressive catalog of direct fit windscreens for just about any sports car or performance car you can think of, and all have a Supercoat protective film on both sides that make them extremely durable and scratch resistant. The coating can be either tinted like this one or clear, you can order them with an anti-fog coating for a few bucks more, and pricing starts at an astoundingly good $400-ish depending on the thickness you opt for.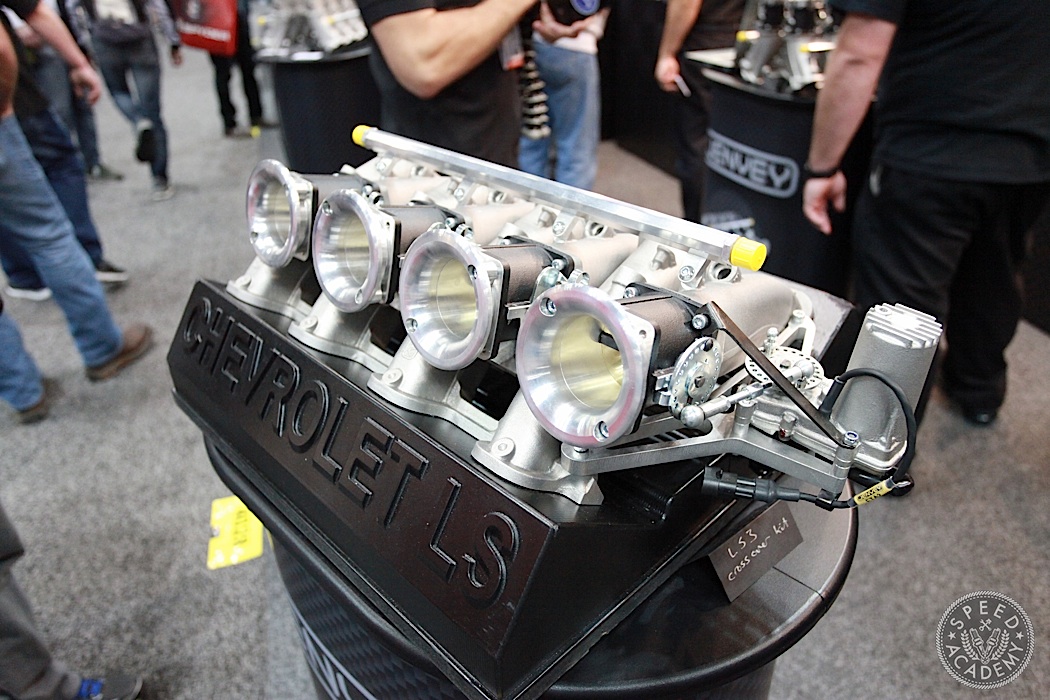 Jenvey was in attendance again this year, having impressed us so much at last year's show that we had to have a set of their individual throttle bodies for the ASS2000. And now that Pete's seen these LS3 ITBs, I've got a sneaking suspicion that LS3 he has tucked away waiting for the right project will end up breathing through this exact setup.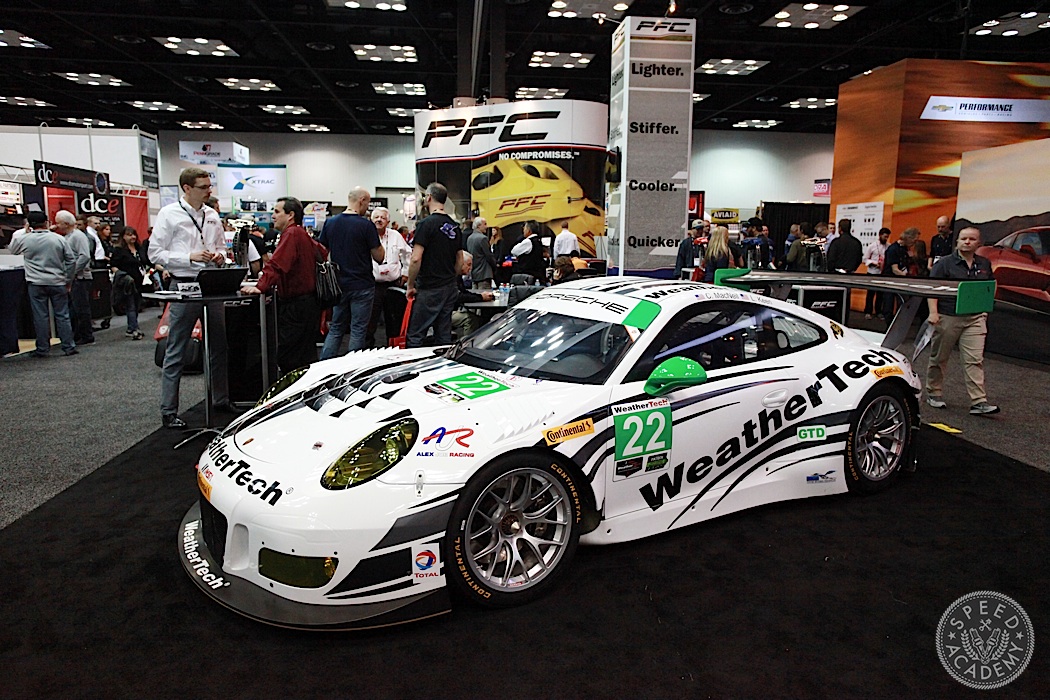 GT3 R. Damn. Anyone got $495,000 USD I can "borrow"? Actually, better make that $1,000,000 so I've got a budget to race this thing for a season or two. Welcome to the real cost of pro racing at the Tudor Championship level, kids.
Sport Compact drag racing may be a bit more affordable, but you can bet Prayoonto Racing and Supertech have spent their fair share while setting FWD world records. This particular K24 pumps out an astounding 1200-whp. Wowza.
GM Performance had a huge booth at the show, and I always find it interesting taking a close look at the belly of a beast as angry as the Z06. Check out how beefy those rear control arms are! And as for the 650-hp supercharged LT4 under its hood, if you haven't already be sure to check out our GM engine factory tour video where we show you in detail how this engine is made.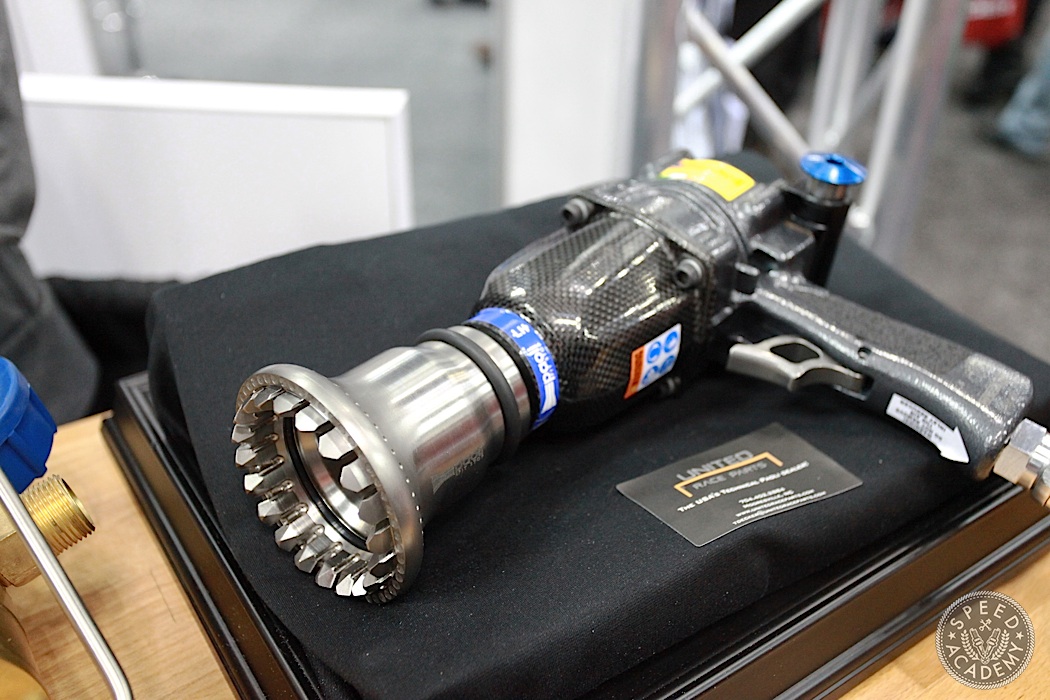 Formula 1 carbon fiber and titanium single lug impact gun, yours for just $10,000. The lug nut is a bargain at around $600.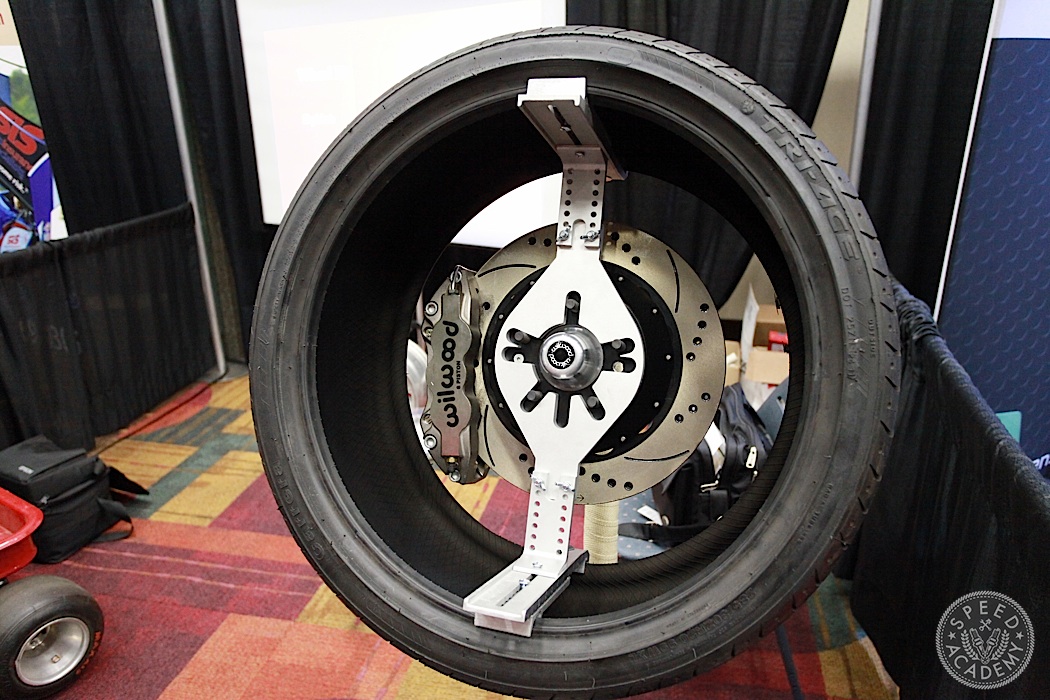 Rather more affordable is this simple yet effective tool from Wheel Fit. It's designed to bolt to the hub of your car with the tire you plan to run mounted on it so you can determine what wheel width, offset and backspacing fits in your wheel wells. This was a rather timely find since I just wrote a story on wheel fitment last week.
I'll admit it. I've got Celica fever. Ever since my 1977 Toyota Celica GT arrived, I've been having a hard time getting my mind off of how to build it and seeing these custom Hoonigan gauges from Auto Meter got my wheels turning about some fully custom Speed Academy gauges using Auto Meter's new online Custom Shop. Jump on this website and you can literally design your own gauges, from the size, color, font, you name it, and you can even add a custom image to it, say like the Speed Academy logo for example. Do you see where this is going?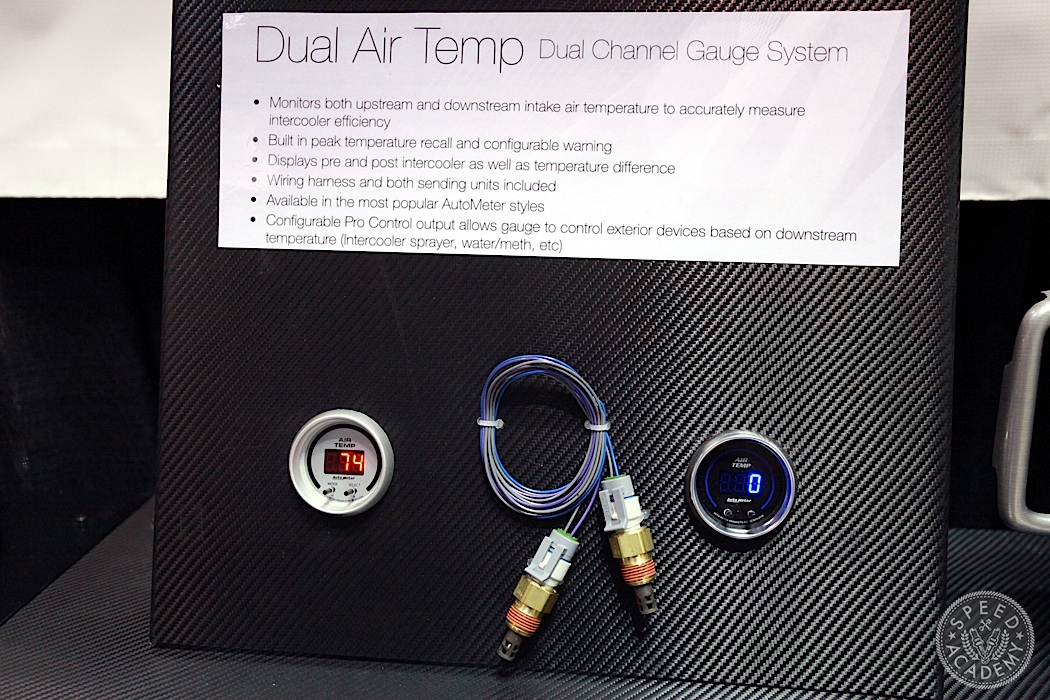 The newest addition to Auto Meter's massive lineup of gauges is this dual air temp dual channel gauge system. As you can see on the spec sheet, it's designed to monitor air temp before and after the intercooler and can be linked to external devices like a water/meth kit or intercooler water sprayer in order to optimize intercooler efficiency and reduce air intake temp. Pretty clever stuff!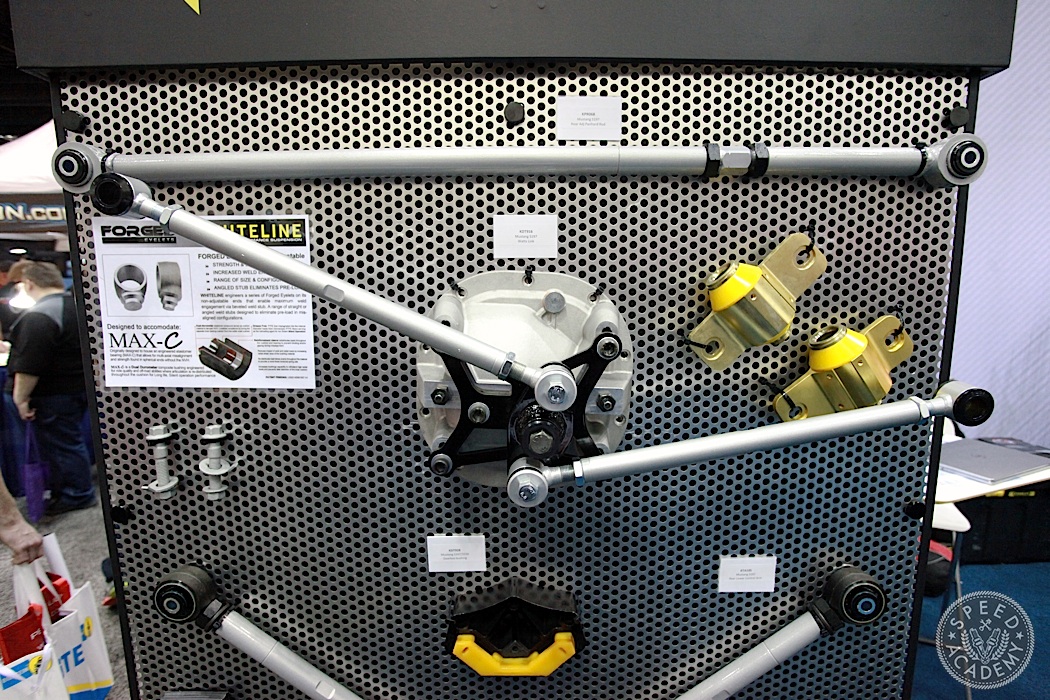 Whiteline was part of the Australian booth area and it was good to get a close look at their Watts link setup for the rear of the S197 Mustang because we're planning to build one of these soon and improving rear end grip and getting the solid rear axle to put the power down will be very high on our To-Do List.
Forgeline is a wheel manufacturer we've long admired for their beautiful designs and commitment to motorsport. It was interesting to see their display showing how their custom made-to-order wheels start out as a forged blank and then through a multi step process have the finished design machined into it.