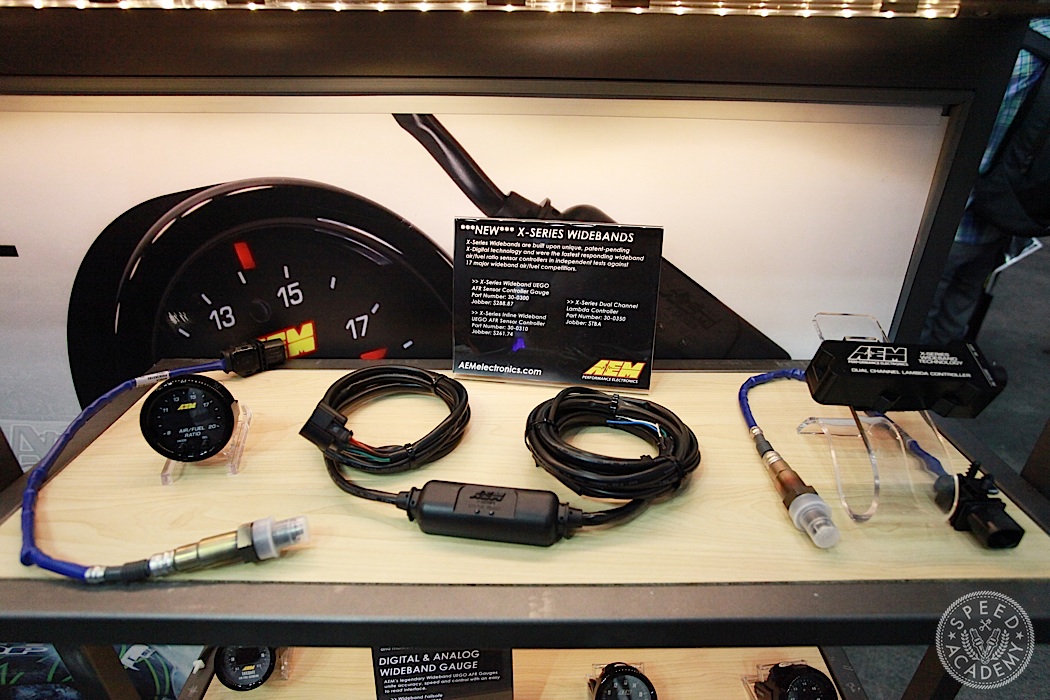 Say hello to the fastest wideband o2 sensor kit in the world. With response time significantly faster than anything else on the market, the AEM X-series wideband is now the best way to have your air/fuel ratio data read as close to real-time as possible.
Aurora Bearing makes some of the best spherical rod ends in the business, but I have to admit I didn't look too closely at their bearings because this super cool, hand-formed, all-aluminum racecar stole my attention. I have no idea what its vintage or use is or was, but I want to drive it in a classic hill climb with some goggles on and a white scarf around my neck.
Our fellow Canucks from MBRP had these sexy long-tube race headers on display, along with this politely Canadian blacked out exhaust system. Can I get an "Oh Canada!"?
Borg Warner had their new SX-E (E for Enhanced) turbochargers on display, which have picked up a huge amount of efficiency (black on the compressor map) compared to the SX models they're replacing (in red on the compressor map), particularly at higher pressures and flow rates. They're also competitively priced at around $900 depending on the model.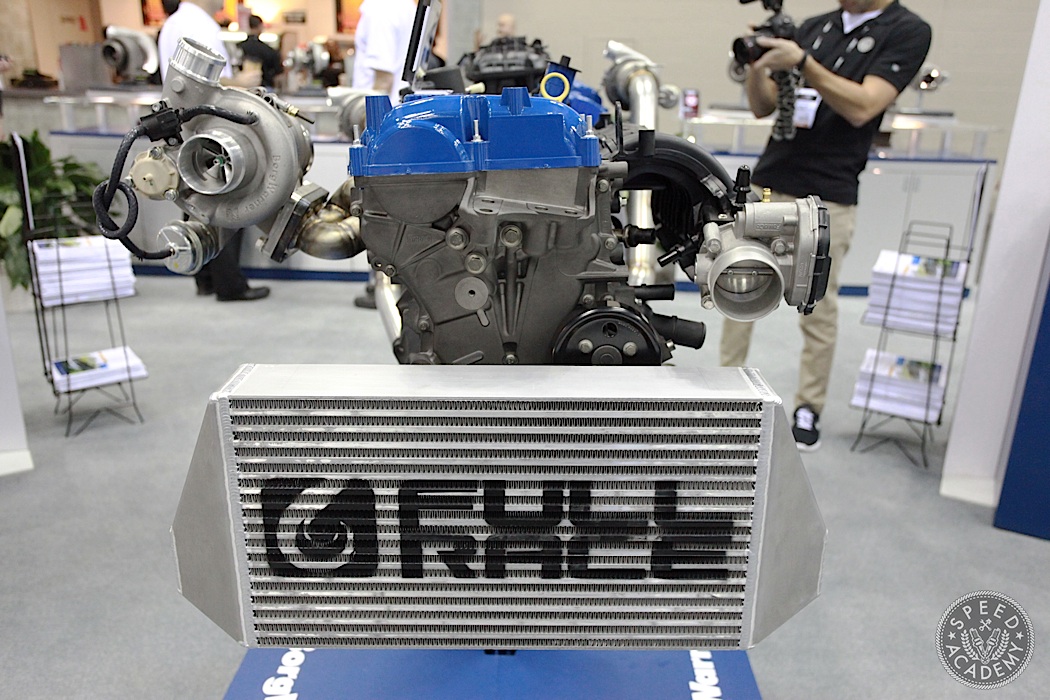 Our long-time homeys from Full-Race have been working closely with Borg Warner on Ford Ecoboost turbo goodies for a few years now, and this 2.3L Mustang Ecoboost kit makes an impressive 450-hp with an EFR turbo and a Full-Race manifold, exhaust and intercooler. Still think there's no replacement for displacement?
Accu-Force had shock and spring dynos on display, and they were surprisingly affordable (around $3,000). We have enough different shocks and springs in our collection that it'd be really interesting to test them and see how they differ across piston speeds and compression & rebound settings. Maybe Santa will get us one of these for Christmas?
Our kind of festive display at the Behrent's Performance Warehouse booth. All kinds of cool fasteners and mounting tabs!
This is what a 10,000-hp funny car dragster motor looks like in the Valvoline Pro-V booth. Those straps are to prevent parts from flying off and killing someone in the event of an engine failure. Because when 10,000-hp goes wrong, it goes really, really wrong!
At the opposite end of the size spectrum is this 990cc MotoGP engine in the Cosworth and RallySportDirect booth. This little carbon-topped masterpiece pumps out an amazing 230-hp and is basically a 3-cylinder version of a Cosworth Formula 1 engine. 16,000 RPM of badass right there.
The K-swapped Time Attack EG Civic had some pretty wild aero on it in the Hondata booth. That old dude spent a long time looking it over, which makes him a pretty cool old dude in our books!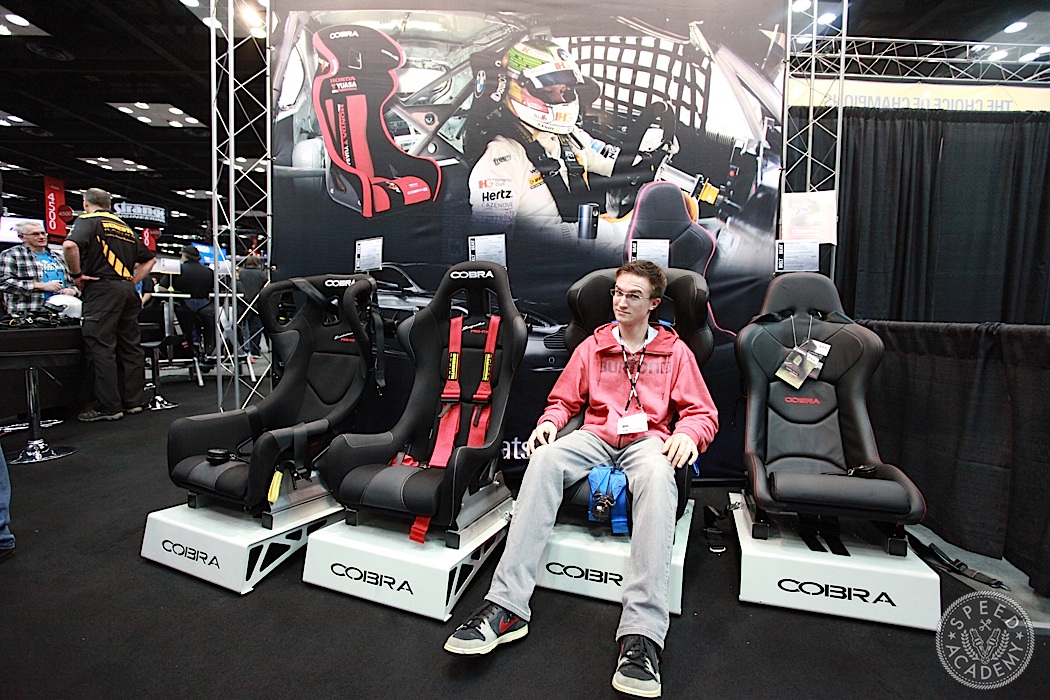 Our buddy Ace decided to do some Cobra seat modelling for us in the HMS Motorsport booth. Look out ladies, this dude's single and on the prowl!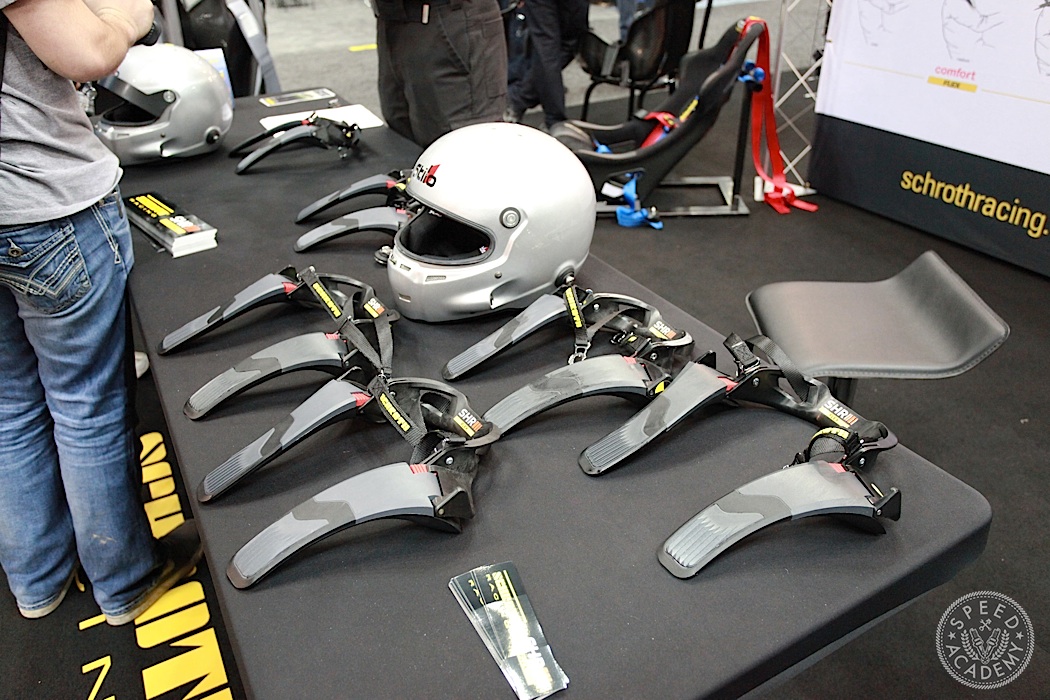 We were also stoked to see that Schroth Racing has finally got FIA approval for their new SHR Flex head and neck restraint. We saw this at PRI last year when it was still in the concept stage and loved how lightweight it is and how much comfort and range of motion it allows while still limiting forward head movement in a crash, and now it's a real thing that you can but with real money and the price point is very attractive at around $600. I think it's time to sell my old HANS and get one of these.
KW Suspensions had their new DCC coilovers on display, which basically lets you add an electronically adjustable suspension to your car, which you can control via an App. So with the simple press of a button you can select from three driving modes (Comfort, Sport and Sport+), which not only adjusts the dampers but also changes the ride height, just like you get on a mega dollar supercar these days.  Baller Status achieved!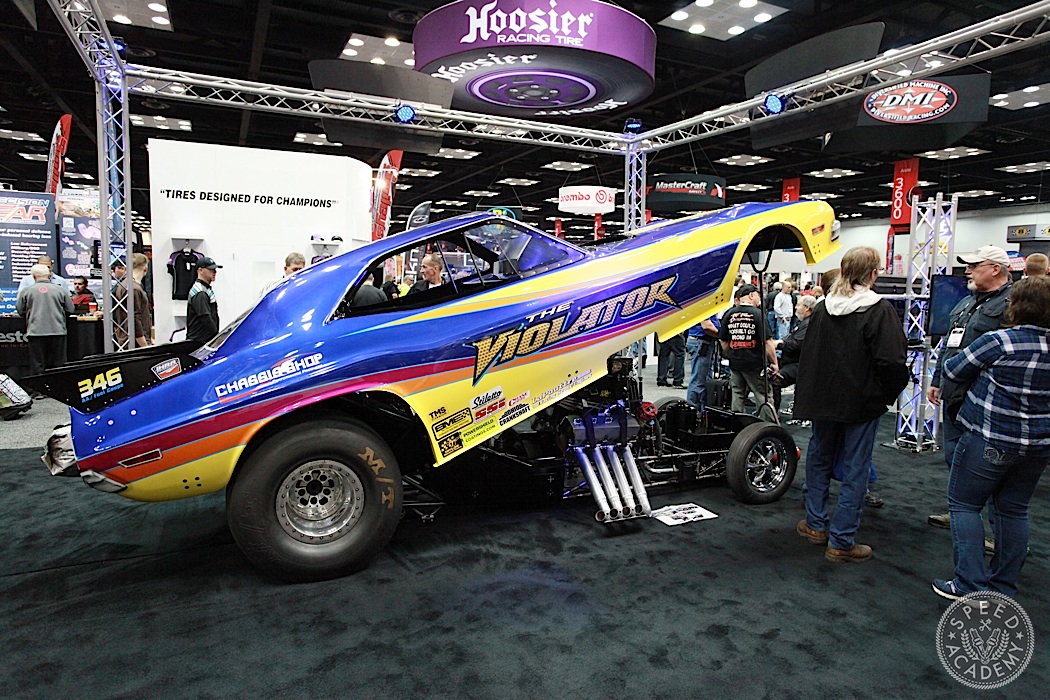 Lets wrap up our coverage of the 2015 PRI Show with the racecar with the best name at the show. Stay classy, my friends!