For those of you unfamiliar with PRI, simply put it's SEMA for racers. Held annually in Indianapolis, a city that is in many ways the spiritual center of American racing culture, PRI is a no-frills, no hard-parkers show where you'll only find companies and products with a clear focus on going fast, along with some machinery manufacturers (dynos, CNC mills, welding gear, rapid prototyping machines, etc.) that support the go-fast industry.
Most vendors at PRI put a traditional race car in their booth, but Turbo By Garrett took a more creative approach by building their booth around AMS Performance's morbidly awesome drag hearse.
The world's quickest and fastest hearse is the perfect way for racers to be transported to their final resting place, and with twin Garrett GTW3884R 67mm turbos under the hood, 1300-hp on tap and a 1/4-mile record of 9.54 @ 146-mph, it's more than capable of outrunning Beelzebub.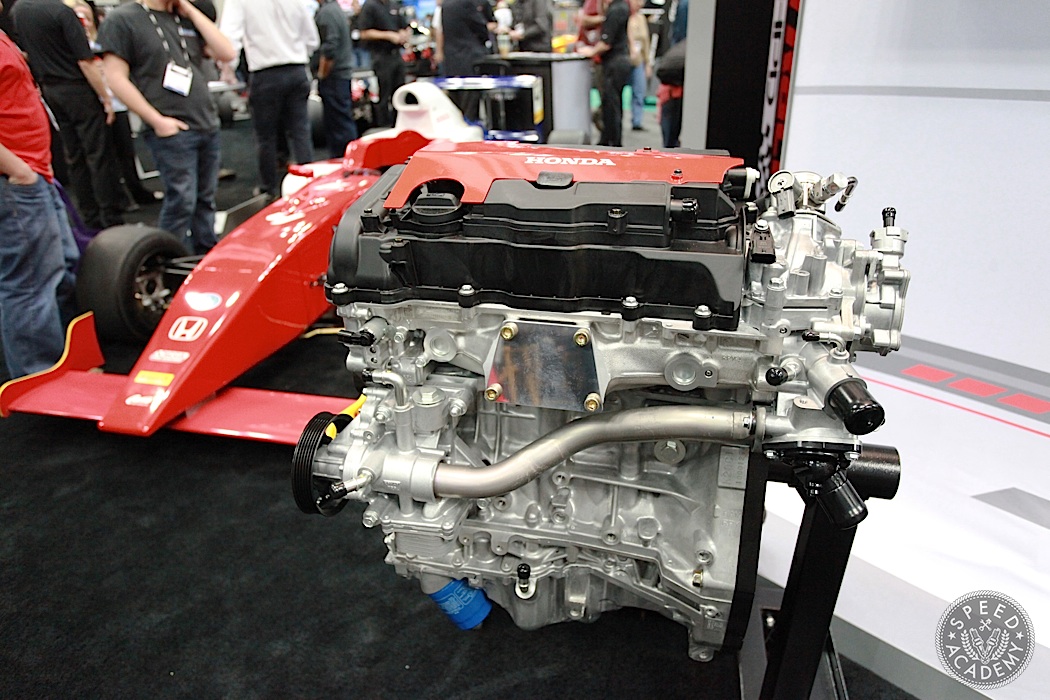 Honda Racing and HPD took a more tradition approach by having a Formula car in their booth that's equipped with a naturally aspirated version of the new K20C1 engine seen here.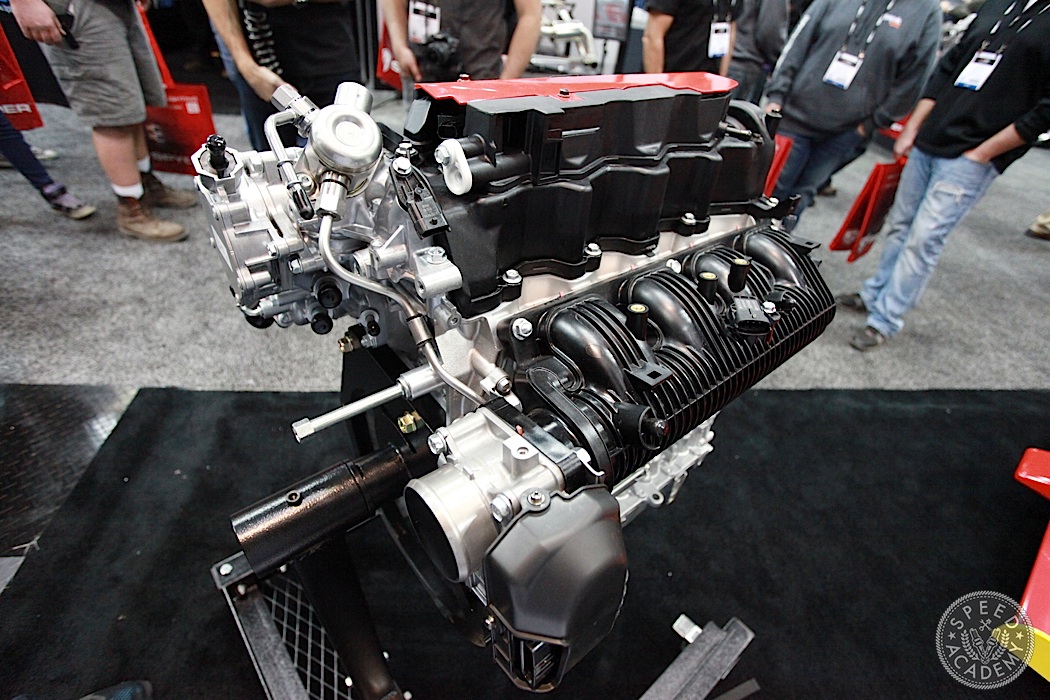 The K20C1 is, of course, the same engine being used in the new Civic Type R, though with a turbocharger attached where that block-off plate is. And as you can see from the other side of the engine, it uses a very compact plastic intake manifold. The valve cover is also made of plastic and is shaped quite differently than the K20A and K20Z engines we're used to playing with. It'll be very interesting to see how the aftermarket responds to this engine once the CTR (and other models equipped with the K20C1) hits the North American market.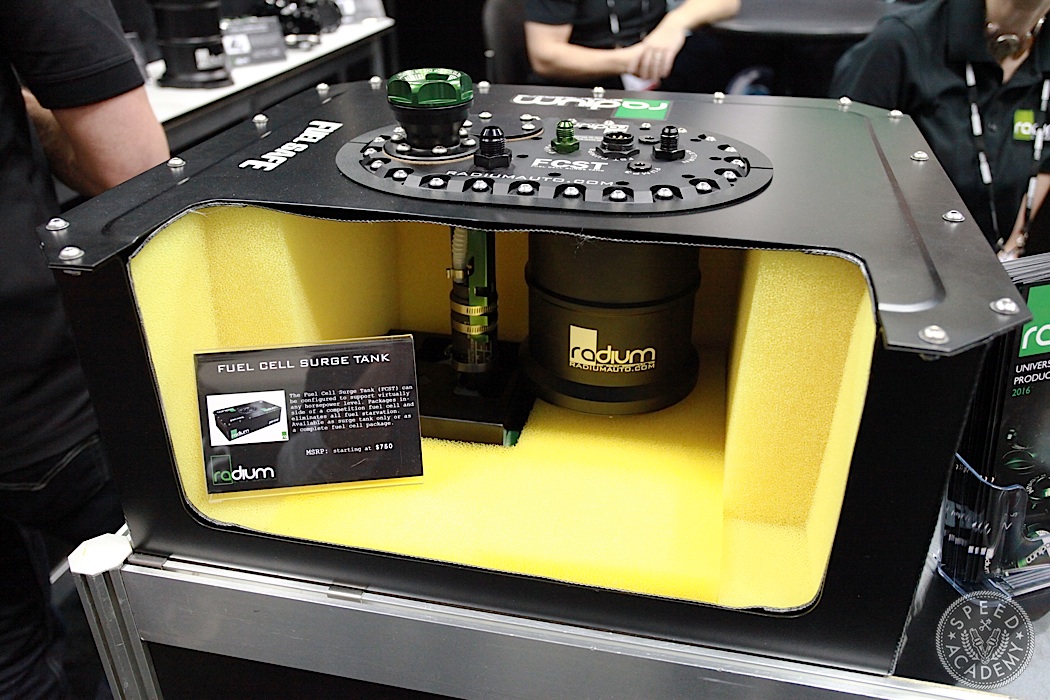 One of the best things about PRI is that you get to check out some super high quality products from smaller companies that you might not see at a bigger and less racer-oriented show like SEMA. Case in point is Radium Engineering, a company that specializes in fuel system solutions that are beautifully engineered and manufactured.
Their fuel surge tank setup is particularly impressive, being the first of its kind to feature a true dual-chamber fuel tank utilizing a single lift pump and up to three surge tank pumps in a compact drop-in package that fits most of the popular fuel cells on the market, but we were also impressed by their new in-line fuel filter. The CNC aluminum housing is sealed with a Viton o-ring, the ORB ports accept a wide variety of adapter fittings, and they offer four different filters to suit just about any type of fuel. And if you mount the filter where it gets good airflow, the optional aluminum finned housing is a very clever way to keep fuel temps down (something Pete could have used when driving his LS3-swapped S13 from LA to Toronto and had to stop every few hours because the fuel kept boiling).
There's a lot of racing apparel and safety equipment on display at PRI too, including this wall of helmets from Arai. A lot of professional racers where Arai helmets, but as you'd expect from a safety and quality leader, these lids aren't exactly cheap. Still, you can get into a GP-5w for just over $800 USD, which is competitive pricing for a SA-rated closed faced auto sport helmet from a top name brand.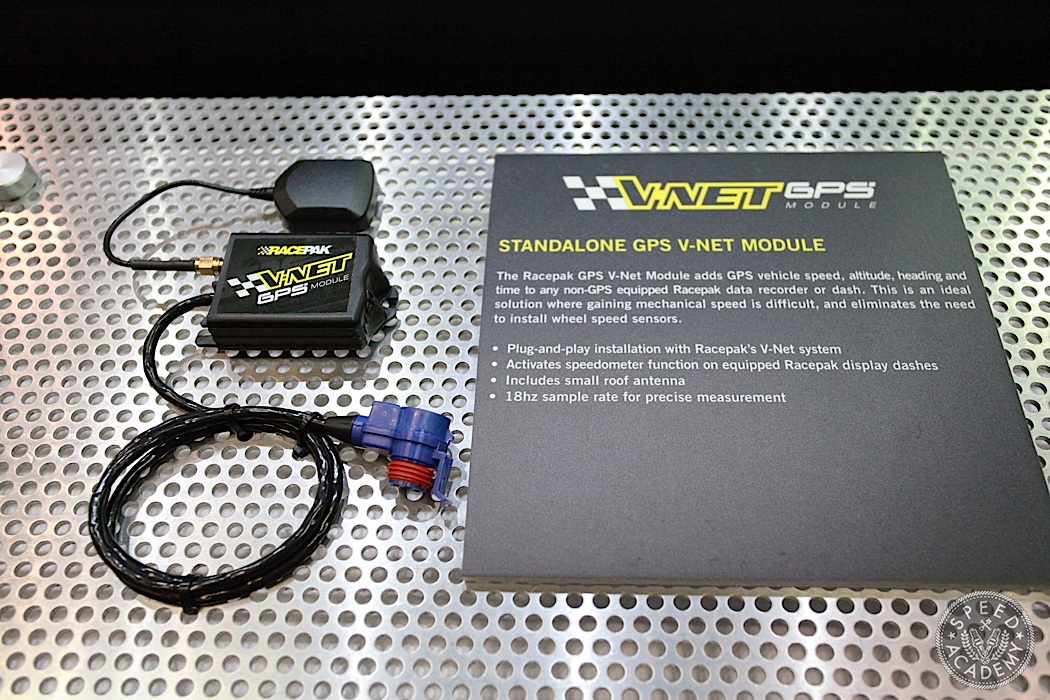 Our friends from Racepak had a major presence at the show, as you'd expect from a company that specializes in racing data acquisition and display. Ken was particularly taken by this new GPS V-Net module, since his RX-7 is already all wired up with Racepak's Smartwire system using V-Net connectivity and has a IQ3 digital display onboard so he could add GPS speed, altitude and heading to the on screen data available to the driver. And if you have a non-GPS equipped Racepak data logging system you can now add this data source into the mix for even richer data analysis capabilities. With an 18hz sample rate (18 times per second), you get an incredibly high resolution compared to the more common 5hz and 10hz GPS data acquisition options on the market these days.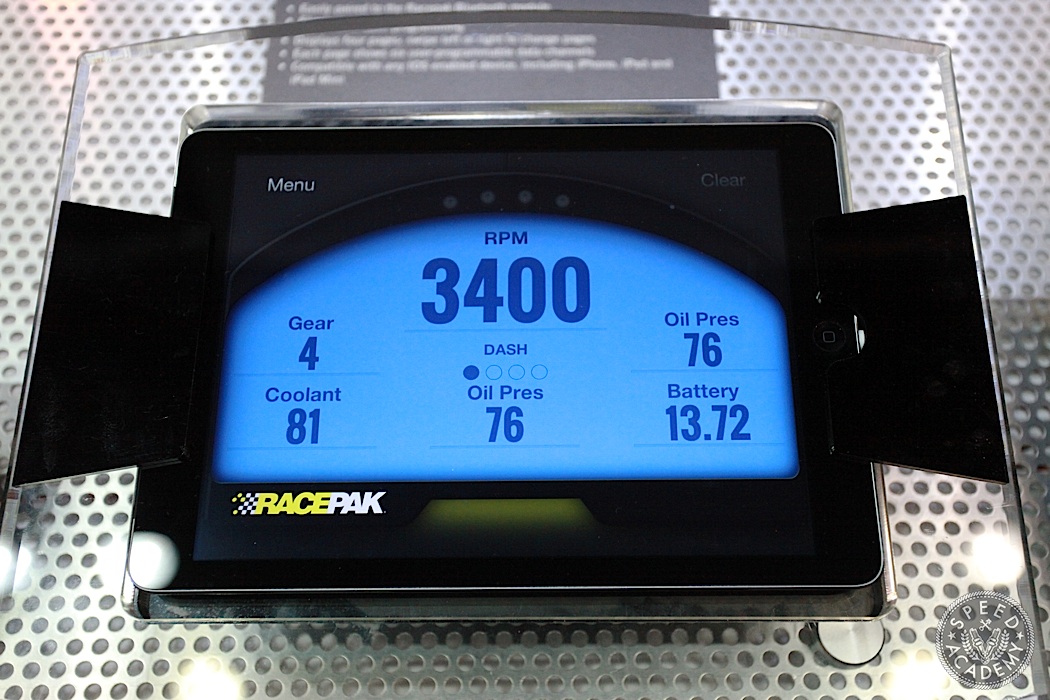 Chris from Racepak was also telling us that he was getting a lot of questions about how to turn their Bluetooth Virtual Dash app into an in-car digital display. The actual intent with this app is to make it easy to livestream data from your IQ3 dash or Racepak data logger using their Bluetooth module and an iOS device (iPhone, iPad, or iPad Mini). This allows your crew in pit lane to see all the engine vitals in realtime, just like the driver is seeing them on his IQ3 display. Pretty badass if you ask us, since with a radio comms device a teammate could radio to the driver that oil pressure is dropping or coolant temp is getting too high.
We've been impressed by the Stoptech street performance brakes we equipped our S2000 with, but maybe it's time for us to step up to their Trophy Race big brake kit with forged calipers and floating two-piece rotors? This is a serious motorsport-grade brake kit, and as you can see the internal vanes inside the ventilated rotors have a design that's similar to the vanes of a turbocharger compressor wheel, so they pump a lot of air through the rotors to keep them from overheating.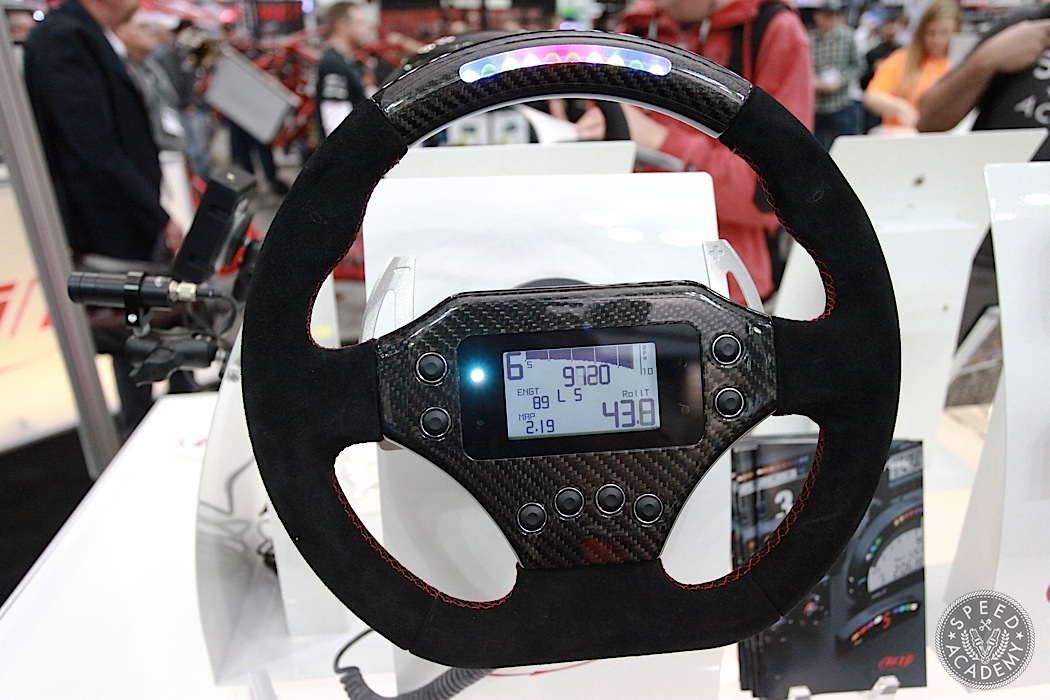 Digital dashes and displays were one of the biggest themes at PRI this year, and I've gotta say this AiM Sport GT steering wheel with integrated display, shift lights and control buttons is pretty damn cool. This thing is like a DTM race car steering wheel for your street car or track car, with a rev counter, lap timer, and engine vitals display built into a super compact design. I could also see this being a great solution in a lightweight project like a Super7, Ariel Atom, or a Sand Rail where you want as little weight and complexity as possible in the interior.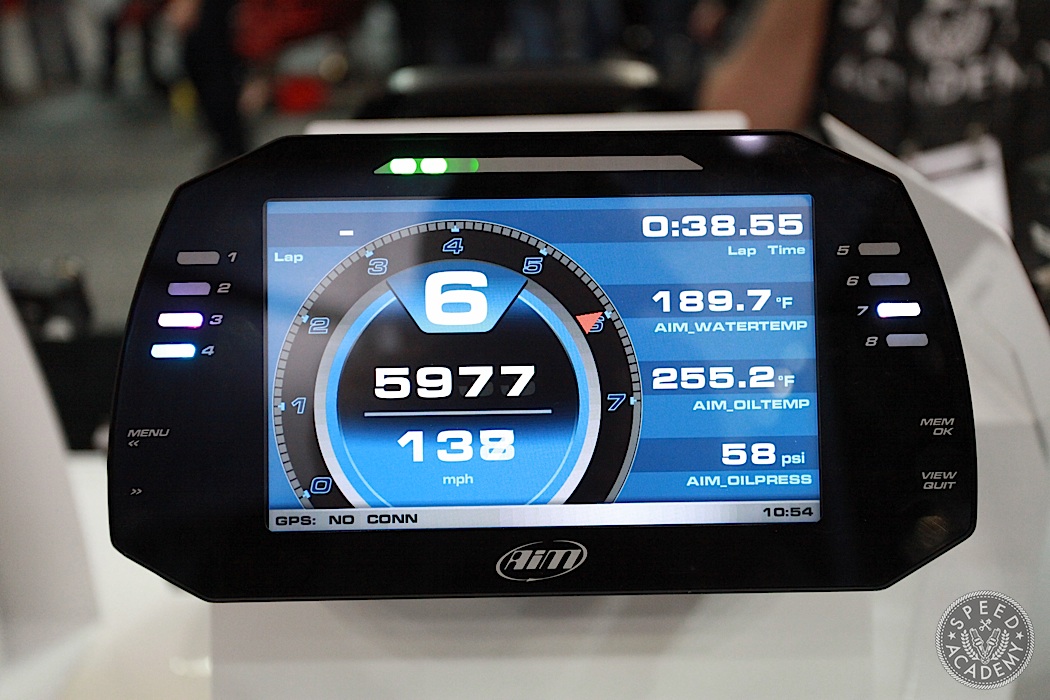 The new AiM MXS/MXG display is pretty sexy too, thanks to the full colour high contrast TFT screen and unique form factor. I had an AiM MXL in my CTCC Honda Civic and it was a great dash in its day (and still is, really), but it looks positively old school compared to this ultra modern looking dash logger.
C&R Racing, one of the leading heat exchanger and radiator manufacturers in the industry, had their award winning liquid-to-air barrel intercoolers on display. I'd never seen these before and it strikes me as a rather brilliant way to build intercooling into a system that has space constraints. These come in a wide range of sizes and the round form factor should make it really easy to integrate them into the chargepiping, and as you can see there's a huge amount of surface area to their cores because of the "zigzag" surface design of the fins.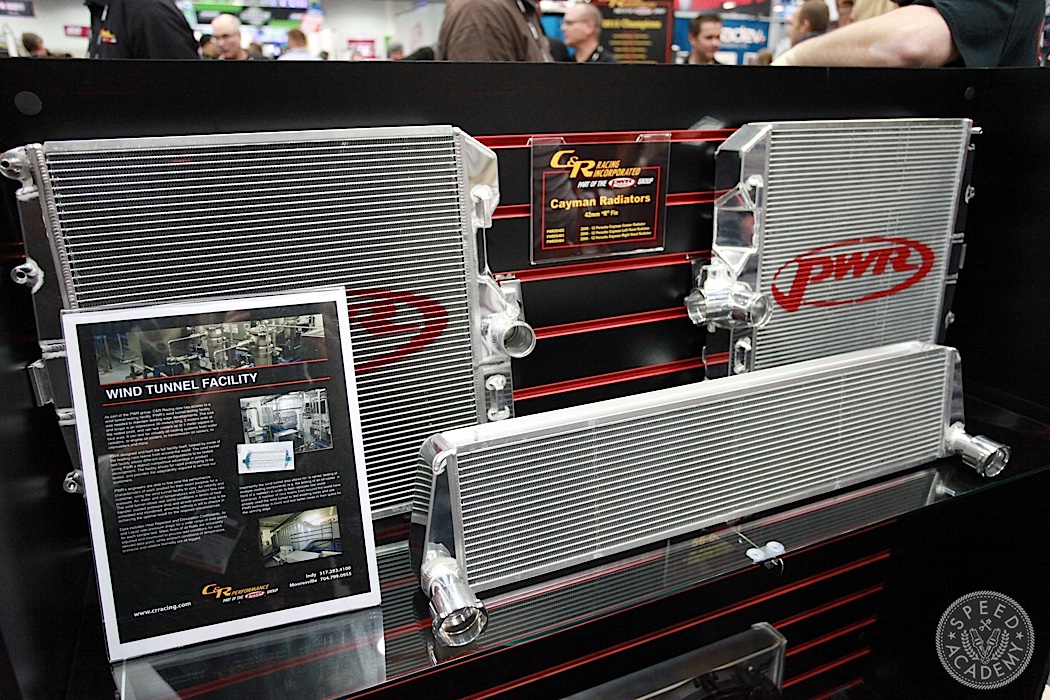 Recently acquired by the PWR Group, an Australia company that manufactures radiators for F1, DTM, WRC and other top level racing, C&R now has access to their wind tunnel facility, where they test the airflow of their cooling products. It should come as no surprise, then, that these radiators are both highly efficient and manufactured to a high standard.